ARTICLE FROM s2smagazine.com (Full story click here)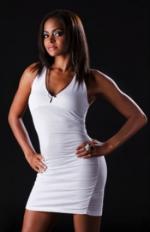 I ran across this article above while visiting Sister 2 Sister Magazine website and it made me upset after I finished reading the article because of what was said by Royce Reed of the TV "Basketball Wifes"
Reed had the nerve to put the blame on other females for being "negative" The is crazy because if you watch the show you notice she is just as guilty as the rest of the motor mouth sistas on the program. Always cussing and being negative.
Reed needs to look in the mirror at herself before she goes off on other African American females. She gets in big fights with the other females all the time. Is it others fault all the time for fighting and not Royce Reed? Hell no! She cannot blame others. She just cannot.
To me in my opinion the program "Basketball Wife's" is terrible. It shows black ladies at it's worst. TERRIBLE language every sentence. Fighting etc. Sad to say a lot of white viewers think that is the way African Americans act all the time.
So I think Ms. Reed needs to chill out in blaming others. She is just as guilty as the rest.    Gordon Curvey
Listen to "MUSIC INNER CITY RADIO" via Ustream TV RIGHT HERE! Playing new and recent music, exclusive interviews and more! Broadcasting during the overnight hours and many hours during the day.
And log on the ONLY urban sports website on the net from the Northwest "Sports Inner City Online" at www.sportsinnercity.com  Urban sports news and issues, Ustream TV, past stories and more PLUS "SPORTS INNER CITY RADIO" podcast! with EXCLUSIVE sports interviews, classic soul music and more!
And watch the new look "Music Inner City TV" on COMCAST/XFINITY ON-DEMAND that airs 24-7 all over Western Washington state. Just go to "get local" and then "around the sound" and enjoy two to three programs ANYTIME YOU WANT!! Urban music videos plus EXCLUSIVE interviews that NO ONE CAN TOUCH in the Pacific Northwest!!!