ARTICLE FROM mail.yahoo.com (Full story click here)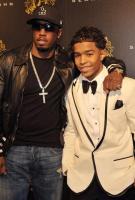 I guess it is great to have a daddy that is rich as hell if you are a young fella named Bashir because you can get great and very expensive gifts for Xmas and birthdays etc.
Case in point, the 16 year old son a businessman/entertainer/actor Diddy was bought a $360,000 car by his daddy. Man what a gift.
In my opinion this is a wrong move by Diddy. With people struggling trying to pay their bills and trying to put food food on the table and gas in their cars, Diddy buys his son a $360,000 car. I also think he bought his son a very big gift for another occasion.

Truth be told, a lot of kids of famous and rich parents have severe problems when they get older like drugs and alcohol. If you keep up with this topic you know I am telling the truth.
It is Diddy's money but why would he buy his son such a big car? Why? HE IS ONLY 16 YEARS OLD FOLKS!!! LET ME REPEAT, HE IS ONLY 16 YEARS OLD. I am having a big problem with this readers.
Does Diddy realize we are in a recession? Yo Diddy wake up dude can down to earth with the rest of us dude. Giving your 16 year old son a $360,000 just does not look right. It just does not.
"Music Inner City Radio" is on 1150am KKNW Friday night at 10pm (Seattle area) and online at www.1150kknw.com
Watch "Music Inner City TV" via USTREAM TV right here. With underground music videos you cannot see on BET, VH1 or MTV or FUSE etc. Plus entertainmant and urban sports news, classic soul and more!! From the studios of "Music Inner City TV/Radio" in Seattle. Just click the "Live Ustream TV" link on the home page. New show every other day!!
We have content than MANY others cannot offer so please watch!!
And "Music Inner City TV" airs on Comcast On-Demand 24/7 all over Western Washington state. Just go to the "music" section and look for "Music Inner City" and enjoy the shows!