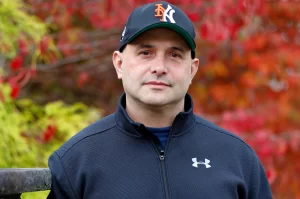 "One Man's Opinion" By Gordon Curvey
This is story I have to discuss with the readers.  It is about a felon whose name is Criag Carton.  He was a sports radio host and a popular one at New York's WFAN.
He was teamed with former NFL QB Boomer Esiason. WFAN was and is one of the top rated sports radio stations in the United States. One of the first sports radio stations in the U.S. And also one of oldest. Carton became known for his over the top personality when he is talking sports on the radio. But then something happened to Carton. Something big happened.  Something real big readers.
Carton was arrested on 2017 on securities and wire fraud charges. He was then convicted of carrying out a multimillion dollar fake ticket scam. Prosecutors said he spent various investors cash on personal expenses, that included gambling debts and landscaping bills, and misappropriating at least $5.6 million.
Craig was sentenced on April 2019 to 42 months in prison, followed by three years probation. But SOMEHOW he got out of prison last June after ONLY serving a third of his time!! HOW IN THE HELL DID THAT HAPPEN READERS" I do not understand this.
As soon as he was freed from jail, he was hired by WFAN again to return to his sports show this time without Boomer. He obtained a afternoon slot on the station. Why did WFAN bring back Carton so quickly after he got out of prison? Ratings? Oh hell yes!! That is the reason!!!
Now Craig is on TV on FS1 with his own daily sports program. Let's keep it real ladies and gentlemen. As a African American in America I have to tell the truth in my opinion. My strong opinion.
The fella is a convicted FELON! Let me repeat Craig Carton is a convicted FELON! How on god's green earth can he jump out of prison as a felon and immediately obtain a high profile position on the top rated WFAN? A station he was on before he was sent to jail? Then he has a new sports talk program on FS1 that airs Monday thur Friday.
As I said, I have to keep it real. And some of you may not like what I am about to say. But I have to. Carton who IS a felon, get's out of prison and gains employment on radio and now TV because he is white.
IF Craig was a African American would he be able to be convicted of a major crime and then serve a fraction of his 42 month sentence? Here is the answer…no. If Craig was African American would he be able to leave prison and quickly get his job back on a big time sports radio station in New York? The answer is..no.
If Carton was African American, would he be able to have his OWN sports TV show on FS1 EVERYDAY? The answer again is …no. I do not care if Carson is popular in NY. Because he is white he has obtained TREMENDOUS help and support. This really bothers me.
I see today online that the ratings for his new program on FS1 for the first week was terrible. Maybe his audience will grow over the next few weeks. We will see. But I just do not think Craig Carton should be on the air. I think he should be doing a podcast or a webcast. Like many others are doing.
I would like a explanation from FS1 management as to WHY they hired Craig, a convicted felon. It will be VERY interesting to hear what management from WFAN and FS1.
I have watched his program every day. I will say this. He has had various African American ex athletes on every program as co-hosts. That is a good thing. I will admit. I think Carton is doing this on purpose. Having diversity on his sports panel. That is great ladies and gentlemen.
I just think as a convicted felon he should be treated like all other felons. But Craig Carton has been treated differently and readers this is wrong in my strong opinion.  Also I do NOT want to bring race in the picture of Carton getting a high profile job(s) right out of prison.
But again, if Craig was black would he get a chance to land radio and TV gigs right out of prison as a felon? Sorry to say the answer is no. These are just true facts. Many of you reading this may say I am bringing up "the race card" but no, I am just telling the truth. And that's it. You may disagree. Leave me a comment. Thanks.
Comments? gcurvey@yahoo.com