NEW "MUSIC INNER CITY RADIO" STREAM! PLAYING CLASSIC SOUL AND CLASSIC HIP-HOP AND MORE! INCLUDING EXCLUSIVE INTERVIEWS!! 6PM TO 9PM 7 DAYS A WEEK! LIVE THAT'S RIGHT…LIVE FROM SEATTLE, WASHINGTON!! (PACIFIC TIME OR 9PM TO 12:OOAM EASTERN)  BOTH UNITED STATES TIME ZONES. WILL BE TALKING URBAN SPORTS NEWS AND VIEWS DURING PODCASTS! HOSTED BY YOURS TRULY GORDON CURVEY. STARTING SUNDAY SEPT 25TH!!  JUST CLICK THE "LISTEN LIVE" LINK GRAB YOUR HEADPHONES/EARBUDS OR TURN UP YOUR SPEAKERS AND ENJOY!!
"One Man's Opinion" by Gordon Curvey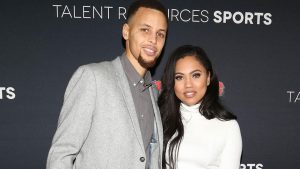 So many times the only time you hear about a African American athlete is when they do something wrong like being caught with drugs and hitting their lady or other negative things. But one of the reasons I have "Music Inner City News Magazine" and "Sports Inner City TV" and "Sports Inner City Radio" is to tell more positive stories about African American sports stars.
Stories that sports radio 710 and KJR here in Seattle do NOT discuss what so ever. They do not care. Heck even the few black voices on 710 and one (Gee Scott) on KIRO FM here in Seattle refuses to bring up. But I will ladies and gentlemen. I am not afraid to bring up positive stories and information regarding African American sports stars and people of color. Because these stories need to be told. Need to be brought out more in the public. So I look for information like what Golden State Warriors star Stephen Curry and his lady Ayesha Curry are doing in Oakland, California.
Yes the Warriors moved from Oakland to play in nearby San Fransico. But that did not stop the Curry's from helping out inner city youth and adults in the Oakland area. In 2019, Steph with the help of Ayesha started Eat, Learn & Play Foundation. The main goal for the foundation was to help Oakland and to "unleash the potential of every child and pave the way for amazing kids and bright futures." The foundation primary goal has been on healthy childhood nutrition, education and physical activity.
Check this out readers. Since March 2020, Eat, Learn and Play has provided more than 25 million meals and more than 4 million pounds of groceries to Oakland families. The foundation has also delivered 2.7 million pounds of fresh produce to 24,000 families through Oakland public schools and parks and recreation centers.
Not only that, the foundation and World Central Kitchen got together with 130 Oakland restaurants to deliver more than 2.5 million meals.  And not only that, the foundation partnered with the Oakland Public Library and the Oakland Literacy Coalition and the Black Culture Zone to build and manage 150 Little Town Libraries across under resourced Oakland communities. Steph also pushed for remodeling outdoor basketball parks and gyms in Oakland.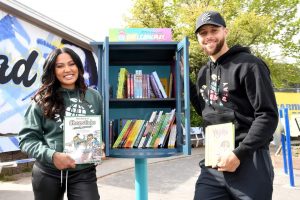 Steph and Ayesha currently live in the Bay Area's Peninsula but they not forgot Oakland. About 22% of Oakland public schools do not have a library. The Curry's foundation plans to change things when it comes to that. They want to fill the void by stocking libraries and use their foundation to  distribute  books and to have a lot of free book giveaways and other events.
Recently the Currys announced it was working with Workday on a new project to increase childhood literacy in Oakland. Money raised from a charity golf tournament at Stanford Golf Course that will be attended by sports stars as Curry, Peyton Manning, Steph's father Dell Curry who was a ex NBA star and Dell's other son who is also in the NBA Seth and former NFL star Larry Fitzgerald will support this initiative.
Also part of the initiative is distributing 300,000 new books though the Eat, Learn and Play Foundation. Add to that is plans to fund the creation of a huge analysis of literacy opportunities and gaps in Oakland. What the Curry's are doing is just GREAT readers!
Steph said "Look at the school systems and a lot of things that need to improve across the board, from a literacy standpoint, from nutritious meals that they serve and things like that. All those things are wrapped into the work that we want to do. One student asked Steph why is he helping them. Curry said "It kind of breaks your heart that that's a question because they just are looking for people to see them and to feel seen. And it might seem like such a small gesture to be out there, and it's a two-second interaction to high-five somebody."
Curry went on to say "You never know what type of impact that'll leave on a kid to know, hey, I showed up somewhere, and Steph gave me a high-five and told me it's great to see you. Maybe that boost of confidence will get them though a tough challenge that might be ahead, get them through it. Who knows how that story will be written? But those type of interactions are so meaningful and rewarding. I don't ever want to be in a position where I miss that, because it means a lot."
So in ending readers again, this story is about positivity. About what this African American couple in Steph and Ayesha want to and are giving back to Oakland. They do NOT have to do anything for the city of Oakland. They no longer stay there. They can drive around in their fancy cars and stay in their huge mansions and drive huge boats and travel all over the world. But they are giving back in a HUGE HUGE way. And I know this is just a start for the Curry's foundation. And I will do another story right here on "Music Inner City News Magazine" about it. Because it needs to be talked about what guys like Steph and Lebron James and Chris Paul MLB player Tim Johnson and my friend former NBA player and Seattle resident Jamal "J Crossover" Crawford and even yes former Seahawk and guest on my "Music Inner City TV" program Russell Wilson and more are doing in the community.
Because as I said sports radio stations like KJR and 710 here in Seattle is NOT going to discuss positive things African Americans/people of color are doing. They just will not. But I will readers!