MUSIC INNER CITY TV AND SPORTS INNER CITY TV/COMCAST XINITY ON DEMAND/XFINITY X1/24-7/ALL WEST COAST MARKETS/WASHINGTON STATE-OREGON AND CALIFORNIA. ON COMCAST XFINITY ON DEMAND GO TO "GET LOCAL"AND THEN "INNER CITY TV." AND FOR XFINITY X1 GO TO "XFINITY SERVICES" AND THEN "GET LOCAL" AND THEN THE "INNER CITY TV" FOLDER.
AND NOW HUGE NEWS!! YOU CAN NOW WATCH OUR COMCAST XFINITY ON DEMAND/XFINITY X1 PROGRAM RIGHT HERE!! 24-7 ON DEMAND!! JUST CLICK THE CAMCORDER AREA ABOVE ANYTIME WORLDWIDE!! VIEW VIA YOUR SMARTPHONE, TABLET, MAC, IPHONE OR DESKTOP!!
WE START OFF OUR COVERAGE WITH COMMENTS FROM THE FIRST WEEK OF SEAHAWKS TRAINING CAMP AT THE VMAC IN RENTON, WASHINGTON. HC PETE CARROLL, BOBBY WAGNER AND MORE DISCUSS THE FIRST FEW DAYS OF TRAINING CAMP. WE WILL HAVE MORE DETAILED INFORMATION OF COURSE DURING THE SEASON ON EVERY SEAHAWK GAME!
UNLIKE A FEW OTHERS AROUND HERE, "SPORTS INNER CITY TV" AND MY BIG BROTHER PROGRAM "MUSIC INNER CITY TV" ARE LEGIMATE MEDIA!! NATIONALLY KNOW AND RESPECTED!! MORE THAN 30 YEARS IN THE GAME!!!
WE WILL HAVE POST GAME INTERVIEWS FROM LUMAN FIELD HERE IN SEATTLE AND ON THE ROAD DURING THE SEASON. OF COURSE A VERY SPECIAL THANK YOU TO THE SEATTLE SEAHAWKS!!!
PLUS WATCH HOURS AND HOURS OF "MUSIC INNER CITY TV" AND "SPORTS INNER CITY TV" WEBCASTS RIGHT HERE!! A SPINOFF OF OUR COMCAST XFINITY ON DEMAND-XFINITY X1 PROGRAMS/WASHINGTON STATE-OREGON AND CALIFORNIA!! OUR WEBCASTS ARE 24-7 ON DEMAND. JUST CLICK THE "TELEVISION LINK" GRAB YOUR HEADPHONES OR EARBUDS AND ENJOY!!
ALSO, WATCH NEW EDITIONS OF "SPORTS INNER CITY: AFTER THE GAME" IS NOW STREAMING WORLDWIDE 24-7 ON DEMAND. VIA YOUR SMARTPHONE, TABLET, MAC OR DESKTOP. COVERING THE NBA, MLB, NFL AND MORE! JUST CLICK THE "SPORTS INNER CITY TV" SCREEN. WILL BE PRODUCING MUCH MORE WEBCASTS COMING UP!! SO MUCH TO TALK ABOUT IN THE SPORTS WORLD!!!
ALSO LISTEN TO "MUSIC INNER CITY RADIO" PODCASTS 24-7 ON DEMAND! Just click the 'PODCAST" LINK ABOVE.
TO ADVERTISE WITH US FOR $20 TO $60 A MONTH. Call 206-445-3989 or email gcurvey@yahoo.com WE TRY TO BE LEADERS AND NOT FOLLOWERS LADIES AND GENTLEMEN. ADVERTISE WITH US AND OBTAIN MONTHS AND MONTHS OF EXPOSURE!!! ON TV AND HERE ONLINE. HOPE TO HEAR FROM YOU!!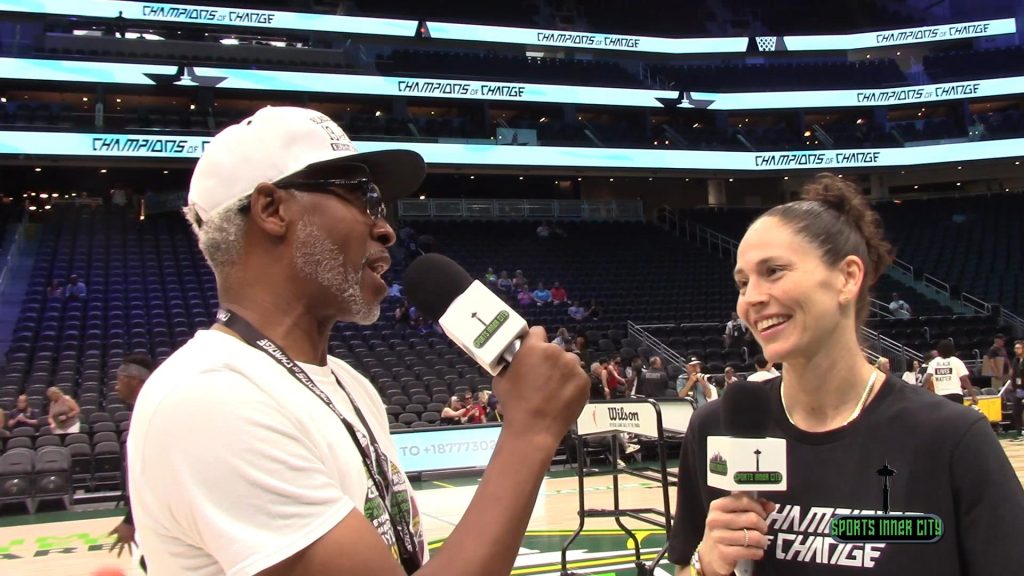 "One Man's Opinion" by Gordon Curvey
Hope everyone is well. I am a sports fan. A hoops junky here in Seatte a city with no NBA team. Our Sonics are in OKC as most of you know. I pray that our NBA team will come back to beautiful Climate Pledge Arena.
By the way, just completed a webcast for my "Sports Inner City TV" from the recent "Champions Of Change" benefit basketball game at Climate Pledge. It was a great event put on by former Seattle Seahawks Doug Baldwin, Michael Bennett and Cliff Avrill. Yes I handled the camera behind the scenes and the host was my good friend and the head coach of Franklin High School hoops team, "CJ" Craig Jackson. He did a great job with the interviews.
Interviews included Seattle Storm and NBA legend in her last season and the first time on my media, Sue Bird, "The Glove" and Hall of Fame member "The Glove" Gary Payton, my good friend and I am sure future Hall of Fame member "J-Crossover" 20 year vet in the NBA, Jamal Crawford, "The Reign Man" and another friend of mine, Sonic great and maybe a future Hall of Fame member Shawn Kemp.
VERY happy to obtain a one on one interview with Sue Bird. Been trying for a long time to obtain a interview with legend Sue. Happy to obtain it in her last year of playing hoops.
Also Seattle native and NFL vet and Seattle high school legend and now Emmy winning sports broadcaster another friend of mine, Nate Burleson plus Sonics great and another fella who might be a future Hall Of Fame member, Detlef Schrempf and many more.
Oh yeah, "J Crossover" Crawford put on a show for the fans. Dribbling around players like a member of the Harlem Globetrotters and showing why he has the nickname, was named the MVP of the game.
Watch Part 1 of 2 webcasts from the Champions Of Change basketball game RIGHT HERE!! Just click the "Sports Inner City TV" screen. View via your smartphone, tablet, mac, iphone, desktop 24-7 on demand WORLDWIDE!!
Ladies and gentlemen, I am tired of former Sonic and one of the greatest players in NBA history, Kevin Durant. Why you ask? I am tired of him always making headlines off the court. Of course he made headlines when he left the OKC Thunder to play with Golden State. A team already loaded with Steph Curry, Klay Thompson and Draymond Green.
A Warrior team that came back and beat OKC in the playoffs after being behind 3-1. Plenty of hoops fans said that was a weak move by KD to obtain a ring. Which of course he did.
Then a few years later, KD leaves the Warriors for the Nets in Brooklyn. To play with his friend Kyrie Irving. Another player I am fed up with as a NBA fan. If you are a NBA fan you know the Nets were swept by the Boston Celtics in the playoffs. In a season that Irving refused to take Covid 19 vaccine shots.
Word is coming out that KD was bothered by Kyrie not getting the shots. During most of the season, Irving could not play home games in Brooklyn. You know many other teammates was not feeling Irving too just like KD.
Now KD has asked for a trade out of NY. As I type this, who in the hell knows what is going to happen with KD OR Kyrie. Because their is rumors regarding Kyrie being traded for Russell Westbrook with the Lakers. Rumor after rumor after rumor when it comes to KD and Kyrie.
Plus it seems KD like to respond now and then to what folks say about him on Facebook or Twitter. EVEN young kids!! C'mon sports fans!!! Does KD need to fire back on social media when someone talks negative about him?
Finally, Lebron James. Lebron some say is the greatest player EVER. Even better than former guest of my media, Michael Jordan. I respect Lebron for always taking a stand against racism in the U.S. Police killing of African Americans you hear or read his views. When others like Tiger Woods are silent, not Lebron. Real talk.
When I say James speaks up, he really does. Having said that, Lebron has a foundation. And he has started a school in his hometown Akron, Ohio for young kids. It is called "I Promise". A great move by Lebron. He has also helped to rebuild the Akron Boys and Girls Club. And he has done much more for the youth.
But on the other side, James also has a production company with his childhood friend Maverick Carter. One of the productions is a webcast in which people in entertainment and sports are chillin in a barbershop.
Now ladies and gentlemen, if you have spent time in any barber shop in any black community you know the bad speech flows. It flows from the guests in the barbershop and it flows from Lebron.
James recently made this comment regarding the fans at Boston Celtic games. He said "F..k" Boston." He has always used derogatory words on his social media webcasts and podcasts. Here is a question readers. Do you think this is a good look for the children that looks up to Lebron to use derogatory words that kids can hear him use?
I do not think it is a good look. I just do not. By the way, does Lebron own a piece of the Boston Red Sox? YES HE DOES!!! SAY WHAT????
Do not hear Charles Barkley or Shaq or even Dame DOLLA aka Damian Lillard or Bradley Beal using cuss words on their webcasts. Do not hear CJ McCollum or Jalen Rose cussing on their webcasts or podcasts. Jalen ALSO has a school for kids in Detroit. He is doing a great job for the kids he is trying to lead in his hometown.
Will Lebron stop using the K word and even the N word on his podcasts and webcasts? I do not think so readers but in my opinion he should stop. For the benefit of the young youth he is suppose to be a role model for and a leader.