MUSIC INNER CITY TV AND SPORTS INNER CITY TV/COMCAST XINITY ON DEMAND/XFINITY X1/24-7/ALL WEST COAST MARKETS/WASHINGTON STATE-OREGON AND CALIFORNIA. ON COMCAST XFINITY ON DEMAND GO TO "GET LOCAL"AND THEN "INNER CITY TV." AND FOR XFINITY X1 GO TO "XFINITY SERVICES" AND THEN "GET LOCAL" AND THEN THE "INNER CITY TV" FOLDER.
AND NOW HUGE NEWS!! YOU CAN NOW WATCH OUR COMCAST XFINITY ON DEMAND/XFINITY X1 PROGRAM RIGHT HERE!! 24-7 ON DEMAND!! JUST CLICK THE CAMCORDER AREA ABOVE ANYTIME WORLDWIDE!! VIEW VIA YOUR SMARTPHONE, TABLET, MAC, IPHONE OR DESKTOP!!
WE START OFF OUR COVERAGE WITH COMMENTS FROM THE FIRST WEEK OF SEAHAWKS TRAINING CAMP AT THE VMAC IN RENTON, WASHINGTON. HC PETE CARROLL, BOBBY WAGNER AND MORE DISCUSS THE FIRST FEW DAYS OF TRAINING CAMP. WE WILL HAVE MORE DETAILED INFORMATION OF COURSE DURING THE SEASON ON EVERY SEAHAWK GAME!
UNLIKE A FEW OTHERS AROUND HERE, "SPORTS INNER CITY TV" AND MY BIG BROTHER PROGRAM "MUSIC INNER CITY TV" ARE LEGIMATE MEDIA!! NATIONALLY KNOW AND RESPECTED!! MORE THAN 30 YEARS IN THE GAME!!!
WE WILL HAVE POST GAME INTERVIEWS FROM LUMAN FIELD HERE IN SEATTLE AND ON THE ROAD DURING THE SEASON. OF COURSE A VERY SPECIAL THANK YOU TO THE SEATTLE SEAHAWKS!!!
PLUS WATCH HOURS AND HOURS OF "MUSIC INNER CITY TV" AND "SPORTS INNER CITY TV" WEBCASTS RIGHT HERE!! A SPINOFF OF OUR COMCAST XFINITY ON DEMAND-XFINITY X1 PROGRAMS/WASHINGTON STATE-OREGON AND CALIFORNIA!! OUR WEBCASTS ARE 24-7 ON DEMAND. JUST CLICK THE "TELEVISION LINK" GRAB YOUR HEADPHONES OR EARBUDS AND ENJOY!!
ALSO, WATCH NEW EDITIONS OF "SPORTS INNER CITY: AFTER THE GAME" IS NOW STREAMING WORLDWIDE 24-7 ON DEMAND. VIA YOUR SMARTPHONE, TABLET, MAC OR DESKTOP. COVERING THE NBA, MLB, NFL AND MORE! JUST CLICK THE "SPORTS INNER CITY TV" SCREEN. WILL BE PRODUCING MUCH MORE WEBCASTS COMING UP!! SO MUCH TO TALK ABOUT IN THE SPORTS WORLD!!!
ALSO LISTEN TO "MUSIC INNER CITY RADIO" PODCASTS 24-7 ON DEMAND! Just click the 'PODCAST" LINK ABOVE.
TO ADVERTISE WITH US FOR $20 TO $60 A MONTH. Call 206-445-3989 or email gcurvey@yahoo.com WE TRY TO BE LEADERS AND NOT FOLLOWERS LADIES AND GENTLEMEN. ADVERTISE WITH US AND OBTAIN MONTHS AND MONTHS OF EXPOSURE!!! ON TV AND HERE ONLINE. HOPE TO HEAR FROM YOU!!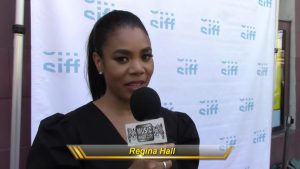 "One Man's Opinion" by Gordon Curvey
The beautiful lady I am doing this story on is a very talented entertainer. There is one African American sista I say to myself why does she continue to get big money to star in movies. She is nowhere near the talent of Regina Hall!
Can you think who I am talking about ladies and gentlemen? Anyway Ms. Hall has shown us how talented she is over and over on the big screen and on TV. I am a huge fan of Regina. As you can see by the pic, she is a former guest on "Music Inner City TV." I was very happy to obtain a interview with her on a visit here in Seattle.
Regina can handle serious roles as a actress or funny roles as a comedian. Not many actresses can do this well but Ms. Hall can handle both well.
Hall was born in Washington D.C. and is 51 years old. Her father was a contractor and electrician his name is Odie Hall and her mother's name is Ruby and she was a teacher. After graduation from Immaculata College High School, Regina wen to Fordham University in Bronx. She graduated with a bachelor's degree in English in 1992. After that she went to New York University and obtained a master's degree in journalism in 1997.
When her father died suddenly it hurt her big time. She did a lot of thinking about what her father who she was very tight with really would be happy that her kid really wanted to do to make her happy. So she started a her career in entertainment with a appearance on Sadat X's 1996 album "Wild Cowboys" on the track "The Interview." By the way. Hall's mom has been fighting a serious illness. Prayers go out to Regina's mom.
Well Regina started to appear in movies in 1999 started with "The Best Man." Followed by "Love and Basketball" in 2000, and "Scary Movie" also in 2000. And then the follow up "Scary Movie 2" in 2001. And then "The Other Brother" also in 2201. And it has been non stop ever since for Regina. Along the way Regina has won various awards that includes 2003 NAACP Image Awards for Outstanding Supporting Actress in a Comedy Series, and then 2005 Best Actress at the San Diego Film Festival for her role in "Danika." Also has won many other acting awards including this year at the NAACP Image Awards.
Also she was the first African American actress to win the New York Critics Circle Award for Best Actress. Regina can play serious roles in Hollywood or a role in a comedy. She is great in both!
Not only that, Hall has appeared in many TV roles such as roles in Ally McBeal, Law and Order, Grandfathered, Black Monday and many more. Also in 2014, Regina signed as an ambassador for Elizebeth Taylor's White Diamonds. Wow!! This shows how gifted Hall is.
It is very obvious Regina takes her time to choose roles that will show her great talent. A lot of actors do not do this. They are just looking for a big pay check. Do not care what Hollywood reporters or social media will say about them. It seems Hall is not that way at all.
Of course Regina recently co hosted the Oscars and did a great job. She also did a great job as the host of the BET Awards. As far as we know Hall is a single lady. She does a great job in keeping her private life private. She does not have any children too. By the way their has been rumors she dated rap/hip-hop artis and actor Common and the late actor Chadwick Boseman. It is very hard to keep a private life with social media and cameras everywhere.
We are proud to say Regina Hall is a former guest on "Music Inner City TV" when she visited here (pic above during our interview).  She was very nice and did a great interview. As I have said, she is a very talented actress and also a very nice person. You will not here anything negative about Regina Hall. Never. I look forward to watching her in her next role on TV or at the theater. Because I know it will be good.
Comment: gcurvey@yahoo.com