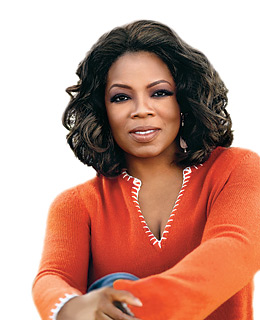 Oprah Winfrey sent a surprise Christmas present to an inner-city Atlanta school: a $365,000 check! (Oprah is a former guest on Seattle's Music Inner City)
An educator named Ron Clark almost didn't notice the whopping check, which was included in a letter from the talk show host. Clark opened the private academy in 2007 in one of the poorest neighborhoods of South Atlanta. Most students rely on private donations to pay the $14,000-per-year tuition.
"We teach school all day and fundraise at night," Clark told the Associated Press. "To have an unsolicited gift come like that is incredible."
Clark says the donation will pay for 26 students to attend the 80-student middle school for one year.
In her letter, Winfrey calls Clark a role model and says he's making a "profound difference…[with] your passion for teaching."
The check came from the Oprah Winfrey Foundation, which handed out $4 million to educational programs in 2008.
Meanwhile, Winfrey is gearing up for Barack Obama's January 20 Inauguration.
"Oprah is doing her show live from the Kennedy Center that week and flying her staff in for it. It's going to be a huge production," an insider tells the New York Post.
The big-time supporter also plans to co-host a party with BFF Gayle King after Obama is sworn in, the paper reports.