"One Man's Opinion" by Gordon Curvey (February is BLACK HISTORY MONTH)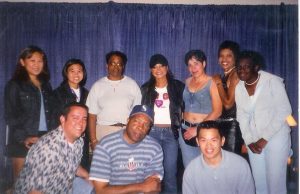 Ladies and gentlemen I have been a fan of the Jackson Family for a long time. A fan of their music. Yes I have and had a problem with "The King Of Pop" Michael Jackson and all the children allegations him. As a fan of MJ big big time hurt when I watched the documentary on MJ a few years ago.
Especially when Michael said their is nothing wrong with sleeping with children. Children who were not his. WRONG by MJ. But I loved the music of the Jackson 5, The Jacksons, and yes the youngest member of the children Joe and Katherine Jackson had, the multi talented Janet Jackson. She was a little girl when she was first seen out in the public as member of the Jackson Family and her career as a entertainer was started.
I learned a lot about Janet Jackson that I for sure did not know. And millions of others did not know because Janet has been very very private about her off the stage/cameras life. Well as private as she can because when you are in the public eye like the Jackson Family people are searching for a big story.
(pic attached of myself and others at a meet and greet with Janet here in Seattle. That is yours truly with the Mariners hat.)
Janet let it be known in the program that she wanted to break away from her late manager/father Joe Jackson. SHE WANTED CONTROL. She wanted to do things her way and not her father's anymore. It hurt her but she moved on. Some say Joe Jackson worked his kids too hard. Did not allow Jermaine, Tito, Randy, Marlon, Rebbie and Michael a chance to be kids and play like other kids. Latoya I guess did not want to have a career in entertainment. Maybe a book or documentary on Latoya might have to be done so we can know more about her.
I had a chance to interview Joe Jackson in Los Angeles a few years ago. (pic attached below) I asked him how the media treated his son MJ during his famous court case. And I had a chance to ask him a few more questions. It was great I had a chance to meet and interview Mr. Jackson. On the program Janet made it clear that her brothers and herself success would not have happened without their father working them when they were young.
Another thing I learned was the relationship between Janet and MJ. Especially when all the negativity about MJ started to reach the public. She said she was "guilty by association."  I said to myself WOW when she said that.
And also it really hurt her and the family to see MJ blasted in the public eye. And we also saw on the problem how she truly felt about the passing of her icon big brother. It hurt her personally because she was ALWAYS asked about her brother in press conferences/interviews. It began to get to her.
But in the long run of course she and the family stood behind MJ. The program also showed how hard producers Jimmy Jam and Terry Lewis worked in the studio to help Janet with albums which of course helped her sell MILLIONS AND MILLIONS of records/cd's worldwide. At the time I am typing this story, Janet has sold more than 180 MILLION in records and cd's!!!
For sure Jimmy Jam and Terry Lewis helped Janet because a huge superstar. The documentary also showed the relationships Janet has had over the years. Wow things were shown that we did not know. Keep in mind, this program was done because Janet had a film crew recording for the last 10 years. Of course we the public did not know this until recently.
Viewers who watched the program also learned inside information about Janet's love life and marriages and "possible" secret baby with a member of the Debarge Family, James Debarge. Next was Mexican dancer, songwriter, and director René Elizondo.
This dude was a character!! The documentary showed us how and why Janet Jackson left this fella. Yes they were in love and that is a fact. But the program showed him around Janet EVERY THING Janet did in her career when their nine year relationship was going on. And when I say every thing I mean every thing!! It seemed Janet could not go the bathroom without Elizondo right there. Video and photo shoots, the dude was right near by. Tour events he was a foot behind her or to the side of her.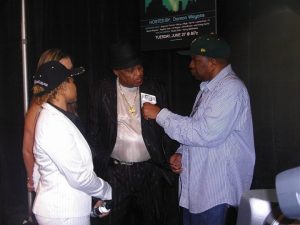 Yes he was managing Janet. But he also was her husband. But this dude over did it!! And Janet said enough is enough and ended the marriage. After watching the program, I do not blame Janet. Hell this fella was the one with his hands on Janet's breasts on the album cover for "Janet." WTF!!!
Of course the Janet Jackson documentary covered the terrible accident of yes….another story about Ms. Janet's breast for goodness sake.
Yeah I am talking about the accident at the Super Bowl during her halftime performance with Justin Timberlake & people to this day still about that. Some clowns said Janet exposed her breast to obtain publicity. Can you believe that readers?? Again…WTF!!!!
By the way, big sis Rebbie said the Jackson Family was not happy with the "Janet" album cover. They wondered if that is what she wanted when it came to "control."
(pic of yours truly interviewing the late patriarch of the Jackson's Mr. Joe Jackson in Los Angeles on the right).
So the two part program then talked Janet's relationship rapper/businessman Jermaine Dupree. Janet fell in love with JD. She was very much in love. There relationship lasted eight years. Janet said in the program that she wanted to get married to Dupree and wanted to have children(s) with him.  That means more than one!!
But she also said the relationship was tough because Jermaine was always busy, Always gone. They hardly spent time together. Well while Jermaine was gone he was doing something. CHEATING ON JANET!!
In the documentary, JD ADMITTED this. During his relationship with Janet, his record company SoSo Def blew up and did very well. Because of that, it brought more ladies around and he started to cheat on Janet. The superstar who truly truly was in love with him. A beautiful lady who wanted to marry him and have children!!!!
On the program Janet admitted too that Jermaine cheated on her. So that relationship ended. I have a different feeling about Jermaine Dupree now. I have lost all respect for him!! How on god's green earth can he go on the road and cheat on JANET JACKSON??? SAY WHAT!!
Janet moved on from JD because she is a strong lady. A VERY strong lady. She has dealt with being a part of world famous family. Dealt with questions about her late "King Of Pop" brother, dealt with a demanding family, dealt with relationship situations and has dealt with keeping her entertainment career going.
Remember also that Janet is a really good actress. Of course starting with her role the TV show "Good Times" and other TV shows as she got older and her movie with the late 2pac, plus her roles in Tyler Perry movies and more.
Readers I can go on and on about what I learned after the watching the two part documentary on Janet Jackson because remember as I said, Janet had a camera crew following her for ten years. Her ex husband also had a film crew filming stuff during his relationship with Janet.
Both allowed the footage to be seen for the FIRST TIME in the program. Janet had a baby she wanted and I am happy for her. She is very happy to be a mom at 50 YEARS OLD!!! You can see it on her face. She is very happy to be a mother ladies and gentlemen.
Ladies like former First Lady Michelle Obama, Debbie Allen and her sister Phylicia Rashad, former guest on "M.I.C-TV" Toni Braxton, former guest on "M.I.C-TV" Oprah and Gayle King, Ciara and other African American ladies are tremendous role models to add to the list with the tremendous and talented entertainment triple threat….Janet Jackson! God bless her and I hope her career continues to go on and one like a another role model, Gladys Knight sang!!!
Comments: gcurvey@yahoo.com or facebook.com/gordon.curvey or twitter.com/gcurvey Watch HOURS AND HOURS of webcasts/podcasts right here. Click the "Television Show" link above.  And also check out "Sports Inner City TV: After The Game" and "Music Inner City Radio" 24-7 on demand!! Watch via your smartphone, tablet, mac, desktop or iphone. AND watch a webcast of our main program too!! Just click the camcorder area and ENJOY!!!
Advertise with us or donate. And reach THOUSANDS!! Call 206-445-3989