WATCH OUR "MUSIC INNER CITY TV"/"SPORTS INNER CITY TV" PROGRAMS RIGHT HERE STREAMING AS A WEBCAST A DAY AFTER IT HITS THE COMCAST XFINITY ON DEMAND/XFINITY X1/WASHINGTON STATE-OREGON AND CALIFORNIA AIRWAVES 24-7!! SO NOW FOR THOSE OF YOU WHO DO NOT HAVE COMCAST YOU CAN NOW VIEW OUR PROGRAMS AS SOON AS THEY AIR ON TV!!! JUST CLICK THE LINK WITH THE CAMCORDER PIC AND ENJOY WORLDWIDE!!
PLUS WATCH HOURS AND HOURS OF "MUSIC INNER CITY TV" AND "SPORTS INNER CITY TV" WEBCASTS RIGHT HERE!! A SPINOFF OF OUR COMCAST XFINITY ON DEMAND-XFINITY X1 PROGRAMS/WASHINGTON STATE-OREGON AND CALIFORNIA!! OUR WEBCASTS ARE 24-7 ON DEMAND. JUST CLICK THE "TELEVISION LINK" GRAB YOUR HEADPHONES OR EARBUDS AND ENJOY!!
ALSO, WATCH NEW EDITIONS OF "SPORTS INNER CITY: AFTER THE GAME" IS NOW STREAMING WORLDWIDE 24-7 ON DEMAND. VIA YOUR SMARTPHONE, TABLET, MAC OR DESKTOP. COVERING THE NBA, MLB, NFL AND MORE! JUST CLICK THE "SPORTS INNER CITY TV" SCREEN. WILL BE PRODUCING MUCH MORE WEBCASTS COMING UP!! SO MUCH TO TALK ABOUT IN THE SPORTS WORLD!!!
ALSO LISTEN TO "MUSIC INNER CITY RADIO" PODCASTS 24-7 ON DEMAND! Just click the 'PODCAST" LINK ABOVE. 
TO ADVERTISE WITH US FOR $20 TO $60 A MONTH. Call 206-445-3989 or email gcurvey@yahoo.com WE TRY TO BE LEADERS AND NOT FOLLOWERS LADIES AND GENTLEMEN. ADVERTISE WITH US AND OBTAIN MONTHS AND MONTHS OF EXPOSURE!!! ON TV AND HERE ONLINE. HOPE TO HEAR FROM YOU SOON!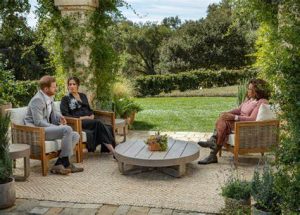 "One Man's Opinion" by Gordon Curvey
Ladies and gentlemen I watched the tremendously great interview held by former guest on my "Music Inner City TV" program Oprah Winfrey with the Meghan the Duchess Sussex and Prince Harry. WOW what a interview by Oprah!!
Readers this interview shows sorry to say that racism is alive and well. Even though Meghan and Harry have a lot of money and stay in a "semi" palace down in Southern Cal, I feel sorry for the couple. I truly truly do. As I watched the interview it got me sad and also angry.
Angry because Prince Harry and Meghan had to depart Britain for the United States because of one word…racism and this is sad. Harry met and fell in love with a African American lady. YES, Meghan is a African American lady.
From the start of their relationship, the press and citizens in Britain had a huge problem with Prince Harry having a relationship with a black lady. Here is a question…why? Meghan is a beautiful lady. Harry and Meghan shared their love with each other and the press in Harry's country was and is flat out WRONG in their treatment of the couple. Flat out wrong!!
Yes, we all know the Queen and King was not happy with Harry falling in love with a black lady. Not happy at all and they did not have to say a damn thing. Look at their faces in pics when Meghan was their with Harry. Happy? Oh hell no!! They was and still are very unhappy. And is Harry's brother, Prince William and his lady are not happy too.
And it seems Harry's dad, Prince Charles also is not happy with Harry and Meghan's love affair. Heck in the Oprah interview, Harry said his dad briefly stopped taking his calls after the couple announced they were stepping back from the royal family last January.
Reports are the royal family is "saddened" by what Harry and Meghan said in the interview that was aired on CBS on  and shown in Britian the next day.
Word is Queen Elizabeth feels the allegations of racism made by the Sussexes is being taken "very seriously." Well it should be readers. The charges about racism against the couple is terrible just plain terrible! A statement made by the royal family went on to say "The issues raised, particularly that of race, are concerning. While some recollections may vary, they are taken very seriously and will be addressed by the family privately."
Here is a problem at the age of the Queen and King Phillip and Prince Charles, it will be very very hard to get rid of feelings of race or racism. By the way, King Phillip is in the hospital and has been very sick and is in the hospital and I hope he will get better soon.
The Oprah interview has the royal household into "crisis." The claims made by Meghan that she felt suicidal during her first pregnancy are terrible and very very sad. Some say it has the potential to deeply impact the royal family's reputation and have left a cloud of suspicion over some of its members.
Check this out, Harry and Meghan said lack of support over "invasive" press coverage and the royal families institution's decision not to give their son Archie a title and the protection he should obtain, said to the couple I'M OUT and they moved to the United States and Southern California. Whew…this is deep!!
Also some in the royal family feel the Oprah interview should not have happened and that the charges of racism by Harry and Meghan should have been kept private.
It is important to know that Harry and Meghan are expecting a second baby to join little Archie. Also to me the saddest part of the Oprah interview is what Meghan said. Of course among many other things, she said she heard that certain royal family members were worried about the color of Archie and will he be dark skinned.
SAY WHAT??? WTF!!! This is crazy! This is what you call for sure racism. This is for sure. So of course now the couple are expecting another baby. Will this child be dark skinned along with curly hair etc?
For Harry and Meghan to leave all the trappings of being a royal couple and say we cannot take the racism any more and depart to the U.S. is HUGE!! They want to be without the Prince and Duchess titles. They want to be Harry and Meghan. Yes they have a huge house and millions of dollars but it seems Harry does not care for all the money and fame of being in the iconic royal family.
For sure this has to be said. The interview let us know how GREAT Oprah Winfrey is in conducting interviews. She along with the great Barbara Walters and even David Letterman and the late Larry King are legendary when it comes to doing interviews.
Truth be told and not trying to brag, but I feel yours truly does great interviews too. In 30 years I have done so many interviews I know what I am doing readers. That is why it is very hard to to obtain a "younger" person to do interviews for my media. Because I feel I have set a pattern of conducting good interviews.
Anyway back to Harry and Meghan. I am VERY glad to hear that Piers Morgan is leaving "Good Morning Britain" after he went off on the interview Harry and Meghan did with talk show queen Oprah.
The United Kingdom's Office of Communications said it obtained over 41,000 complaints regarding Morgan's off the wall complaints about the interview. Piers who I read has been putting Meghan on blast the last few years, said he was "sickened" by Harry and Meghan's Oprah interview.
And he went on to call the interview "a trash-a-thon" of the monarchy! He went on to say the couple dropped a "race bombshell." PLUS this man of ZERO interview skills, went on to say he did not believe Meghan when she said she was suicidal in the interview. Morgan said "I don't believe a word she says. I wouldn't believe it if she read me a weather report, and the fact that she fired up this onslaught against our royal family I think is contemptible."
Piers also questioned guests on his former program if it is truly racist to question what a mixed race child's skin might look like! SAY WHAT???? I just heard that Meghan has made a formal complaint to ITV who was the channel that aired Morgan's former program about the treatment of her by Piers Morgan. Shout out to her for doing that.
Also just heard that Morgan REFUSES to apologize for his UNFAIR treatment of Meghan. In my opinion this is a damn shame. Morgan is saying folks are trying to take away his "freedom of speech." Here is the problem. Piers has made basically racist comments regarding Harry and Meghan's relationship OVER AND OVER AND OVER AGAIN OVER THE AIR. This is wrong. Some of you reading this may disagree with me. Well that is OK.
A guest on Morgan's former program, Shola Mos-Shogbamimu said Piers is a "disappointment" during a debate that got heated over the monarchy's colonial history and racism.
The guest went on to say about Morgan, "I wish to God one day you even surprise me. You constantly use your platform as a wealthy, white privileged man with power and influence to aggravate and escalate bigoted, sexist, racist and misogynist attacks on Meghan Markle."
Morgan responded by calling her comments "race baiting nonsense." ITV presenter Alex Beresford confronted Piers about his views on Meghan over the years and called Morgan's views on the Oprah interview "hard to watch." So then Morgan walked off the "Good Morning Britain" set.
"The Good Place" actor Jameela Jamil expressed happiness that Morgan is gone off the air. Jamil had a public fight with Morgan last year on Twitter following the death of "Love Island" host Caroline Flack who died by suicide.
Jamil also said "I almost killed myself a year ago because of Piers Morgan's relentless  campaign of lies and hatred against me last February. I'm glad I'm still alive today for many reasons." I am glad too. And I am glad Piers is off the air in Britain. I was also happy when he was taken of the air by CNN a few years ago.
His ratings were terrible after he took over for the late Larry King. He constantly beat up on people of color over the air. These are facts. His treatment of Meghan over the years is wrong. Just like the treatment of Harry and Meghan by the royal family was and is wrong. Don't forget the press in Britain. They are wrong too!!
Again readers, Harry thought the treatment was so bad he and lady packed up and moved to Southern California so you KNOW how Harry felt. Again do not think the Queen or even William to change quickly if at all on their feelings about Harry feeling in love with a black lady. They will put on a act like every thing will be OK. IT WILL NOT BE!!
Remember former prez Trump, in a press conference said he was "not a fan of Meghan" and he wished Harry luck "because he is going to need it." Sorry readers, what a racist comment by the ex-Prez. WHY  does Trump wish Harry "luck." WHY did he say that? I do not understand readers.  Let's keep it real.  Let's keep it 100! The royal family did NOT want Harry to marry this beautiful sista. People in the press did not want Harry to marry this sista. Guys like Morgan and Trump did not want Harry to marry this sista. This is very very sad. I hope Harry and Meghan will STAY STRONG!! I do not want to turn on the news one day to hear Meghan could not take the pressure of being married to Harry and committed suicide. I hope and pray this does not happen.
Harry is so upset, that he and his brother William are barely speaking. You know up in heaven, Princess Diana is not happy. STAY WELL EVERYONE!!
Comments: gcurvey@yahoo.com