NEW EDITION OF "MUSIC INNER CITY TV" WEBCAST IS NOW STREAMING WORLDWIDE! JUST CLICK THE WEBCAST ABOVE. WATCH VIA YOUR SMARTPHONE, MAC, TABLET OR DESKTOP. GUEST IS A EXCLUSIVE ON ONE ON INTERVIEW VIA SKYPE AUDIO WITH SINGER, HIP-HOP ARTIST, BUSINESS OWNER AND PUBLIC SPEAKER SUGA-T. OF COURSE THE PROGRAM FEATURES HOT HIP-HOP-R&B AND POP MUSIC VIDEOS AND MORE!!
ALSO, NEW EDITION OF "SPORT INNER CITY: AFTER THE GAME" IS NOW STREAMING WORLDWIDE 24-7 ON DEMAND. VIA YOUR SMARTPHONE, TABLET, MAC OR DESKTOP. COVERING THE NBA, MLB, NFL AND MORE! JUST CLICK THE "SPORTS INNER CITY TV" SCREEN. WILL BE PRODUCING MUCH MORE WEBCASTS COMING UP!! SO MUCH TO TALK ABOUT IN THE SPORTS WORLD!!!
SOON OUR SPORTS WEBCASTS WILL BE CALLED "SPORTS INNER CITY: AFTER THE GAME" OR "SPORTS INNER CITY: OFF THE COURT" COVERING NBA NEWS AND ISSUES. NEEDED BECAUSE SPORTS RADIO IN SEATTLE REFUSES TO DISCUSS THE NBA ON A REGULAR BASIS SINCE OUR DEARLY DEPARTED SEATTLE SONICS LEFT OUR CITY IN 2008.
ALSO LISTEN TO "MUSIC INNER CITY RADIO" PODCASTS 24-7 ON DEMAND! Just click the 'PODCAST" LINK ABOVE. PLUS LISTEN TO OUR LIVE STREAM BY CLICKING THE "MIC BROADCAST" LINK OR CLICK THE ADOBE FLASH PLAYER LINK RIGHT UNDER THE "SPORTS INNER CITY TV" SCREEN.
TO ADVERTISE WITH US FOR $20 TO $60 A MONTH. Call 206-445-3989 or email gcurvey@yahoo.com WE TRY TO BE LEADERS AND NOT FOLLOWERS LADIES AND GENTLEME
"One Man's Opinion" by Gordon Curvey
As millions of sports fans have done, I have enjoyed the GREAT documentary on the Chicago Bulls on ESPN called "The Last Dance." It is really the best sports series I have ever watched and at the time I am typing this more of the series to come.
A lot of young people watching, were not even born when former guest on "Music Inner City TV" the great Michael Jordan was playing at his best. The Bulls of course dominated the 90's with six NBA titles led by MJ, Scottie Pippin and (another former guest on "M.I.C-TV) head coach Phil Jackson. And of course Dennis Rodman came on board to help win some more.
MJ, Pippin, Rodman and Jackson are all in the Basketball Hall of Fame. MJ allowed a film crew to follow the team in the 1997-1998 year. The last year the Bulls won a title. There sixth title. And let's be real, Jordan got burnt out and left the NBA for two years to play baseball. Or should I say, try to play baseball.
If Jordan would have stayed with the Bulls, their is a very good chance that the Bulls could have won EIGHT NBA TTILES in the 90's!!! Of course they beat our dearly departed Seattle Sonics in 1996.
It has become known to us that MJ had total control of what was going to be shown in "The Last Dance." The 10-part series was produced and directed by Jason Hehir. Because of the TERRIBLE TERRIBLE coronavirus that is killing so many people in the U.S. and the world, the documentary was moved up by ESPN to be shown early.
Why? As we all know because of COVID-19 their has basically been no live sports being televised on ESPN and Fox Sports and elsewhere. Just hella classic games from back in the day and even recent games. If you want to watch live bowling or a baseball game in South Korea then go ahead.
Sorry to say, a lot of past Sonics games have been shown on NBA-TV and ESPN. It makes all of us Sonic fans miss the team even more!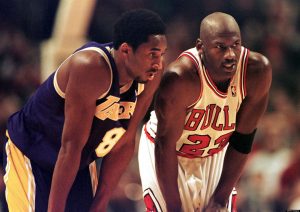 "The Last Dance" is just GREAT! Seeing the hatred between the Bulls and "The Bad Boys" Detroit Pistons. A childhood friend of mine who was a Cub Scout with me and went to Roosevelt High School with and attended Mt. Zion Baptist Church with me, big James Edwards was a member of the "Bad Boys."
I remember when Big James first started to really get interested in playing basketball.
He was a skinny bean pole playing hoops at Madrona Park here in Seattle's Central Area. Big James got taller and taller and better and better and ended up having a long great career in the NBA.
No doubt about it, the Bulls and Pistons HATED each other!! Pistons had the "Jordan Rules" which meant no flying dunks by MJ. The put Mike on the court many many times. BUT the Bulls made a point of paying the Pistons back and ended the Pistons title run.
In the final game the Pistons decided to walk off the court without shaking the Bulls hands. MJ has NEVER got over that and the "The Last Dance" has shown here in 2020, Jordan STILL does not care for Isiah Thomas. I think MJ hates Thomas. No I am sure MJ hates Thomas.
And the series has not made made the late GM of the Bulls Jerry Krause look good at all!! Because he refused to sign Phil Jackson to another contract after the Bulls won their sixth title in 1998. Jordan said he would not come back if Jackson was not the head coach.
Plus Jerry would not treat Pippin to well. He refused to give Scottie more money after he signed for 7 yrs-$18 million so Pippin as a result was the 122nd in pay in the NBA!! A OUTRAGE BY KRAUSE!! Sorry to talk this way of someone who is not with us but it is just true.
It was very sad to see the comments of the late Kobe Bryant on the series. Of course if you are a hoops fan you already know the Kobe tried to talk like, walk like and play basketball just like his idol MJ. MJ called Kobe "his little brother" and Kobe called MJ "his big brother."
But ladies and gentlemen and sports fans I am bothered by a few things that has aired on the series. And that is Jordan putting former teammate Horace Grant and even Pippin on blast on the documentary. Yes MJ did.
Plus MJ put just about the entire Bulls team of 84-85 on blast. Other words, MJ criticized the first team he played for as a member of the Chicago Bulls. He said he entered a room where a bunch of the Bulls players was at and saw players using coke, smoking weed, drinking and ladies all up in the room. He said as a rookie he was shocked.
So MJ said he got the hell out of there because if the police show up everyone including himself would be in trouble big time. I feel MJ was wrong for saying that on the program.
Recently for Chicago Bull teammate and a great shooter, Crieg Hodges, was irate with Jordan for bringing up the possible drug use etc in the room he entered as a rookie. And I agree with Hodges. Jordan should have said no comment and moved on to a different topic concerning the Bulls.
Also on "The Last Dance" MJ said Horace Grant went to media to spill beans about what is going on behind the scenes with the Bulls. WHY did Jordan do that or say that on freakin national TV with MILLIONS AND MILLIONS of people watching? In my opinion MJ was wrong again. Hodges brought that up and more during a recent radio interview. I am also bothered by this when it comes to Jordan.
Yes MJ said Pippin was the best player he ever played with and he said more good things about Pip. BUT Jordan criticized Pippin for obtaining a operation on his knee right before the NBA season of 1997-98 started instead of getting the operation during the off season.
For MJ to AGAIN put a Bulls teammate on blast on national TV in front of millions and millions in my strong opinion was flat out wrong. Again, Hodges brought that up too on the radio interview.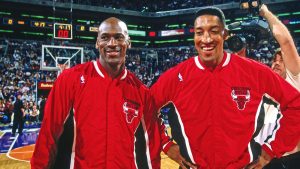 Today I watched "First Take" with Stephen A. Smith and Max Kellerman and former player and now basketball analyst Jay Williams discuss Hodges blasting Grant on TV and Hodges not liking MJ bringing up the possible drug use etc in the room when he was a rookie.
They were going at it. Stephen A. basically did not have a problem MJ. Williams for sure had a problem with MJ saying what he did on the documentary. Kellerman was kind of 50-50.
Pippin was "selfish" according to MJ. In my opinion, again Jordan could have kept comment to himself. Just my opinion readers. Sports radio jocks already do a great job in blasting African American athletes on the radio on a daily basis. Do not need the best basketball player of all time blasting his African American brotha on national TV. Again in front of millions and millions.
Horace Grant and Scottie Pippin and maybe players that was in that room that MJ discussed, could not be happy with what MJ said on "The Last Dance." Would you be happy? I would not for sure.
Of course other topics was and will be discussed on "The Last Dance" but let's keep it real, just because it is Michael Jordan it does not make it that folks like myself and others like Hodges will agree with everything MJ says on the series. That is impossible readers.
With the coronavirus dominating the news, it is a great great release to look forward to watching the great great "The Last Dance." For sure something to look forward to with no live sports to watch.. So thanks ESPN for doing this for us hoops junkies like yours truly. I LOVE BASKETBALL!! This is a fact!!
ESPN realizes how popular the game of basketball and the NBA is as well as the NFL. Major League Baseball? Now that's a different story. A topic for a future story real soon right here on "Music Inner City News Magazine.
PLEASE STAY WELL EVERYONE. WASH YOUR HANDS AND DO NOT TOUCH YOUR FACE AND STAY INSIDE IF YOU CAN. Yes I know people need to work to pay bills and feed families but all I know is THIS CORONAVIRUS IS VERY VERY VERY SERIOUS!!