IMPORTANT NEWS: FOR NOW FOR THOSE OF YOU WHO ARE USING GOOGLE AS YOUR BROWER "NOT SECURE" WILL SHOW NEAR THE ADDRESS BAR. DO NOT WORRY WE ARE SAFE! IF YOUR BROWER IS MOZILLA FIREFOX AND MICROSOFT EDGE OR INTERNET EXPLORER OR OTHER BROWERS YOU WILL NOT SEE "NOT SECURE"!
OUR NEW LIVE STREAM PLAYING CLASSIC SOUL AND CLASSIC HIP-HOP AND SMOOTH JAZZ 24-7 RIGHT HERE! JUST CLICK THE BAR UNDER OUR "SPORTS INNER CITY TV" WEBCAST SCREEN. IF YOU DON'T HAVE THE ADOBE FLASH PLAYER Click here 
OR JUST ON THE "MIC BROADCAST LINK." A BOX WILL APPEAR AT THE BOTTOM OF THE PAGE. WHEN YOU CLICK ON THE LINK FOR THE FIRST TIME IT WILL SAY "THIS FILE MAY HURT YOUR PC" THIS LINK WILL NOT REPEAT WILL NOT HURT YOUR COMPUTER!!!!
NOW JUST CLICK ON "ALWAYS OPEN FILES OF THIS TYPE" AND FOR NOW ON THE LIVE "NCH PLAYER" WILL POP UP ALL THE TIME!! PLAYING CLASSIC SOUL-CLASSIC HIP HOP AND SMOOTH JAZZ PLUS SHORT INTERVIEWS. AND SOON WE WILL HAVE LIVE PODCASTS FROM HERE IN OUR STUDIO IN SEATTLE, WASHINGTON (USA)!!!!
AND LISTEN TO OUR ON DEMAND PODCASTS ALSO. NEW PODCAST COMING SOON! JUST CLICK ON THE "PODCAST" LINK.
ALSO WE WILL BE AT T-MOBILE FIELD DURING THE SEATTLE MARINERS MLB SEASON FOR THE 9TH YEAR IN A ROW CONDUCTING SHORT INTERVIEWS WITH HOME/VISITING PLAYERS!! SPECIAL THANKS TO THE SEATTLE MARINERS! COMING UP SOON INTERVIEWS WITH MARINER PLAYERS TIM BECKHAM AND DEE GORDON
ADVERTISE WITH US ON OUR COM
CAST XFINITY ON DEMAND/XFINITY X1 PROGRAMS OR RIGHT HERE ONLINE VIA A BANNER OR LINK OR WEB COMMERCIALS ON OUR WEBCASTS AND PODCASTS FOR $10, $20 or $40. CALL US AT 206-445-3989 OR EMAIL US AT gcurvey@yahoo.com!! CALL NOW AND REACH THOUSANDS!!
"One Man's Opinion" by Gordon Curvey
One thing is for sure, I have respect for entertainers who are great performers on stage and doing things off the stage too in the business world. And the beautiful Rihanna has my respect.
If you know about pop music you already know Rihanna is a superstar. But now she is trying to be a superstar in the business world. Luxury goods conglomerate LVMH recently announced that "Fenty", a new fashion collaboration with  Rihanna.
Louis Vuitton, Dior, Marc Jacobs, Dom Perifnon, Chandon, Fendi are already at home with LVMH. And check this out. Rihanna partnership makes her the first black woman and woman of color to lead a major luxury fashion house. This is huge news!!
Rihanna said recently "I didn't even know that until months into our relationship, when Fenty's style director Jahleel Weaver brought it to my attention. And I'm like, are you sure about that? Did you do your research? Because I don't wanna state a claim that's (expletive.) Because I still couldn't believe it. It made me feel proud."
Playwright Jeremy O. Harris asked in a recent interview whether she, as a black lady, has ever felt like an outsider in this space, or does being Rihanna alleviate that?" And Rihanna said "It's never alleviated, you know? You're going to be black wherever you go. And I don't know if it's unfortunate or fortunate, because I love being black. So, sorry for those who don't like it."
She also said "There are also other factors, I'm young. I'm new to the family. I'm a woman. Those factors do come into play, but I will not apologize for them, and I will not back down from being a woman, from being a black, from having an option."
Rih's luxury fashion house launches May 22nd. Rih's new luxury Maison will give us ready to wear clothing as well as accessories that includes shoes, sunglasses, and jewelry.
LVMH Chairman and Chief Executive Bernard Arnault said "I couldn't imagine a better partner both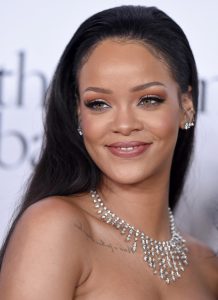 creatively and business-wise, and I'm ready for the world to see what we have built together. Everybody knows Rihanna as a wonderful singer, but though our partnership at Fenty Beauty, I discovered a true entrepreneur, real CEO and a terrific leader."
Arnault also said "She naturally fits in her full place within LVMH. To support Rihanna to start up the Fenty Maison, we have built a talented and multicultural team supported by the Group resources. I am proud that LVMH is leading this venture and wish it will be a great success."
Finally LVMH hasn't had a brand new label since 1987 and Fenty, Rihanna's label, will soon join other fashion houses of LVMH I mentioned earlier in this article.
One thing is for sure, Rihanna is a first class role model for young black girls all over the world. She knows what it will take to keep her name in the world of music and now fashion. And like she said, she is still young.
She basically is still a "baby" in the music world and for sure in the fashion world. Look at what J-Lo and the late great Elizabeth Taylor and Jay Z and P-Diddy and Micheal Jordan and Lebron James and Kevin Durant and MANY others are doing in mixing sports and entertainment with business. Well we can now add Rihanna to that list!!