R. Kelly UPDATE: R. Kelly time may be running out soon. He recently got charged with 10 counts of dealing with under age girls.
Kelly's bail was set at $1 million. It took Kelly almost a week to come up with $100,000 to help him get released. The other day he came up with the money is now out on bail and the rumor is a friend came up with the bail money.
Story out today that his brother is worried R. Kelly may commit suicide before he might have to go to jail for years. We will keep you informed on the terrible story of a man whose career has went completed downhill. Real talk!
ARTICLE FROM sohh.com (Full story click here)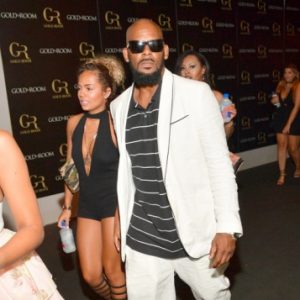 As you know I have typed a story here on "Music Inner City News Magazine" regarding disgraced singer R. Kelly and his dealings with under aged females.
Since I had my first thoughts here things have got much worse for Kelly. And I am glad!
Kelly should be convicted of what he has done with girls some say as young as 14. Hell the late Aaliyah (former guest on "M.I.C-TV) was 15, when he married her. Aaliyah sorry to say lied that she was 18.  Kelly knew her real age!! He knew her age.
Of course millions of people watched the R. Kelly documentary on Lifetime a few weeks ago. It opened a lot of folks eyes that were not opened before on the monster R. Kelly.
When I watched that program I was completely and utterly shocked at what these ladies said what Kelly did to them when they were young teenagers and he in his 30's and 40's. Watching the lady who married the monster Kelly crying had me crying for goodness sake! It was very very sad.
Again, how that jury did not send R. Kelly to jail is beyond me. He should have been locked up big time. Like I said in my earlier story, I watched that DISGUSTING video that millions also watched with Kelly doing DISGUSTING things to a girl who was said to be 14 YEARS OLD!! Did that jury see the video? WHAT THE HELL LADIES AND GENTLEMEN!! WHAT IS GOING ON?????
Now that story and under aged girls is back in the public eye. Ladies are coming out and telling their terrible stories on what Kelly did to them when they were teenagers!! Of course Kelly and his attorney's are saying these ladies are lying. Question..WHY WOULD ALL THESE LADIES LIE ON KELLY? What are they getting out of lying?
Recently Sony Music has dropped R. Kelly from their label. That is huge readers. Sony Music dropping Kelly is big and huge news. Thousands of radio stations including stations here in Seattle are not playing R. Kelly music anymore which is also HUGE news. That hurts a fella liked Kelly.
Of course R. Kelly concerts most likely will be a no no. Not happening. What concert promoter would book a R. Kelly concert in a city? It is not happening folks.
Recently actress Taraji P. Henson allegedly came out and supported Kelly. She has had to make comments saying it was not true. Also singer Erykah Badu, a friend of Kelly had a concert and told the audience to "pray for R. Kelly."
Hell some of Kelly's kids have come out and said they have nothing to say to their dad every again. Ladies and gentlemen that is serious when a man's kids do not ever want to speak to their father.
Both Henson and Badu have been ROASTED on social media!!! Both had to come out and back track on their support of Kelly. How can ANYONE support R. Kelly with all the ladies telling their horrible stories on what Kelly did to them as teenagers. Come on now!! Singer Sparkle has blasted Badu and Henson for their support of Kelly.
The doc "Surviving R. Kelly" was shocking pure and simple. Word is out now that the FBI is investigating Kelly for arranging cross country flights for under aged girls. WOW!!
It is time for the hammer to come down on R. Kelly. He should be locked up like comic legend Bill Cosby is. Who ever is out their supporting R. Kelly needs a mental exam IMMEDIATELY! Like I said in this article, R. Kelly is a monster and a sick individual. Hopefully it is just a matter of time before his luck runs out and he will sent to where he should have been sent years ago AND THAT PLACE IS CALLED PRISON!!
Gordon Curvey