(For Oprah's Website Click Here)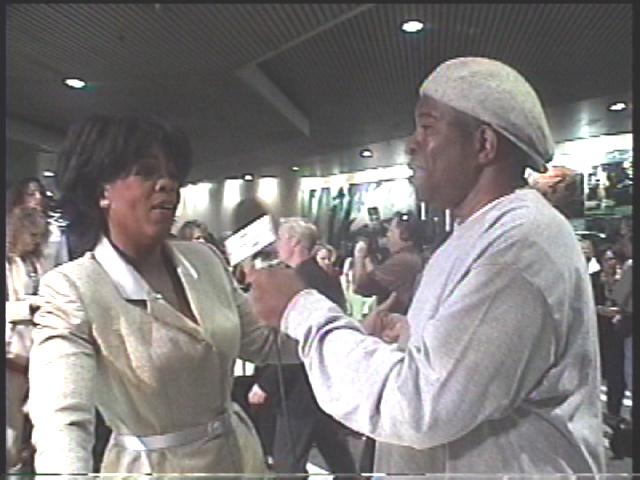 One thing for sure I NEVER thought in my wildest dreams that I would end up meeting and interviewing some of the BIGGEST stars in entertainment and even sports when I started "Music Inner City TV" in December of 1990 here in Seattle.
Among others I have interviewed the "Godfather Of Soul" James Brown, Stevie Wonder, Chaka Khan, Al Green, Smokey Robinson, Dionne Warwick, Snoop Dogg, Carlos Santana, Paul Stantly of KISS, Sir Paul McCartney, Rick James, Ike Turner, BootsyCollins, Micheal Jordan, Laker coach Phil Jackson, Shaquille O'Neal and many more including media icon Oprah Winfrey.
To celebrate Oprah ending the 25 year run of the "Oprah Winfrey Show" and the start of HER OWN NETWORK….O.W.N (Oprah Winfrey Network) I am showing the EXCLUSIVE interview with Oprah I did with her here in Seattle a few years ago.
Of all the reporters there, Oprah spent more time with me then anyone media other than John Curly of Evening Magazine which airs here locally on the station that airs Oprah's program.
I sent ONE e-mail to oprah.com and told her about myself and my show. And a few weeks later my phone rang and it was HARPO PRODUCTIONS!!!!! And they told me they were impressed with what I have done with my show over the years and that I would end up with a interview with Oprah!! Of course I was happy as hell.
Good luck to Oprah in January with the start of O.W.N and thanks for the 25 years of the "Oprah Winfrey Show"
Listen to "Music Inner City Radio" every Friday night on 1150am KKNW at 10pm in the Seattle area and surburbs and streaming live online at www.1150kknw.com  Entertainment and sports news, classic soul and new and recent hip-hop and r&b music and more!!
Listen to podcasts of "M.I.C-Radio" right here. Just click "podcast" link above.
And watch "M.I.C-TV" on Comcast On Demand all over Western Washington state on Comcast On-Demand. Just go to "get local" and then "around the sound" and enjoy the shows. If you are outside of Washington state or you do not have Comcast On-Demand, watch ENTIRE programs RIGHT HERE!!!
Just click 'Television Show" link above!! You can view HOURS AND HOURS of our programs!!