ARTICLE FROM si.com (Full story click here)
"One Man's Opinion" by Gordon Curvey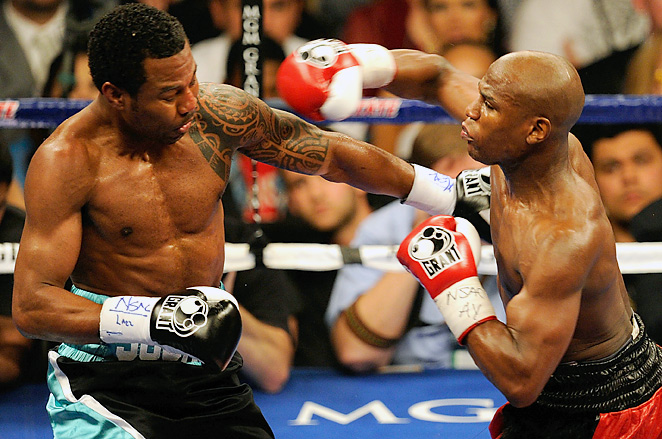 As a big boxing fan I was excited to watch the Mayweather/Mosley fight. It was a fight that boxing needs more of. All the stars were in attendance. Diddy, Paris Hilton, Donald Trump and even "The Greatest" Ali was their.
And what they saw was a boxing lesson by the undefeated Floyd "Money" Mayweather. Shane Mosley at 38 just could not deal with the speed of Floyd.
In the second round, Mosley connected with a great hook and for the first time in Floyd's career he was really hurt.
But he recovered and after the second round it was all "Money" Mayweather. His speed was just to much for Mosley to deal with. Floyd is one of the greatest boxers of all time. This is for sure.
As a boxing fan, I really want to see a big money making heavyweight fight here in the U.S. But sorry to say, since England's former champ Lennox Lewis retired, the Heavyweight division has been dead. No big fights of interest. This I feel is not good for boxing. And I don't see a big Heavyweight fight happening soon.
Finally with "Money" beating Mosley, everyone wants to see a Manny vs. Floyd fight. This is a BIG money fight where Manny or Floyd can bank around $40 million. Let's hope all the politics can be put to the side and let's make this fight happen.
Watch "Music Inner City TV" webcasts right here. Just click "Television Show" link above or watch the latest "Music Inner City TV" show to the right.
NEW "Music Inner City Radio" podcasts every other day that will feature entertainment and sports news, politics plus classic soul and new and recent songs. From the studios of "Music Inner City TV" Just click "podcast" link above
A spinoff of "Music Inner City Radio" on Alternative Talk 1150am KKNW in the Seattle area every Friday night at 10pm. And our shows on Comcast On-Demand TV all over Western Washington state!!