LISTEN TO OUR NEW 24-7 AUDIO STREAM RIGHT HERE! PLAYING CLASSIC SOUL AND HIP HOP! AND SOON LIVE PROGRAMS FROM OUR STUDIO HERE IN SEATTLE, WASHINGTON. SO GRAP YOUR HEADPHONES AND ENJOY.
NEW EDITION OF "MUSIC INNER CITY TV" WEBCAST IS NOW STREAMING WORLDWIDE! JUST CLICK THE WEBCAST ABOVE. WATCH VIA YOUR SMARTPHONE, MAC, TABLET OR DESKTOP. GUEST IS SINGER SYDNEY EGGLESTON FROM HER HOME IN FOR AWAY GERMANY. OF COURSE THE PROGRAM FEATURES HOT HIP-HOP-R&B AND POP MUSIC VIDEOS AND MORE!!
ALSO, NEW EDITION OF "SPORTS INNER CITY: AFTER THE GAME" IS NOW STREAMING WORLDWIDE 24-7 ON DEMAND. VIA YOUR SMARTPHONE, TABLET, MAC OR DESKTOP. COVERING THE NBA, MLB, NFL AND MORE! JUST CLICK THE "SPORTS INNER CITY TV" SCREEN. WILL BE PRODUCING MUCH MORE WEBCASTS COMING UP!! SO MUCH TO TALK ABOUT IN THE SPORTS WORLD!!!
ALSO LISTEN TO "MUSIC INNER CITY RADIO" PODCASTS 24-7 ON DEMAND! Just click the 'PODCAST" LINK ABOVE. 
TO ADVERTISE WITH US FOR $20 TO $60 A MONTH. Call 206-445-3989 or email gcurvey@yahoo.com WE TRY TO BE LEADERS AND NOT FOLLOWERS LADIES AND GENTLEMEN.
"One Man's Opinion" by Gordon Curvey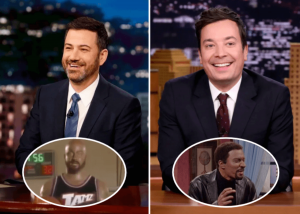 I hope everyone is well. More than 204,000 people and counting have left us because of the nightmare COVID19, not the China Virus as the man in the White House calls it.
Alway looking for interesting things to discuss here on "Music Inner City News Magazine" coming at ya from the African American point of view. I want to thank everyone for their support in logging in to my website. My site obtains a lot of visitors to read our stories and listen to the podcasts and watch the webcasts.
Here is a interesting story. WHY wasn't "Tonight Show" host Jimmy Fallon and the host of "Jimmy Kimmel Live" Jimmy Kimmel not fired for conducting skits on programs?
Why do I ask this ladies and gentlemen? Because the fellas who as we know are white, did skits on their programs in blackface! I am not lying folks. They are white and did skits on programs in BLACKFACE! WTF! What is going on? I cannot believe they did this, but they did!!
Fallon impersonated fellow comic Chris Rock during a skit on "Saturday Night Live" in 2000. And Kimmel impersonated NBA legend Karl Malone on his program.
This is crazy. This is wrong! I do not care if the skit Fallon did was 20 years ago! I do not care if Kimmel and Fallon's programs get good ratings for NBC and ABC! I do not care if their programs bring big money the NBC and ABC. It is wrong for these two fellas to do the blackface skits and nothing happens to them!
In my strong opinion Jimmy Fallon and Jimmy Kimmel SHOULD HAVE BEEN FIRED!! PERIOD!! But they were not because as I said they bring big ratings and big cash to NBC and ABC. Of the course "The Tonight Show" is a flat out legendary program hosted for three decades by Johnny Carson and for years by Jay Leno.
Recently a few radio hosts have been fired for negative comments about the gay community and more. The Cincinnati Reds is one of them. There announcer just stepped down from broadcasting Reds games because he was caught on a hot microphone making sexiest comments.
Also for instance, two radio hosts in Rochester, New York Kimberly Ray and her co-host Barry Beck were fired for their racist comments regarding the Black Lives Matters movement.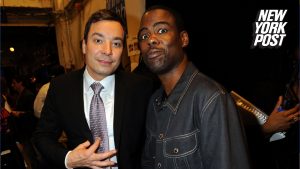 There is more. Joe Staysniak of 1070 The Fan in Indianapolis was suspended for racist comments over the air. I can go on and on readers. Here is another one. Nate Lucas was fired from a radio station in Springfield, Missouri for racist views on Democratic Vice-President candidate Kamala Harris.
Yes, their is more I can talk about readers. Many more. I am bringing these folks up on this story because if the folks I have mentioned in this article was fired or suspended, then why wasn't Jimmy Kimmel and Jimmy Fallon fired or suspended over their actions of doing skits in blackface? I do not understand.
Recently for some unknown reason, Chris Rock said he was not bothered by the skit on SNL 20 years ago by his friend Fallon. Give me a freakin break Chris! Also Jamie Foxx said he was not bothered too.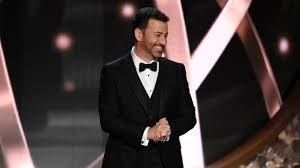 Yo Rock and Foxx WAKE UP!! What Fallon did was racist and offensive. Why this offensive skit was not brought out 20 years ago when Fallon first did the skit as Rock is beyond me. But it is what it is. It was brought out in 2020 and again in my opinion Fallon should have been suspended or even fired as host of the legendary "Tonight Show."
And Kimmel should be suspended or fired over his skit as Karl Malone. What is right is right and what is wrong is wrong ladies and gentlemen. Kimmel and Fallon were WRONG!
Saying you are sorry now again in my opinion is too damn late!! Two white guys doing a skit as a African American is just plain wrong. Have you noticed Aunt Jemima Syrup is no longer around? The Washington Redskins is now just Washington The Football Team for this season?
People here in 2020 have been made aware of problems of race and racism in America. I am sure Fallon and Kimmel realize this. As a African American I realize this.
Heck Fallon and Kimmel can be replaced. It is not too late. The African American community and leaders in the African American community can take a stand and demand that Jimmy Kimmel and Jimmy Fallon be fired. It can happen. And I think it should happen.
Fallon and Kimmel can be replaced by DJ Hughley or Wayne Brady or others. Why not a African American host readers? The "Tonight Show" in its long history has never had a African American host. Why not now?
Again, for Kimmel and Fallon to say they are sorry after the fact is nothing in my opinion. I am upset at Foxx and Rock taking up for their "friend." These two guys were flat out WRONG!.  But they were not suspended, fined or fired. How can this happen?
I think The National Action Network or the Rainbow Coalition or the National Black Caucus or the Urban League should demand that Jimmy Kimmel and Jimmy Fallon be fired as host of "Jimmy Kimmel Live" and "The Tonight Show Starring Jimmy Fallon." White guys doing skits in blackface is wrong in 1924, 2000 or 2020!