IMPORTANT NEWS: WATCH OUR EXCLUSIVE ONE ON ONE INTERVIEW WITH SEATTLE SEAHAWKS QB RUSSELL WILSON RIGHT HERE!
JUST CLICK THE "TELEVISION SHOW" LINK ABOVE. THE WEBCAST IS 24-7 DEMAND/WATCH VIA YOUR SMARTPHONE, TABLET, MAC OR DESKTOP!! HOME PAGE MAIN WEBCAST FEATURES A ONE ON ONE INTERVIEW WITH SEATTLE MARINERS PLAYER JP CRAWFORD FROM T-MOBILE PARK IN SEATTLE, WASHINGTON.
FOR NOW FOR THOSE OF YOU WHO ARE USING GOOGLE AS YOUR BROWSER "NOT SECURE" WILL SHOW NEAR THE ADDRESS BAR. DO NOT WORRY WE ARE SAFE! IF YOUR BROWER IS MOZILLA FIREFOX AND MICROSOFT EDGE OR INTERNET EXPLORER OR OTHER BROWERS YOU WILL NOT SEE "NOT SECURE"!
JUST CLICK "MIC BROADCAST LINK." A BOX WILL APPEAR AT THE BOTTOM OF THE PAGE. WHEN YOU CLICK ON THE LINK FOR THE FIRST TIME IT WILL SAY "THIS FILE MAY HURT YOUR PC" THIS LINK WILL NOT REPEAT WILL NOT HURT YOUR COMPUTER!!!!
SO GRAB YOUR HEADPHONES AND ENJOY THE LIVE STREAM COMING AT YA FROM OUR STUDIO HERE IN SEATTLE, WASHINGTON!!
NOW JUST CLICK ON "ALWAYS OPEN FILES OF THIS TYPE" AND FOR NOW ON THE LIVE "NCH PLAYER" WILL POP UP ALL THE TIME!! PLAYING CLASSIC SOUL-CLASSIC HIP HOP AND SMOOTH JAZZ PLUS SHORT INTERVIEWS. AND SOON WE WILL HAVE LIVE PODCASTS FROM HERE IN OUR STUDIO IN SEATTLE, WASHINGTON (USA)!!!!
AND LISTEN TO OUR ON DEMAND PODCASTS ALSO. NEW PODCAST COMING SOON! JUST CLICK ON THE "PODCAST" LINK.
ADVERTISE WITH US ON OUR COMCAST XFINITY ON DEMAND/XFINITY X1 PROGRAMS OR RIGHT HERE ONLINE VIA A BANNER OR LINK OR WEB COMMERCIALS ON OUR WEBCASTS AND PODCASTS FOR $10, $20 or $40. CALL US AT 206-445-3989 OR EMAIL US AT gcurvey@yahoo.com!! CALL NOW!!
"One Man's Opinion" by Gordon Curvey
Ladies and gentlemen it is very very sad that the word racism is alive and well. It is sad that a man cannot be in love and not face rejection. Especially if you are a member of a legendary family overseas.
Queen Elizabeth has asked for a family meeting with grandson Prince Harry. And why is this emergency meeting asked for you may ask? It is because Prince Harry and his lady Meghan-Duchess of Sussex want to step back from their royal duties.
In the asked for meeting, Prince Charles and Prince Harry's older brother Prince William will also be in attendance due to take place very soon at the Queen's Sandringham estate in Norfolk, eastern England.
Check this out readers, Meghan who if you did not know is part African American and a former TV actress, will join the meeting via the telephone from Canada where she returned to rejoin the couple's baby son, Archie. This meeting has sent shock waves in England.
Known as the Duke and Duchess of Sussex, Prince Harry and Maghan surprised the rest of the royal family by publicity announcing they wanted a "new working model" that would allow them to spend more time in North America and also to be financially independent. Wow!! This is a shock.
Word is the couple did not consult with the Queen or other members of the family before making their announcement on a new website, sussexroyal.com. Reports are the Queen and other family members were hurt and very disappointed. The Queen by the way is 93 years old.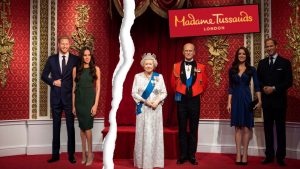 Also reports are this is the first time the Queen and Prince Charles have met in person to discuss the concerns raised by Harry and Meghan. Officials have been meeting behind the scenes since the huge announcement to try to work something out or a new arrangement for the couple.
Ladies and gentlemen let's face reality. Prince Harry married a lady of color and many in the country of England have had a problem with this. Folks cannot believe Harry married this half black female.
Sorry to say the word racism is in the picture. What else can it be ladies and gentlemen? Do you think the problems that are going on right now would be going on if Prince Harry married a white lady? The answer is no!! These a facts readers. It just would not. Period. And this is very sad. Harry married the lady he fell in love with.
Also last October, Harry admitted he and his brother William had a fall out. Ummm I wonder what that was all about readers? Do you think William has a problem with who his little brother married just like the Queen seems to have?
It seems Harry and William relationship has not been repaired. With William saying to a friend "I've put my arm around my brother all our lives and I can't do that any more, we're separate entities." This also is sad because the brothers were very very tight of course after the passing of their mom Princess Diana.
It seems the royal family needs to wake up and get their heads out of the white clouds. Again, Harry and Meghan love each other. They want to be independent and do their own thing separate from the royal duties.
Word is Meghan had agreed to do voiceovers for Disney in a return for the company making a donation to a charity she supports that works to protect elephants. I wonder if the Queen has a problem with that? Remember Meghan was in show business and it seems she still wants to be. With the blessing of Harry.
In ending it is very very sad what Harry and Meghan are going though. A man married a lady he loves who happens to be a lady of color. Truly truly sad. President Obama and Michelle can relate right? I think so.