ARTICLE FROM nfl.com (Full story click here)
"One Man's Opinion" by Gordon Curvey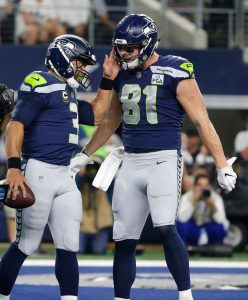 As some of you may know, I did not have a chance to cover my home town team the Seattle Seahawks this season at Century Link Field. I will not go into why but I will say I am very very disappointed that I could not cover the team.
But anyway readers, truth be told not many Seattle Seahawks fans thought the team would do as good as it finally did this year. After all the team lost a friend of our media, Micheal Bennett and Richard Sherman. Then we lost Earl Thomas to a injury. All three of these players are great players.
No one thought our running game would be as good as it ended up being led by Chris Carson. Carson ran for over a 1,000 yards this season. No one thought this would happen. This is for sure.
The Seahawks ended up one of the best running teams in the NFL!! On defense, of course Bobby Wagner had ANOTHER great season. Nothing new for Wagner. He is just a great player period. K.J. Wright fought injuries all season. It was kind of a lost season for Wright sorry to say. Because he is another great player. Just like Wagner and the the departed Sherman and Bennett and the injured Thomas. All part of "The Legion Of Boom" defense.
Russell Wilson? Well he was Russell Wilson all season long. Except for not running enough in my opinion. He is without a doubt one of the top five QBs in the NFL and everyone knows this.
But in the 24-22 loss the Dallas Cowboys in a Wild Card playoff game, others are saying this and I guess I will too. All season long I have had a problem with the play calling by the Seahawks. Not enough trick plays and more important not enough runs by Russell Wilson. When I say that I mean PLANNED runs by Russ.
In the loss to the Cowboys, the Seahawks coaches should have seen that Dallas was shutting down the running game of the Seahawks. So in my opinion, the Seahawks should went to the air much sooner than the 4th. BUT even though the Cowboys shut down our running backs, I STILL think Wilson could have ran more.
Why they did not is beyond me. Carson and the other backs just was not having a game like like the Cowboy's Ezekiel Elliott who ran for 137 yards that included two huge runs that really really hurt the Seahawks. One big run by Elliott just should not have happened but it did.
QB Dak Prescott surprised me by throwing for 226 yards. I was thinking before the game, the big stage might be too big for Prescott and the experience of Wilson will win out. I was wrong.
So yes I am disappointed the Seattle Seahawks got eliminated from the playoffs. It is very hard to watch the other games knowing my home town team is no longer playing. It is really hard. But somebody had to get beat and you have to give it to the Cowboys.
They executed their game plan the Seahawks did not. As I said, the Seahawks game plan was just not good in the second half.
So now I am in a city without a NBA team to follow. It is really hard right now not to have a pro team to write about and cover. Big shout out to the champs Golden State Warriors for allowing my sports outlet "Sports Inner City" to download post game, pre game and practice interviews!!
The Warriors support HAS BEEN GREAT!! And I am very grateful!! And I will produce "Off The Court: Sports Inner City TV" and "After The Game: Sports Inner City TV" webcasts and podcasts RIGHT HERE on "Music Inner City News Magazine."
I also want to thank the Seattle Mariners for their support. For allowing me to conduct short interviews at the newly named T-Mobile Field. I have been able to interview legends such as Reggie Jackson and Derek Jeter (both 2 times) and many other MLB stars!!
And god willing I will be able to cover my home town team again, the Seahawks next season starting with training camp. I will be real happy if this is the case. When I am at training camp and covering games at Century Link, IT IS FUN NOT WORK!!