NEW LIVE STREAM PLAYING CLASSIC SOUL AND CLASSIC HIP-HOP AND SMOOTH JAZZ 24-7 RIGHT HERE! JUST CLICK THE BAR UNDER OUR "SPORTS INNER CITY TV" WEBCAST SCREEN. IF YOU DON'T HAVE THE ADOBE FLASH PLAYER Click here 
SPIKE LEE OSCAR UPDATE: Spike Lee took home his first Oscar Adapted Screenplay for his movie "BLACKkKLANSMAN." But Lee was not happy with a award given out a little later in the Oscar event.
Lee and others are not happy with "Green Book" winning Best Picture at the 2019 Oscars. Lee's movie "BLAKkKLANSMAN" was also nominated for Best Picture. "Green Book" which starred Mahershala Ali and Viggo Mortensen beat out Spike's film and also the film "Roma.
Word is Lee attempted to storm out of the Dolby Theater after it was announced that "Green Book" won the award. Spike walked towards the back of the theater very quickly during the movie winner's speech. He was not happy and many do not blame him one bit!
Fellow African American filmmaker Jordan Peele and Spike were later seen in a intense conversation. Sources say Peele was not happy with "Green Book" winning the Best Picture also.
Backstage, Lee said his 1989 hit movie "Do The Right Thing" was also denied a nomination in Best Picture for a Oscar when "Driving Miss Daisy" won the award. Lee said "I'm snakebitten. I mean every time somebody is driving somebody, I lose. But they changed the seating arrangement. But, in 1989 I didn't get nominated, so this one we did."
When asked backstage Lee went on to say "I thought I was courtside at Garden. The ref made a bad call." Let's face facts readers. Spike Lee was UPSET at not winning Best Picture.
I too agree that it was BS that "BLACKkKLANSMAN" did not win Best Picture. Yeah a few more African Americans won at this years awards including the before mentioned Ali and Ms Regina King and I was very happy they won. And I was happy Lee won for writing. BUT his movie should have won Best Picture!!
I have seen both films. Yes, "Green Book" was a very good movie, I enjoyed it. But I also saw Spike Lee's epic film and in my opinion it was better. Much better. A movie that made us think and the racial climate we are in with the dude in the White House. Racism is REAL. "Green Book" winning Best Picture WAS A FREAKIN JOKE!!
By the way the dude in the White House OF COURSE had to respond to Spike Lee's comments when he won his Oscar telling the crowd to remember 2020 is right around the corner and we should "Do The Right Thing." I think he needs to worry about being President.
"One Man's Opinion" by Gordon Curvey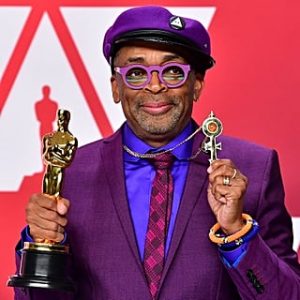 Since the time I am typing is Black History Month, why not do a story on a man who has made history as a ground breaking director in a field that we do not see many African Americans. His name is movie maker Spike Lee. Let's learn a little about the man.
Lee is a tremendous role model for young African Americans to look up to if they want to enter the field of a producer/director of movies that Hollywood might take a look at. For sure Hollywood has taken a look at Spike Lee since the late 80's. That is when the name of Lee started to make a name for himself in Hollywood. And it has been non stop for Spike ever since.
Lee was born in Atlanta in 1957. He started making "home" movies by the age of 20. Spike first got national attention in 1986 when he made a movie named "She's Gotta Have It" and by the way it was one of the most profitable movies made that year.
His FIRST film he made was called "Last Hustle In Brooklyn." He was a student at Morehouse College at the time. Lee went on the graduate from the New York University Film School in 1982. His thesis film "Joe's Bed-Stuy Barbershop: We Cut Heads" won a Student Academy Award. It was on for Spike Lee. He continued to make a name for himself as a director, producer and writer.
By the way, Lee's budget for the movie "She's Gotta have It" was $175,000. It earned over $7 million at the box office. WOW! Soon after that Spike started his own production company called 40 Acres and a Mule Filmworks. His next movie  he made was called "School Daze" in 1988 which was set a historically black college.
So then with the profits of "School Daze", Lee went on to make the movie that REALLY made a name of Spike Lee big time in Hollywood. It was called "Do The Right Thing." It hit the screens in theaters in 1989. It was a movie based about his own neighborhood in Brooklyn, New York. The film portrayed the racial tensions in Bed-Stuy one hot summer day. Man….what a film!!
Spike Lee's films have examined race relations in America thought the years. Let's keep it real readers. Lee should have won a Oscar for Best Director in 1992 for his dynamic film called "Malcolm X" starring Denzel Washington. By the way Washington should have won a Best Actor Award at the Oscars for his role as Malcolm. REAL TALK!!
In 2000, Lee did something different in making the movie "The Original Kings Of Comedy"which was a film made at concerts by comics like the late great Bernie Mac, Cedric The Entertainer and more. That movie also made a lot of money at the box office.
When it comes to his time at home, he met his wife, attorney Tonya Lewis in 1992 and they were married a year later in New York. They have one daughter, Satchel, born in 1994 and a son, Jackson born in 1997.
It you know anything about Spike Lee, you know he is a tremendous sports fan. He is Major League Baseball fan, But his favorite sport is the NBA and his town favorite the Knicks. He can be seen on the sidelines and has been for a long long time. Giving the refs and visiting players a very hard time in his support of his NY Knicks.
He made a documentary for ESPN called "Winning Time: Reggie Miller vs. The New York Knicks", that focused on Lee's interaction with former Indiana Pacer and Hall Of Famer Reggie Miller.
He and his wife have a office in Fort Green, Brooklyn but Lee and his wife live on the upper East Side of Manhattan. I am sure Lee can afford to live in many other high income areas. Now before I end let's talk about what is coming up for Spike as I type this bio on this film maker who I respect big big time.
At the time I am typing this story, Lee is FINALLY nominated for Best Director for his film "BlacKkKlansman" and I hope and pray he will get the Oscar. The movie is powerful and leaves you thinking also. Lee has never been nominated for Best Director when he should have been many other times and for sure as I said earlier for his film "Malcolm X."
Many are saying it is time for Lee to obtain a Oscar. It will make me and millions of other Spike Lee fans VERY VERY HAPPY! Readers this story on Spike Lee could be much longer because as a film maker he has done so much. He is a tremendous role model for young African American film makers. This is a fact.
"BlackkKlansman" is also up for a Oscar was up for a Oscar this year for Best Picture. He is ALSO a nominee for Best Adapted screenplay. I am so happy for Lee to get all the love and credit he should have obtained years ago ladies and gentlemen. By the way Denzel Washington's son John David Washington stars in the movie.
Even if Spike Lee does not win anything, millions of Spike Lee fans will still show love to the man and support his films like we have since the late 80's. I want to say a big THANK YOU to Spike Lee and I hope he will continue to make films to educate us, make us think about race and racism in America and much more. Again THANK YOU SPIKE LEE!!!