"One Man's Opinion" by Gordon Curvey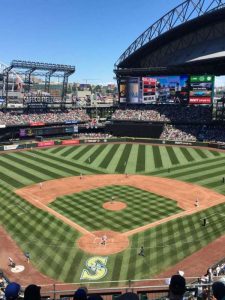 Before I start I want to say THANK YOU to the Seattle Mariners for their support of "Sports Inner City TV." They have allowed me to set up interviews with visiting and home team players for years now.
I have been lucky enough to interview legends like Reggie Jackson (two times), Derek Jeter (two times) and also CeCe Sabathia, Andrew McCutchen, Torii Hunter, Dave Roberts, Dee Gordon, Felix Hernandez and many more! No problems. I just set up my interviews, travel to the stadium and conduct my interview and then leave.
Speaking of stadiums, I conducted all my interviews here in Seattle at Safeco Field. Well ladies and gentlemen Safeco Field now has a new name. Safeco Field is now T-Mobile Park starting in the 2019 MLB season. If approved by the Washington Sate Major League Baseball Stadium Public Facilities District, the new name will last for the next 25 years.
The Mariners announced back in 2017 that the Mariners were not going to renew their contract with Safeco Insurance. Safeco had a 20 year, $40 million deal that expired at the end of last season.
Th new deal with T-Mobile will be worth $6 million annually. But a little later word came out that the deal could be closer to $3 million annually for T-Mobile. What ever the price is, it will be HUGE exposure for T-Mobile in their fierce war against other companies that do what they do. I am sure Boost Mobile or other competition realize this.
Mariners President and CEO Kevin Mather recently said "Fans have come to expect a great experience at this ballpark and we have made a commitment to invest substantial club revenue over the next 25 years to make sure that continues. This partnership with T-Mobile will help us meet that obligation so that fans will have a first-class experience at T-Mobile Park for decades to come."
Of course a lot of Seattle Mariners fans would like to see the team in the playoffs a place they have not been in 17 years. This town would go crazy if the Mariners finally make the playoff. A new experience in the park and a new experience on the field also!!