ARTICLE FROM opednews.com (Click here for full story)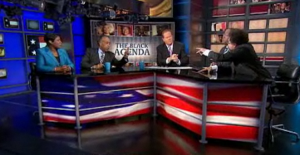 In case you did not know the other day Rev. Al Sharpton and Cornell West got into a very heated argument on national TV on MSNBC. It watched it was truly sad.
Here we have two prominent African Americans in a verbal fight in front of millions of viewers and they were fighting about President Obama.
West and his very good friend talk show host Tavis Smiley have a lot of problems with the leadership of the Prez. Smiley and West in my opinion are HATERS and are JEALOUS of the President AND Rev. Sharpton! Neither of them has access to the President like Rev. Sharpton and the National Action Network. Real talk.
Rev. Sharpton has some differences with the Prez but if he has a problem he can call the President or event meet with him in the White House. West and his good friend Smiley cannot. So West in my opinion showed his jealous feelings towards Rev. Sharpton and acted like a damn fool on national TV.
In ending, I will admit I do have a problem with Rev. Sharpton jumping on Fox News and CNN and MSNBC all the time and I also have a huge problem with West and Rev. Sharpton getting into a verbal fight on a "majority" TV station. IF they have a difference of opinion on the leadership of President Obama I wish they could have aired them on TV One or B.E.T. That is for sure.   Gordon Curvey
For some of the latest in urban sports news and issues please log on the one of the few urban sports websites on the Internet "Sports Inner City Online" at www.sportsinnercity.com
Watch "Music Inner City TV" all over Western Washington state 24-7. Just go "get local" and then "around the sound"
Also listen to "Music Inner City Radio" every Friday night on 1150am KKNW at 10:05pm Seattle time and streaming LIVE online at www.1150kknw.com