Watch "Music Inner City TV"/Comcast Xfinity On Demand/Xfinity X1/24-7/Washington State-Oregon-California. For Comcast Xfinity On Demand go to "get local" and then "inner city tv." For Xfinity X1 go to "Xfinity Services" then "Get Local" and then look for the "inner city TV" folder. Exclusive interviews, hip-hop-r&b-pop music videos and more! Also here online listen to "Music Inner City Radio"/24-7 LIVE from Seattle, Washington. Classic soul and classic hip-hop, interviews and more! CLICK "LISTEN LIVE." And watch "Sports Inner City TV/After The Game" webcast! Talking urban sports 24-7 on demand. CLICK THE "SPORTS INNER CITY TV" SCREEN. And listen to "Sports Inner City Radio" podcast 24-7 on demand. CLICK THE "PODCAST" LINK and enjoy! And you can watch a current "Music Inner City TV" Comcast program also 24-7 on demand by clicking the big camcorder. All this on your smartphone, tablet, mac, desktop or iphone!!
"One Man's Opinion" by Gordon Curvey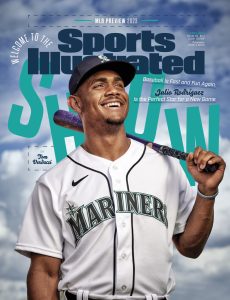 Hope everyone is well. Since the Major League Baseball season is here, I have decided to do a story of a young fella who for sure makes me want to watch MLB. And he happens to play here in Seattle with our Mariners, Julio Rodriquez. Julio is on his way to become a superstar in the game of baseball. A sport who in my opinion needs a TRUE superstar to go along with the Angels Ohtani. Hopefully soon I will see Julio making commercials like Ken Griffey Jr used to do when he was a star here in Seattle with our Mariners.
Julio was born in Loma de Cabrera in the Dominican Republic.  He was born December 29, 2000. He signed with the Seattle Mariners as a international free agent in the year 2017. He made his big league debut in 2022. When he signed with the Mariners he was only 16 years old. In July 2017 he obtained a bonus of $1.75 million. Imagine how this kid felt! He made his pro debut as a rookie in the Dominican Summer League Mariners in 2018.
As a right fielder, Julio batted .315 with 50 runs, nine triples, five HR, 36 RBLs and 10 stolen bases without being caught in 219 at bats! WOW! That was in 59 games. Rodriquez started 2019 with the Class A West Virginia Power in the South Atlantic League.
J-Rod played in the Arizona Fall League with the Peoria Javelinas (what a name) when he was 18, he was the youngest player in the AFL. He batted .288. H was named the AFL Rising Star. Then in July 2021, Julio started play with the Everett AquaSox. A few months later J-Rod was promoted to the Arkansas Travelers. Because of his outstanding play he was picked to play in the All-star Futures Game. Soon Julio was ranked #1 on the Mariners prospect list and #2 on the MLB top 100 prospect list.
Seattle soon after that added him to their 40 man roster. Wow I know it was a dream come true for Julio and his family back home. He made it to MLB!! J-Rod made his MLB debut on April 8, 2022 as the starting center fielder vs the Twins. Yeah he started the season kind of rough going 1 for 21. But then he got better with a quickness.
On May 1 Julio hit his first HR against the Miami Marlins. He was named AL Rookie of the Month for two months in a row in May and June of 2022. Also in June J-Rod, played 29 games, scored 22 runs and hit .280 with seven HR, 16 RBIs and five stolen bases. He showed all MLB fans that he is a very talented young future superstar. Rodriquez was selected to the 2022 MLB All Star Game roster, making him the sixth Seattle Mariner rookie to do so. A-Rod also took part in the HR Derby. He hit 81 HRs in three rounds and placed second behind Juan Soto.
The 2022 season ended with A-Rod hitting .284 with 84 runs, 28 HRs and 75 RBIs, 25 stolen bases and 140 strikeouts in 511 at bats. All at the young age of 21! Julio is currently dating OL Reign Canadian pro soccer player Jordyn Huitema. In January 2023 Julio donated am ambulance to his hometown's civil defense headquarters. His town did not have an ambulance for emergency. It was a great thing that Julio did for his hometown.
The young man has because a person the sports media wants to interview. He is a out going young man  who LOVES to play the game of baseball. By the way, the Mariners gave Julio a HUGE contract extension last season that will keep him a Mariner most likely his entire career with LOTS OF MONEY!!
For sure Julio is a fan favorite here in Seattle. Because of his personality and his skills as a baseball player, he might become the face of MLB like former Mariner Ken Griffey Jr. used to be. He is getting better in speaking English so that will help. Right now, I do not understand why Julio is not on local or national commercials/marketing. But then again, MANY MLB stars are not doing commercials/marketing on TV. Unlike MANY ex and current NFL and NBA players. I just see former guest on "Music Inner City TV/After The Game," Derek Jeter and fellow Hall of Fame member Frank Thomas. That's it. I do not understand why.
Anyway, I hope to see future superstar Julio doing national commercials/marketing soon. That would be great! J-Rod I am sure will continue to get better and better. We are lucky to have Julio Rodriquez here in Seattle and playing for our Mariners!!
Comments: gcurvey@yahoo.com or www.facebook.com/gordon.curvey or www.twitter.com/gcurvey