IT IS TIME FOR OUR SEATTLE SEAHAWKS COVERAGE SPORTS FAN! JUST CLICK THE "SPORTS INNER CITY TV" SCREEN 24-7 ON DEMAND. WATCH VIA YOUR SMARTPHONE, TABLET, MAC, IPHONE OR DESKTOP.
WE START OFF OUR COVERAGE WITH COMMENTS FROM THE FIRST WEEK OF SEAHAWKS TRAINING CAMP AT THE VMAC IN RENTON, WASHINGTON. HC PETE CARROLL, BOBBY WAGNER AND MORE DISCUSS THE FIRST FEW DAYS OF TRAINING CAMP. WE WILL HAVE MORE DETAILED INFORMATION OF COURSE DURING THE SEASON ON EVERY SEAHAWK GAME!
UNLIKE A FEW OTHERS AROUND HERE, "SPORTS INNER CITY TV" AND MY BIG BROTHER PROGRAM "MUSIC INNER CITY TV" ARE LEGIMATE MEDIA!! NATIONALLY KNOW AND RESPECTED!! MORE THAN 30 YEARS IN THE GAME!!!
WE WILL HAVE POST GAME INTERVIEWS FROM LUMAN FIELD HERE IN SEATTLE AND ON THE ROAD DURING THE SEASON. OF COURSE A VERY SPECIAL THANK YOU TO THE SEATTLE SEAHAWKS!!!
WATCH OUR "MUSIC INNER CITY TV"/"SPORTS INNER CITY TV" PROGRAMS RIGHT HERE STREAMING AS A WEBCAST A DAY AFTER IT HITS THE COMCAST XFINITY ON DEMAND/XFINITY X1/WASHINGTON STATE-OREGON AND CALIFORNIA AIRWAVES 24-7!! SO NOW FOR THOSE OF YOU WHO DO NOT HAVE COMCAST YOU CAN NOW VIEW OUR PROGRAMS AS SOON AS THEY AIR ON TV!!! JUST CLICK THE LINK WITH THE CAMCORDER PIC AND ENJOY WORLDWIDE!!
PLUS WATCH HOURS AND HOURS OF "MUSIC INNER CITY TV" AND "SPORTS INNER CITY TV" WEBCASTS RIGHT HERE!! A SPINOFF OF OUR COMCAST XFINITY ON DEMAND-XFINITY X1 PROGRAMS/WASHINGTON STATE-OREGON AND CALIFORNIA!! OUR WEBCASTS ARE 24-7 ON DEMAND. JUST CLICK THE "TELEVISION LINK" GRAB YOUR HEADPHONES OR EARBUDS AND ENJOY!!
ALSO, WATCH NEW EDITIONS OF "SPORTS INNER CITY: AFTER THE GAME" IS NOW STREAMING WORLDWIDE 24-7 ON DEMAND. VIA YOUR SMARTPHONE, TABLET, MAC OR DESKTOP. COVERING THE NBA, MLB, NFL AND MORE! JUST CLICK THE "SPORTS INNER CITY TV" SCREEN. WILL BE PRODUCING MUCH MORE WEBCASTS COMING UP!! SO MUCH TO TALK ABOUT IN THE SPORTS WORLD!!!
ALSO LISTEN TO "MUSIC INNER CITY RADIO" PODCASTS 24-7 ON DEMAND! Just click the 'PODCAST" LINK ABOVE.
TO ADVERTISE WITH US FOR $20 TO $60 A MONTH. Call 206-445-3989 or email gcurvey@yahoo.com WE TRY TO BE LEADERS AND NOT FOLLOWERS LADIES AND GENTLEMEN. ADVERTISE WITH US AND OBTAIN MONTHS AND MONTHS OF EXPOSURE!!! ON TV AND HERE ONLINE. HOPE TO HEAR FROM YOU!
"One Man's Opinion" by Gordon Curvey
I am always thinking of good stories to do here on "Music Inner City News Magazine." Here is a good one. A short story on actor Will Smith. A lot of people got to know Will when DJ Jazzy Jeff and the Fresh Prince blew up.
But his story started before he joined his long time friend DJ Jazzy Jeff. Of course I cannot tell the entire story on how Smith became a household name but I will talk about the main points on how Will is now worth millions and millions of dollars.
Let's go back to when Smith was growing up. He was born September 25, 1968 in Philadelphia to Caroline and Willard Carroll Smith Sr. His mom was a school board administrator and his dad was a U.S. Air Force vet and a refrigeration engineer. Will grew up in West Philly's Wynnefield area. Smith has a older sister named Pamela and two younger family members, twins Harry and Ellen. Will's parents separated when he was 13 but did not actually divorce until around 2000. For sure this can be hard on a kid when parents divorce. Ask me I know!!
Will attended Overbrook High School in Philly. It is known that Smith turned down a scholarship to attend Massachusetts Institute of Technology. He never applied to college because he wanted to…yes rap. Smith says he was admitted to class at the school but because he wanted to rap he did not attend.
So Will Smith started as a MC of the hip-hop duo DJ Jazzy Jeff & the Fresh Prince with his childhood buddy Jeffrey "DJ Jazzy Jeff" Townes. Twons and Will met each other by chance in 1985 as Jeff was performing at a house party only a few doors down from Smith's residence and he was missing a hype man. Soon after Will and Jeff enlisted a friend to join as the beatboxer of the group, Clarence (Ready Rock C) Holmes. And soon after that the three signed a deal with Philly based Word Up Records.
First single was a song called "Girls Ain't Nothing But Trouble" and the group was on their way. After that and because of their success, the group was brought to the attention of Jive Records and Russell Simmons. DJ Jazzy Jeff and the Fresh Prince first album was called "Rock The House." It was released on Word Up Records and hit the streets in 1986 on Jive.
The group obtained a Grammy Award for Best Rap Performance in 1989 for "Parents Just Don't Understand." Their biggest hit was "Summertime" in 19991. The song earned the group their second Grammy and the song went to #4 on the Billboard Hot 100. Will and Jeff are still best friends and claim that they never split up. They perform now and then all over the U.S. and even the world to keep the groups name alive.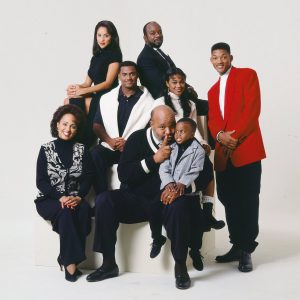 Did you know Smith was having money problems and that the IRS went after Will for unpiad taxes that totaled $2.8 million. They took many of his possessions and garnished his income. God was on his side in 1990 Quincy Jones (former guest two times on "Music Inner City TV") helped to sign Will to a new TV show on NBA called "The Fresh Prince of Bel-Air." Of course the show was built around Will. Even used his real name on the program.
The program started in 1990 and lasted 6 years. By the way. Will left the show the way he wanted it to end. That was good. Because "The Fresh Prince" could have lasted longer.
The program helped Smith to start a career in movies. Will's first major role were in the drama "Six Degrees Of Separation" in 1993 and the highly successful "Bad Boys." The first "Bad Boy" movie was in 1995 with comic Martin Lawrence. The "Bad Boy" movies have earned millions and millions for Will and Martin.
The first "Bad Boy" movie grossed a whopping $141.4 million worldwide. Smith also starred in "Independence Day." The film was a massive success that became the second highest grossing film in HISTORY of movie making at that time!! WOW!!! It made Will a superstar worldwide.
I can go on and on about Will Smith's career in Hollywood and music. Will married fellow actor Jada Pinkett in 1997 and they met when Jada auditioned for a part as Will's girlfriend on "Fresh Prince." They soon stated a production company called Overbrook Entertainment and Westbrook Inc. They have two children together Jaden Smith and Willow. Both have been in movies with their father. Will and his brother Harry own Treyball Development Inc, a Beverly Hills based company named after a earlier son of Will, Trey.
A legend, that is Will Smith. And he is only 53. He still has a long long career in the entertainment business ahead of him. Heck, he can still do his music thing too.
And like a lot of others, he and his lady Jada are making money in podcasting and webcasting. They have obtained big sponsors to back them. Something in a smaller way I am trying to do ladies and gentlemen. Obtain sponsors or a angel investor to help me in my webcasting and podcasting.
Of course I do not have a huge name like Will Smith and Jada so it is very very hard but I will keep on the grind god willing. Will recently did something a lot of people have asked for.He got all the "Fresh Prince of Bel Air" actors together except for the late James Avery who passed away at age 68 a few years ago. Of course all the actors missed big James not being there. Most started to cry when discussing Avery who of course played Uncle Phil on the show. He was really really loved by everyone.
It was great to see everyone back together. Especially happy to see Will and the original Aunt Viv Janet Hubert who has had a long "battle" with Will.
She felt disrespected when she was on the program. Here is the deal. Janet saw Will blow way way up as the star of the show. Excuse me, the show was called "Fresh Prince of Bel-Air" right? It was called "Aunt Viv of Bel-Air." But again she wanted more money. More lines on the show and more.
She put Will on blast MANY MANY times the last few years. I mean really on blast folks!! So it was GREAT to see Will and Janet FINALLY meet, discussed their problems with each other and become friends again. I was happy to see this happen. Janet showed up and joined the lady who took her place on the program as Aunt Viv, Daphne Maxwell Reid. Reid did a great job in replacing Hubert.
By the way, a "new" Fresh Prince of Bel-Air" is starting soon. With a whole new crew and with Will as the Executive Producer. I cannot wait to see the new show. None of the past actors will be on the new "Fresh Prince."
In Hollywood, Will is one of only a few African American superstars. Will is up their with Denzel Washington as far as marketable stars. Remember not only does Smith make a up front salary but he gets paid from online views of his movies and when folks buy his movies. Word is Will is worth around $350 million.
Also besides the "beef" with Janet, Will has stayed out of "trouble." He is beloved worldwide. I wonder if Smith dreamed of being a multi-millionaire rapper and then a multi-millionaire actor. Will Smith is a role model young inner city African American youth can look up too for sure!!
By the way, Will's new movie out in theaters now is about the father of Serena and Venus Williams (Venus & Serena both former guests on "M.I.C-TV) and how he brought up his girls in the "white" world or tennis called "King Richard." About the late Richard Williams. Word is Will may be up for a Oscar nomination for this role!!
Comments: gcurvey@yahoo.com