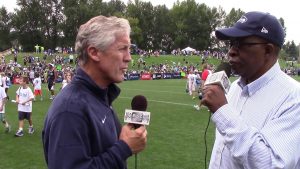 "One Man's Opinion" by Gordon Curvey
As many of you know for over 30 years I have covered not just entertainment but the NBA, the NFL and MLB. I LOVE sports including boxing, Formula One, Indy Cars, track and field and more.
Of course I am here in Seattle, Washington. Our NBA team left for OKC in 2008. It was like a family member died when our NBA team left. I covered morning shootarounds for a long time. Interviewed many many NBA players that included Shaq, Charles Barkley and more. I even obtained a one on one interview with Michael Jordan!!
For years I have covered our Seattle Mariners. Have interviewed many Mariners and visiting players like Hall of Famers Reggie Jackson and Derek Jeter. BOTH TWO TIMES!! Special thanks to the Mariners!
As I type this article it is time for the NFL season to start soon and that means our Seattle Seahawks. This will be a different type of season for the Seahawks and the entire NFL. Only three pre-season games and more importantly, one more game during the season. That means 17 games. WOW!! A lot of players in the NFL do not like having one more game. But of course it is going to happen.
Here is another thing that if you are a sports fan know, THE CROWDS ARE BACK! At least for now. That means the 12s are back here in Seattle at Lumen Field!!! THIS IS GREAT!!
I was watching repeats of NFL games on the "Red Zone" on TV and it showed games from last season with no fans in the stands. Players were making great plays and responses from the fans…oops yeah, their was no fans!! So players had to act like fans and cheer big time when their teams scores a td or makes a great play.
Oh yeah, am VERY VERY happy the fans are back!! As many of you know, the off season for the Seahawks made big headlines because of comments made by former guest on "Music Inner City TV" QB Russell Wilson.
He appeared like he does a lot, on the "Dan Patrick Show." And made a few headlines when he talked about how he needs more protection from his offensive line. Yes it made headlines because it is true. Wilson needs more protection from his line. I even asked him that during my one on one with Russ.
My question was how does he continues to get up for the next play after a huge hit. He said of course god is on his side and that allows him to get up, dust himself off and get ready for the next play.
Of course Wilson's views made huge headlines on Seattle's sports radio stations. Big big headlines. Just like headlines was made when people said "Let Russ cook" or other words let Russ be Russ and let him control things and that will maybe open up the offense.
The first half of last year, Wilson was doing great. There was even MVP discussions. Then the second half of the season was not as good. He still made plays like he has always done, but he just was not as good the second half of the season. Everyone knew this. Even HC Pete Carroll.
Well the question is this. Did the Seahawks address the O line during the off season? We will see. Right now as I type this, a big part of the O line is STILL holding out and that is big Duane Brown.
Truth be told Brown holding out bothers me BIG TIME!! Dude is making MILLIONS AND MILLIONS OF DOLLARS sports fans!! I wonder when Brown was in pee wee football or playing in high school or college, did he think he would get drafted in the NFL and make MILLIONS. And he is holding out? GIVE ME A FREAKIN BREAK!!
Yes Jamal Adams also held out for more $$. He wanted to be the highest paid safety in the NFL for some reason that only he knows. Well the Seahawks offered him a contract to make him just that. Do not get it twisted. Adams is a great player. And Brown is not great but is very good.
These dudes holding out bothers me big time when families are having problems taking care of their rent and food for their kids and pay for medicine and pay for car insurance and mortgage payments.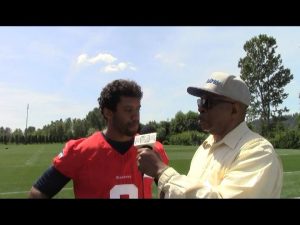 And players have the nerve to hold out??? Yes, the NFL is also a business and a NFL player time in the league is basically very short and yes they want to make as much money as possible. But these players are ALREADY making HUGE money. So sign your contract and get in camp and get ready for the season!!
This season is big for Russell Wilson. Will he have a great season and help the Seahawks return to the Super Bowl is the question. Will DK Metcalf continue to improve? Will Tyler Lockett continue to perform at a high level and stay healthy? Will Chris Carson stay healthy? Carson by the way is VERY important for the Seahawks. He really is.
In the pre season, one person who has stood out is DJ Dallas. He is making plays and is having fun. You can see it and hear it when he talks to the press.
A lot of pressure will be on Ken Norton Jr. And the Seahawks defense. Norton caught a lot of heat last season for his coaching of the D. Will it happen this year? Of course we will see. By the way it is real strange not seeing KJ Wright on the Hawks. No one has signed him yet. Maybe he will end up back on the team soon. In my opinion and others too, KJ had a good season last year.
With COVID19 and also the new virus that has filled up hospitals here locally and nationwide, the NFL has has made it even harder to cover the teams.
Basically no radio or TV station reporter will be allowed in the locker room after games. Things was tight at training camp. Well at least for me. I was only allowed to be at the Vmac for training camp one day. Others (like one dude who I will not name), was allowed in every day for some reason.
Will I be able to be in the press room to cover games this season? I do not know (this one dude who will go nameless will for sure take up a seat.) Not trying to brag ladies and gentlemen, but my sports media "Sports Inner City TV" and my entertainment media "Music Inner City TV" IS LEGITIMATE MEDIA!! After more than 30 years of broadcasting for sure I have served my dues!!
This one dude I am not naming was in East Africa, when I started my media in December 1990. My goal is to satisfy my audience on TV and online.
I work very very hard for my audience. I want to thank the Seahawks for allowing me to obtain press conferences from after the games here at home at Lumen Field and on the road too!! I am very very grateful to the Seattle Seahawks for this. If I am not able to be in the press room, of course I will be watching the game here in my home/office.
And will have my views and player press conferences on a "Sports Inner City TV: After The Game" webcast. Also on "Music Inner City Radio" podcasts right here on "Music Inner City News Magazine." Just click the "Sports Inner City TV" screen. It is 24-7 on demand. For our podcasts click the "podcast" link at the top of the home page.
I have got a little behind in producing my audio programs. That is going to change because podcasting is getting HUGE. Have to have good content. I think I have good content readers!!
I am READY for NFL football!!! I am READY for the season!!! I am ready to turn on "The Red Zone" even if the host talks to much about the freakin fantasy league!! I am READY to see what kind of season Russell Wilson and our Seattle Seahawks will have. Please watch and listen to my Seattle Seahawks coverage ALL SEASON LONG!!
ps I will also produce "Sports Inner City: Off The Court" talking nothing but NBA hoops!!