PLEASE DONATE TO OUR MEDIA VIA PAY PAL! Our email is gcurvey@yahoo.com Just click here to donate
 NEW EDITION OF "MUSIC INNER CITY TV" WEBCAST IS NOW STREAMING WORLDWIDE! JUST CLICK THE WEBCAST ABOVE. WATCH VIA YOUR SMARTPHONE, MAC, TABLET OR DESKTOP. GUEST IS SINGER SYDNEY EGGLESTON FROM HER HOME IN FOR AWAY GERMANY. OF COURSE THE PROGRAM FEATURES HOT HIP-HOP-R&B AND POP MUSIC VIDEOS AND MORE!!
ALSO, NEW EDITION OF "SPORTS INNER CITY: AFTER THE GAME" IS NOW STREAMING WORLDWIDE 24-7 ON DEMAND. VIA YOUR SMARTPHONE, TABLET, MAC OR DESKTOP. COVERING THE NBA, MLB, NFL AND MORE! JUST CLICK THE "SPORTS INNER CITY TV" SCREEN. WILL BE PRODUCING MUCH MORE WEBCASTS COMING UP!! SO MUCH TO TALK ABOUT IN THE SPORTS WORLD!!!
ALSO LISTEN TO "MUSIC INNER CITY RADIO" PODCASTS 24-7 ON DEMAND! Just click the 'PODCAST" LINK ABOVE. 
TO ADVERTISE WITH US FOR $20 TO $60 A MONTH. Call 206-445-3989 or email gcurvey@yahoo.com WE TRY TO BE LEADERS AND NOT FOLLOWERS LADIES AND GENTLEMEN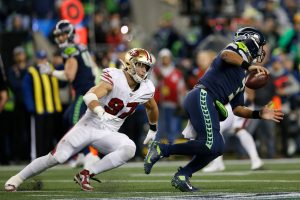 "One Man's Opinion" by Gordon Curvey
Unlike one so called sports blog from here in the Seattle area, I will not be afraid to talk about all the chatter in the sports world about former guest on "Music Inner City TV" Seahawk QB Russell Wilson.
This one editor of a so called sports blog is trying to keep his possible seat in the press room at Luman Field for Seahawks games when folks are allowed back at games because of COVID19. And the owner of the so called sports blog is also trying to keep things good for him so he can attend Seahawks training camp and more.
I am not going to be afraid to discuss all the talk about Russ like this certain person who by the way I know. This situation regarding Russell Wilson and if he wants to be traded or not is very very interesting. It really is.
For me, everything started when the Seahawks loss to the Rams in the post season playoff game. Russ took the loss very very hard. Most of the time, Russ comes out to talk to the media within a half hour. But after the loss to the Rams it took Russ at least TWO HOURS to come out to talk to the media.
When he did, he had not removed all his uniform!! WOW!! And when he did talk to the waiting reporters Russ was sad and depressed about the loss to the Rams. In the years listening to Russ in post game press conferences I have never heard Russ sound so sad. Right then I knew something was up in my mind.
I was right readers. So when Wilson went on the Dan Patrick Show and said what he said, I was not really surprised, not surprised at all. Why?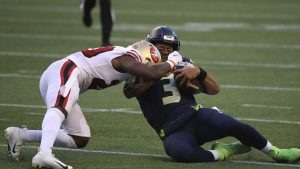 Because as a sports fan and a Seahawks fan, I have sat back and watched Russell take one vicious hit after another over the years. YES, at times Russ holds on to the ball too long. There is no doubt about that. But most of the time Wilson is running for cover. These are facts. Anyone who has watched Russell Wilson play the last few years know this is a fact.
When I had a chance to conduct a one on one interview with Russ, I brought up to him about all the hits he takes and how he continues to just get up and gets ready for the next play. I have constantly heard Seahawks play by play radio voice man Steve Raible say "Man what a hit on Russ."
So why is all the sports media surprised that FINALLY Wilson has said something about all the hits he has taken as the starter for the Seattle Seahawks. A lot of hosts on sports radio and writers are saying Russ has "thrown his offensive line under the bus." Has he sports fans?
In my opinion, Russ was saying things he has held for YEARS! He is tired of all the hard hits he has taken. It is pure and simple. I do not give a damn about how sports radio hosts and sports writers are saying about Russ. Saying he has thrown his O-line under the bus. To me Russ is telling the truth!
Wilson sat back like I did and watched 43 year old Tom Brady win a SB and barely got touched. Russ wants to have a line that he does not have to run for cover all the damn time!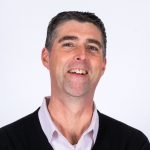 I heard Ian Furness (Pic on right) on KJR say on the air that Russ wishes he was like Lebron or Brady. As great as they are. Furness said "Russ is not Lebron, is not Brady." WHERE FURNESS GOT THIS CRAZY THOUGHT FROM IS BEYOND ME!! Furness is flat out WRONG!! RUSSELL WILSON JUST WANTS TO WIN!! PERIOD!!
Give me a freakin break Furness about Russ is not Lebron or Brady. Russell Wilson thinks he is Russell Wilson, a great QB! YES he has faults. Just like many many QBs. As I mentioned, Russ does hold on to the football to damn long many times. We all know this. But in positive, Russ has led the Seahawks to many many wins.
Does Russell want to get traded? In my mind I do not think so. Having said that, his lady singer Ciara may want her man to get traded. Word is she is not crazy about Seattle.
Ciara is a entertainer. Cities like Vegas or L.A. or New York my be good for a entertainer like Ciara. We all know how crazy in love is Russ over Ciara. But I truly think Wilson wants to be a Seahawks BUT is tired of being hit all the time and I mean as I said vicious hits. But he continues to get up all the time.
Can Russ and Pete Carroll patch all the negativity up? Yes he can. Can Russ learn the new offense that will be put in place because the new OC? Yes he can. Can Russ talk to his O line and patch things up? Yes he can!
As a Seattle Seahawk fan and also part of the media I do not want to see Wilson traded. I have sat back and heard negativity from sports radio hosts like Ian Furness say "Russ is not as popular as other Seahawks like Marshawn. I see many more #24 than I do #3." SAY WHAT? Why would Furness make negative comments like that?
Russell's agent has made comments of course. Saying Russ has not asked for a trade, BUT if does here are some cities." And he names some cities.
OK I do NOT agree with Russell's agent saying this stuff. I just want to hear Russell Wilson wants to be Seattle Seahawk..period!! Like I have said, Wilson is just frustrated. He wants to win. He wants to go back to the Super Bowl and win a Super Bowl. He wants his line to protect him like Brady and Brees are protected.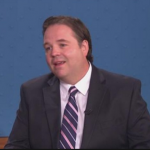 Getting behind the microphone KJR host Jason Puckett (pic on the right) and putting Doug Baldwin and Jermaine Kearse and even Richard Sherman on blast on 710 ESPN and KJR ain't helping at all!! By the way JASON PUCKETT HAS BLOCKED ME ON TWITTER!! THAT IS A WEAK MOVE!!
BY THE WAY, THE ONLY AFRICAN AMERICAN ON THE AIR AS A REGULAR HOST ON SPORTS RADIO IN SEATTLE, SLICK HAWK SAT THEIR AND SAID NOTHING WHILE PUCKETT MADE VERY VERY TERRIBLE THINGS ABOUT BALDWIN AND KEARSE SAYING THEY ACT LITTLE TEENAGERS OR LITTLE GIRLS."
Getting behind the microphone and saying Russ having press conferences in which he is saying nothing, ain't helping at all!!
Unlike this so called sports site (that no one I know reads), I want to give YOU my views on the Russell Wilson situation. The owner of this website who is refusing to say ANYTHING on Russ is just trying to protect his seat at Luman Field. Protect his place at training camp. Protect his place at Seahawks press conferences. This person HAS USED THE SEATTLE SEAHAWKS FOR YEARS!!
I want to thank the Seahawks for their support. Yes I have not been perfect. But 99% of the time, I act like a professional for my fans of my media. Let's hope we can move with all the negativity when it comes to Russell Wilson. PLEASE WEAR YOUR MASKS AND PLEASE STAY WELL EVERYONE!!