LISTEN TO OUR NEW 24-7 AUDIO STREAM RIGHT HERE! PLAYING CLASSIC SOUL AND HIP HOP! AND SOON LIVE PROGRAMS FROM OUR STUDIO HERE IN SEATTLE, WASHINGTON. SO GRAP YOUR HEADPHONES AND ENJOY.
NEW EDITION OF "MUSIC INNER CITY TV" WEBCAST IS NOW STREAMING WORLDWIDE! JUST CLICK THE WEBCAST ABOVE. WATCH VIA YOUR SMARTPHONE, MAC, TABLET OR DESKTOP. GUEST IS SINGER SYDNEY EGGLESTON FROM HER HOME IN FOR AWAY GERMANY. OF COURSE THE PROGRAM FEATURES HOT HIP-HOP-R&B AND POP MUSIC VIDEOS AND MORE!!
ALSO, NEW EDITION OF "SPORTS INNER CITY: AFTER THE GAME" IS NOW STREAMING WORLDWIDE 24-7 ON DEMAND. VIA YOUR SMARTPHONE, TABLET, MAC OR DESKTOP. COVERING THE NBA, MLB, NFL AND MORE! JUST CLICK THE "SPORTS INNER CITY TV" SCREEN. WILL BE PRODUCING MUCH MORE WEBCASTS COMING UP!! SO MUCH TO TALK ABOUT IN THE SPORTS WORLD!!!
ALSO LISTEN TO "MUSIC INNER CITY RADIO" PODCASTS 24-7 ON DEMAND! Just click the 'PODCAST" LINK ABOVE. 
TO ADVERTISE WITH US FOR $20 TO $60 A MONTH. Call 206-445-3989 or email gcurvey@yahoo.com WE TRY TO BE LEADERS AND NOT FOLLOWERS LADIES AND GENTLEMEN.
"One Man's Opinion" by Gordon Curvey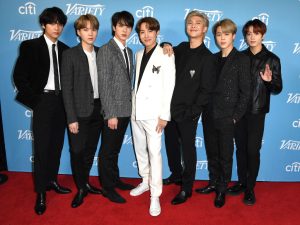 Hope you are well everyone and THANKS for being here on "Music Inner City News Magazine." I am here in Seattle, Washington. I am so busy doing so many things in my media business that I get behind in doing new stories for you the reading public worldwide. Anyway here is a very interesting story ladies and gentlemen.
It is about superstar pop group BTS and Big Hit Entertainment. They donated a WHOPPING $1 million to Black Lives Matter. Then after that, the BTS ARMY, got together and said they will match the donation. What a story!!
They did that within 24 hours! This is flat out AMAZING!! BTS fans worldwide went on social media and said great things about BTS the next day after the group announced their huge donation to Black Live Lives Matter.
The BTS ARMY has stood out in it's effort to match the groups $1 million donation. Within a day, the donations hit $1,026,531 with 35, 609 donors. This is a GREAT GREAT STORY! The donation project was set up by One In An Army, which is a volunteers who got together to help organizations all over the world.
They have been having monthly charity programs and were quickly put together a way to track donations made by everyone in efforts to #MatchAMillion. WOW!
Also BTS did this readers. BTS and again BTS Entertainment donated $1 million to help concert crews.  Concert crews have been hurting big time because of COVID19. It has been very very hard on them because of course artists cannot go out on tours because of safety and the COVID19 virus.
The Korean pop stars donation along with their management company donation was made to Live Nation's charity campaign, Crew Nation. Crew Nation helps live show staffers who are out of work due to canceled events which their is plenty of as know.
Live Nation in March with inital donations of $10 million to help over 1,000 concert crew members. By the way some of them was supposed to work on the BTS "Map of the Soul" tour, which was canceled in April. You already know BTS fans were very very disappointed.
K-Pop said in a statement "If it weren't for COVID19, we would have been happily touring across the world with many of our live concert crews by now. We are aware that a lot of communities need help due to COVID19, and we wanted to support the music industry crews by making a donation. We hope to meet again on stage very soon."
The group members Jin, Suga, J-Hope, RM, Jimin, and Jungkook also said "When we're abroad or in other situations, we've also been subjected to prejudice. We feel that prejudice should not be tolerated and it really has no place." The statement was made on behalf of BTS by group member Jin.
RM said, "It was a decision we thought about very carefully. What could we do, as part of our overall message of speaking out against prejudice and violence? We discussed it very carefully with the company and that's how this came about." Of course they were talking about the BLM donation.
BTS said that they did not consider themselves political and that the donation was not meant to be something other than a donation. Group member Suga said, "I think this is just great what BTS is doing. Making huge donations for concert crews and Black Lives Matter.
Another member the group J-Hop said "We always want to do what we can to make it a better world, weather in Korea or elsewhere. And go in as much of a positive direction as we can, whether through our music or charity."
Readers truth be told, I wonder what BLM is doing with all the money donated to their organization? What is the donation money being used for? I hope we can find out. Because sorry to say, I have heard rumors about folks buying cars and more with donated money. Everyone should wonder what Black Lives Matter is doing with millions of dollars donated to their organizations. I would like to know and you should too.
Comments: gcurvey@yahoo.com or facebook.com/gordon.curvey or twitter.com/gcurvey