LISTEN TO OUR NEW 24-7 AUDIO STREAM RIGHT HERE! PLAYING CLASSIC SOUL AND HIP HOP! AND SOON LIVE PROGRAMS FROM OUR STUDIO HERE IN SEATTLE, WASHINGTON. SO GRAP YOUR HEADPHONES AND ENJOY.
NEW EDITION OF "MUSIC INNER CITY TV" WEBCAST IS NOW STREAMING WORLDWIDE! JUST CLICK THE WEBCAST ABOVE. WATCH VIA YOUR SMARTPHONE, MAC, TABLET OR DESKTOP. GUEST IS SINGER SYDNEY EGGLESTON FROM HER HOME IN FOR AWAY GERMANY. OF COURSE THE PROGRAM FEATURES HOT HIP-HOP-R&B AND POP MUSIC VIDEOS AND MORE!!
ALSO, NEW EDITION OF "SPORTS INNER CITY: AFTER THE GAME" IS NOW STREAMING WORLDWIDE 24-7 ON DEMAND. VIA YOUR SMARTPHONE, TABLET, MAC OR DESKTOP. COVERING THE NBA, MLB, NFL AND MORE! JUST CLICK THE "SPORTS INNER CITY TV" SCREEN. WILL BE PRODUCING MUCH MORE WEBCASTS COMING UP!! SO MUCH TO TALK ABOUT IN THE SPORTS WORLD!!!
ALSO LISTEN TO "MUSIC INNER CITY RADIO" PODCASTS 24-7 ON DEMAND! Just click the 'PODCAST" LINK ABOVE. 
TO ADVERTISE WITH US FOR $20 TO $60 A MONTH. Call 206-445-3989 or email gcurvey@yahoo.com WE TRY TO BE LEADERS AND NOT FOLLOWERS LADIES AND GENTLEMEN.
"One Man's Opinion" by Gordon Curvey
Readers I am always searching for good stories to type about here on "Music Inner City News Magazine." This is a very very good and happy story! The story of WNBA hoop star Maya Moore and Johnathan Irons.
Moore who is a member of the Minnesota Lynx of the WNBA and a superstar of ladies hoops or just basketball period, helped to get Irons released from federal prison. Irons was in prison since he was 16 years old. He spent 23 years in jail for a murder he did not commit. Moore took a two year break from her basketball career to help Irons and his possible freedom.
With the help of Moore, Irons won his freedom in July. Moore and Irons actually knew each for 13 years. Moore learned about Johnathan Irons situation when she was 18 years old.
She learned about the case of Irons through a prison ministry program. She wanted to learn all about Iron's case and how she could help get him out of prison for a murder he did not commit. Moore and Irons developed a friendship while she went and got help from a few others to help get Irons case overturned.
Irons and Moore's friendship turned in into a love affair between the two. Moore said recently "I got to know him, and over the 13 years we have just developed a friendship and entered into this huge battle to get him home."
Maya went on to say "Over time, it was pretty clear what the Lord was doing in our hearts. Now we're sitting here today, starting a whole new chapter together." Because Moore and Irons have got married!! Wow what a great story to talk about here on "M.I.C News Magazine."
Originally, Irons asked Maya to marry him several years ago, but he thought about what would happen for Moore if she said yes. She would me committing herself to a man in prison which could be very painful.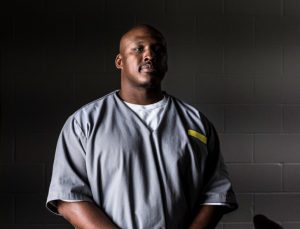 Johnathan did not want Moore to feel trapped and he wanted her to feel like she could leave the relationship at anytime if it became too hard for her mentally.
Irons asked her, but he would not let her answer him yet as far as their possible marriage between the two.
The story is Irons just wanted Maya to wait until he is at home. Because in his mind, he did not know if he would be at home. He said Maya is a beautiful and amazing lady, he could never trap her or not let her fulfil her dreams of being a wife and being a mother one day.
But as everyone knows now, Irons was given his freedom after 23 years in prison. Ladies and gentlemen that is LONG TIME being locked up. Then after work by Moore and other lawyers, Irons was released from prison, for like I said a murder Irons did not commit.
Readers, things changed big time when Irons was given his freedom. Hours after he was released, he asked Moore to marry him. SHE SAID YES! They got married a short time later at a ceremony where everyone had their masks on and was socially distanced from one another. Of course family and friends was in attendance.
This is just a wonderful story. It just is. Now folks and yes WNBA fans want to know if Moore will return to playing for the Minnesota. Maya is just making up her mind as to what to do as far as her basketball career.
Maya said recently "I'm still trying to be present in this second year away from the game. I'm hoping sometime in the spring we'll be able to have a next step moving forward, but right now I am trying to really just breathe from this long, long battle, and enjoy and rest. Again, just being in the moment."
This is a story of strong love and a strong commitment by Maya Moore and Johnathan Irons. With all the tremendous negativity in the news about more than 200,000 people who have left us because of the nightmare COVID19, this story will at least for a little while make you and myself have a smile on our faces. Like I said, at least for a little while. Good luck to the new couple!!!