LISTEN TO OUR NEW 24-7 AUDIO STREAM RIGHT HERE! PLAYING CLASSIC SOUL AND HIP HOP! AND SOON LIVE PROGRAMS FROM OUR STUDIO HERE IN SEATTLE, WASHINGTON. SO GRAP YOUR HEADPHONES AND ENJOY.
NEW EDITION OF "MUSIC INNER CITY TV" WEBCAST IS NOW STREAMING WORLDWIDE! JUST CLICK THE WEBCAST ABOVE. WATCH VIA YOUR SMARTPHONE, MAC, TABLET OR DESKTOP. GUEST IS SINGER SYDNEY EGGLESTON FROM HER HOME IN FOR AWAY GERMANY. OF COURSE THE PROGRAM FEATURES HOT HIP-HOP-R&B AND POP MUSIC VIDEOS AND MORE!!
ALSO, NEW EDITION OF "SPORTS INNER CITY: AFTER THE GAME" IS NOW STREAMING WORLDWIDE 24-7 ON DEMAND. VIA YOUR SMARTPHONE, TABLET, MAC OR DESKTOP. COVERING THE NBA, MLB, NFL AND MORE! JUST CLICK THE "SPORTS INNER CITY TV" SCREEN. WILL BE PRODUCING MUCH MORE WEBCASTS COMING UP!! SO MUCH TO TALK ABOUT IN THE SPORTS WORLD!!!
ALSO LISTEN TO "MUSIC INNER CITY RADIO" PODCASTS 24-7 ON DEMAND! Just click the 'PODCAST" LINK ABOVE. 
TO ADVERTISE WITH US FOR $20 TO $60 A MONTH. Call 206-445-3989 or email gcurvey@yahoo.com WE TRY TO BE LEADERS AND NOT FOLLOWERS LADIES AND GENTLEMEN.
"One Man's Opinion" by Gordon Curvey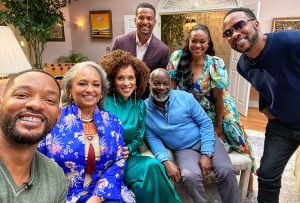 Ladies and gentlemen a lot of people have waited for the "Fresh Prince Of Bel-Air" family to get back together for a TV reunion. Well folks it has finally happened!
Will Smith called back his TV family of Alfonso Ribeiro (Carlton), Tatyana Ali (Ashley), Karyn Parsons (Hilary), Joseph Marcell (Geoffrey), and DJ Jazzy Jeff( Jazz), Daphne Maxwell (second Aunt Viv), and YES the original Aunt Viv Janet Hubert. Yes this is true.
Before I go into the reason I am making a big thing of Hubert being at the reunion, one person was not there at the reunion. And of course he was a huge reason why the "Fresh Prince Of Bel-Air" was a success. His name is James Avery who played Uncle Phil. He died in 2013. RIP to big James.
OK readers, if you follow the history of the program which ran on NBA from 1991 to 1997, you know Hubert as I said was the original Aunt Viv. But for some unknown reason, she wanted more money for doing the show.
Why she thought she was such a star is beyond me and many others. Janet did not get her way and departed the program in 1993 and was replaced by Ms. Maxwell. Daphne did a great job in her role of replacing Hubert on "Fresh Prince" and the show kept getting real good ratings.
When Janet left the program, she started to put Will on blast IN THE PUBLIC! One time, Hubert called Smith "an egomaniac" who has not "grown up." SAY WHAT??
Janet also said, again in the public that Will did some heinous, horrible things to her. And said Will just was going to replace her and act like nothing happened. She said "well honey, that is not what happened, is it? The world has let me know that my place on that show was very very very loved."
Hubert said she felt "demonized and beaten up." Janet told TMZ in 2011 that there will never be a reunion. She said she would never do anything with a (expletive) like Will Smith.
She also said this constant reunion thing will never ever happen in her lifetime unless there is an apology, which Smith does not know the word. WOW!! That is deep readers. I always saw the comments from Hubert regarding Smith and said to myself where in the HELL is this lady coming from?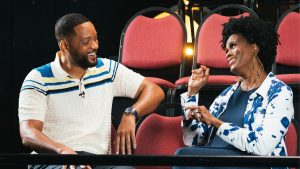 Will was a damn star already when "Fresh Prince" was started!! Of course DJ Jazzy Jeff along with Will had big hits in hip-hop as DJ Jazzy Jeff & The Fresh Prince. The damn show was a vehicle for Smith NOT Hubert!! REAL TALK!!
Alfonso Ribeiro, Tatyana Ali, Karyn Parsons, Joseph Marcell, and DJ Jazzy Jeff have agreed to be on the reboot. That is great news! Will Smith will serve as a executive producer and said he would be flexible about his involvement with the new program which will be a hour long. As of now, we do not know if Will would appear on the new program.
Also their has not been a date when the new program will be on the air. The new  program will be produced by Westbrook Media. The streamer has exclusive SVOD rights to the full series of the original "Fresh Prince" program which has 148 episodes over six seasons. And yes the programs are STILL VERY FUNNY!!
Truth be told, "Fresh Prince Of Bel-Air" could have stayed on the air a few more years. Because the program was still obtaining real good ratings. But the program's star, Will Smith was becoming a huge star because of the movies he starred in so the program came to a end. But it came to the end the right way.
Some programs like the long running program "The Jeffersons" just ended after 10 long years with no official last program. That was WRONG on the part of CBS!
The writers for "Fresh Prince" had a final show with the family moving out of the home they stayed in. With the family going their separate ways. With Will saying good bye to all the cast. On the program, Will saw a young Ashley played by Tatyana Ali, grow into a young lady. In the last program, you could tell it was emotional for Will saying goodbye to Ashley.
Finally, back to Smith's relationship with Hubert. Glad to see that Janet showed up for the reunion. And glad to see Will and Janet talking and trying to repair a damaged relationship. That was great!
I did not see Janet or even her replacement as Aunt Viv, Daphne Maxwell as returning for the new reboot of the "Fresh Prince." We will see what happens. I am sure one of them will show up. That would be great if both showed up. With the writers maybe doing something to include both.
I am a huge "Fresh Prince Of Bel Air" fan and I know many of you young and "older" are fans too. It is great that Will Smith has not forgot his "roots." Even after becoming a huge Hollywood star.
We will let you know soon when the reunion program will stream on the new Peacock TV.