LISTEN TO OUR NEW 24-7 AUDIO STREAM RIGHT HERE! PLAYING CLASSIC SOUL AND HIP HOP! AND SOON LIVE PROGRAMS FROM OUR STUDIO HERE IN SEATTLE, WASHINGTON. SO GRAP YOUR HEADPHONES AND ENJOY.
NEW EDITION OF "MUSIC INNER CITY TV" WEBCAST IS NOW STREAMING WORLDWIDE! JUST CLICK THE WEBCAST ABOVE. WATCH VIA YOUR SMARTPHONE, MAC, TABLET OR DESKTOP. GUEST IS SINGER SYDNEY EGGLESTON FROM HER HOME IN FOR AWAY GERMANY. OF COURSE THE PROGRAM FEATURES HOT HIP-HOP-R&B AND POP MUSIC VIDEOS AND MORE!!
ALSO, NEW EDITION OF "SPORTS INNER CITY: AFTER THE GAME" IS NOW STREAMING WORLDWIDE 24-7 ON DEMAND. VIA YOUR SMARTPHONE, TABLET, MAC OR DESKTOP. COVERING THE NBA, MLB, NFL AND MORE! JUST CLICK THE "SPORTS INNER CITY TV" SCREEN. WILL BE PRODUCING MUCH MORE WEBCASTS COMING UP!! SO MUCH TO TALK ABOUT IN THE SPORTS WORLD!!!
ALSO LISTEN TO "MUSIC INNER CITY RADIO" PODCASTS 24-7 ON DEMAND! Just click the 'PODCAST" LINK ABOVE. 
TO ADVERTISE WITH US FOR $20 TO $60 A MONTH. Call 206-445-3989 or email gcurvey@yahoo.com WE TRY TO BE LEADERS AND NOT FOLLOWERS LADIES AND GENTLEMEN.
"One Man's Opinion" by Gordon Curvey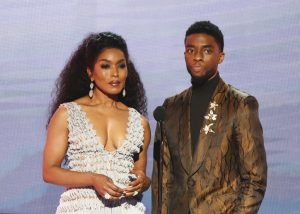 One thing is for sure, cancer is a terrible sickness. I saw how my late father suffered from lung cancer. He suffered big time. The medicine given to him did not work. Our family did not want to see him suffer anymore.
And colon cancer is a painful sickness. Recently we lost a great actor in Chadwick Boseman and he was only 43 years ladies and gentleman He left us way too soon.
We did not know Boseman was suffering from colon cancer for four years. I guess only his family and friends knew. So it was a shock when Chadwick passed.
Boseman left us a wonderful body of work in front of the camera. Of course he became world known with his role in the film "Black Panther." He played the role of  T'Challa in the movie. One of the world's beloved Black superheros.
Chadwick kept his sickness largely private must likely so he would not be asked about his cancer treatment time and time again.  Boseman visited young cancer patients in the hospital while fighting his own sickness and that was great on his behalf.
Black Panther director Ryan Coogler said even was unaware that Boseman was sick.  He said "Because he was a caretaker. a leader and a man of faith, dignity and pride, he shielded his collaborators from his sickness."
He played roles in movies of well known African Americans such as former guest on "Music Inner City TV," James Brown, Jackie Robinson and Thurgood Marshall. And he did a great job in all of those movies. Heck he had to learn to dance like the "Godfather Of Soul." James Brown.
Angela Bassett who played his mom in "Black Panther" talked about Chadwick being with her when she was obtaining a honorary degree from Howard University in D.C. a few years ago. Boseman was a student then, was assigned to escort her on campus.
His first big acting gig came when he landed the role of baseball great Jackie Robinson in the 2013 film, "42" and his performance the following year was playing James Brown in the film "Get On Up." He did a great job playing Brown in the movie. People really learned about Chadwick after his role as JB in the movie.
The great Thurgood Marshall was played by Chadwick. And he did another great job. He also played the late great Jackie Robinson as I have said. Boseman met with the Robinson Family to learn about Jackie. I think that was a very good move by Boseman. He left a great impression on the Robinson Family.
But let's keep it real folks, the role Boseman is known for is his role in "Black Panther." The movie made millions and millions of dollars worldwide. He became a household name.
With the passing of Chadwick, a problem has popped up. Of course with the huge success of "Black Panther," a sequel was in the works. But now the main person in the movie will not be there. The part of  T'Challa will not be there. The producers cannot have anyone else play the role for sure. We all know that.
For sure Boseman was a role model for young African American youth. Someone the young youth can grow up saying I want to be a actor like Chadwick Boseman.
The truth is it took me a awhile to type up this story because Boseman passing hit me hard. Like I knew him. I did not know Chadwick. But his passing was sudden and came out of nowhere. Like I said earlier, many people who did no him did not know he was fighting cancer. His fellow actors did not know.
So Chadwick leaves us with great movies to watch on TV. He was a tremendous actor and a man who cared about the African American community. A lot of actors just do their roles, and count their money. And buy big houses and big cars and boats etc. I am sure Boseman bought nice things with his money. But as I said he gave back.
So let's see what the producers and directors do for the next "Black Panther" movie. I am sure it will still happen but we all know it just will not be the same with Chadwick Boseman. RIP MY BROTHA!!