NEW EDITION OF "MUSIC INNER CITY TV" WEBCAST IS NOW STREAMING WORLDWIDE! JUST CLICK THE WEBCAST ABOVE. WATCH VIA YOUR SMARTPHONE, MAC, TABLET OR DESKTOP. GUEST IS SINGER SYDNEY EGGLESTON FROM HER HOME IN FOR AWAY GERMANY. OF COURSE THE PROGRAM FEATURES HOT HIP-HOP-R&B AND POP MUSIC VIDEOS AND MORE!!
ALSO, NEW EDITION OF "SPORTS INNER CITY: AFTER THE GAME" IS NOW STREAMING WORLDWIDE 24-7 ON DEMAND. VIA YOUR SMARTPHONE, TABLET, MAC OR DESKTOP. COVERING THE NBA, MLB, NFL AND MORE! JUST CLICK THE "SPORTS INNER CITY TV" SCREEN. WILL BE PRODUCING MUCH MORE WEBCASTS COMING UP!! SO MUCH TO TALK ABOUT IN THE SPORTS WORLD!!!
ALSO LISTEN TO "MUSIC INNER CITY RADIO" PODCASTS 24-7 ON DEMAND! Just click the 'PODCAST" LINK ABOVE. 
TO ADVERTISE WITH US FOR $20 TO $60 A MONTH. Call 206-445-3989 or email gcurvey@yahoo.com WE TRY TO BE LEADERS AND NOT FOLLOWERS LADIES AND GENTLEMEN.
"One Man's Opinion" by Gordon Curvey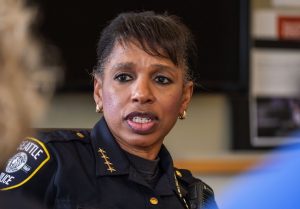 As a citizen of Seattle I am asking for Mayor Durkan to STEP DOWN as Mayor of Seattle.
There is no doubt in my mind Durkan helped to eliminate our African American sista Chief Carmen Best. I do not care what anyone says. Durkan helped to get rid of Best!!
PLEASE remember, Chief Best was not even on the top three list of Durkan to be the next police chief. Because of community pressure, Best was put on the list and then became the head of the Seattle Police Dept. The first African American female to hold the position.
Friends another thing to remember is THEIR IS ZERO AFRICAN AMERICANS ON THE SEATTLE SCHOOL BOARD, ZERO AFRICAN AMERICANS ON THE KING COUNTY COUNCIL AND FINALLY ZERO AFRICAN AMERICANS ON THE CITY COUNCIL.
The East African community banded together (as always) and placed a fella on the King County Council. But he is NOT African American.
Word is he will not return calls of the Ztwins Radio morning talk show to talk to listeners. Umm I wonder if he would treat a East African Radio station this way? Chief Best has spent almost 30 years with the Seattle Police Dept. The way the Seattle City Council treated Chief Best was racist. PERIOD.
I also feel sorry to say that some of the "so called" black leaders around here helped Durkan to push Sista Best out the door. Another fact. This I am upset about as a black man.
As a black man, of course I am not a fan of the Seattle Police Dept or ANY police dept. BUT I AM A FAN OF CHIEF BEST!!!
For the City Council to vote to axe Chief Best income IS JUST WRONG!!! The City Council DID NOT even talk with Best!! WTF!! How can that happen friends??
So again I feel Durkan has helped to push Chief Best out the door behind the scene. It started with the CHOP situations.
So now it is time for Durkan TO STEP DOWN IMMEDIATELY!! Marching in front of Chief Best home WAS WRONG!! That did not help anything!!
But we have a problem here in Seattle. My good friend and former Chairman of the Seattle Branch of the NAACP, Carl Mack is back east, former King Councilman Larry Gossett is no longer on the Council, Oscar Eason has passed, Tony Orange has passed.
Where is the leaders of Seattle's NAACP or the Urban League? What has happened to the State Commission on African American Affairs? I am sorry Black Lives Matters has to many people speaking in front of the media. I call them "microphone chasers."
I can go on and on. Again, how could the City Council not notify Chief Best during the last month? I will say RACISM is involved. And I think Durkan was involved. I keep going back to the fact that Chief Best was not the top choices for Mayor Durkan a few years ago.
Durkan can hold press conference after press conference praising Best. It is fake. A joke. Durkan never wanted Chief Best to be the leader of the Seattle Police Dept. These are facts folks. As a African American I am sad and upset at Best stepping down. She was mistreated. She was mistreated because she is African American female.
That is why I got really upset when a person who recently ran for the State Rep Pos #2 posted a pic of himself smiling ear to ear with Durkan!! Again I said…WTF!! IT IS TIME FOR MAYOR DURKAN TO STEP DOWN AS MAYOR OF SEATTLE IMMEDIATELY. Seeing her smiling at this press conference is TERRIBLE!! The African American community need to band together and hold a press conference and speak out on the mistreatment of Chief Best. Will it happen? No. Will Black Lives Matter take a stand other than a damn email or a damn tweet?
When I see City Council members on TV talking about how Best was mistreated THIS IS PURE AND OUTRIGHT B.S.!! THEY DID NOT EVEN HOLD A DAMN MEETING WITH CHIEF BEST!!! GIVE ME A BREAK!!! The City Council members most likely are going home and smiling all the way home. Because this strong black lady will be gone in a few weeks. Durkan most likely is smiling too at home.
For the Seattle City Council to cut Chief Best salary big time is just FLAT OUT WRONG! There is no face black on the City Council to take a stand. ZERO. This is a huge huge problem. Finally will the candidates who are running for offices in Olympia. Where is a  press conference about the mistreatment of sista Best? I have not heard anything from them? How about the 37th District candidates for Position 1 and 2 in Olympia? Where are there voices?
Thank you Chief Best for your leadership and for being a tremendous role model for young black girls to look up too.