NEW EDITION OF "MUSIC INNER CITY TV" WEBCAST IS NOW STREAMING WORLDWIDE! JUST CLICK THE WEBCAST ABOVE. WATCH VIA YOUR SMARTPHONE, MAC, TABLET OR DESKTOP. GUEST IS A EXCLUSIVE ON ONE ON INTERVIEW VIA SKYPE AUDIO WITH SINGER, HIP-HOP ARTIST, BUSINESS OWNER AND PUBLIC SPEAKER SUGA-T. OF COURSE THE PROGRAM FEATURES HOT HIP-HOP-R&B AND POP MUSIC VIDEOS AND MORE!!
ALSO, NEW EDITION OF "MUSIC INNER CITY: AFTER THE GAME" IS NOW STREAMING WORLDWIDE 24-7 ON DEMAND. VIA YOUR SMARTPHONE, TABLET, MAC OR DESKTOP. COVERING THE NBA, MLB, NFL AND MORE! JUST CLICK THE "SPORTS INNER CITY TV" SCREEN. WILL BE PRODUCING MUCH MORE WEBCASTS COMING UP!! SO MUCH TO TALK ABOUT IN THE SPORTS WORLD!!!
SOON OUR SPORTS WEBCASTS WILL BE CALLED "SPORTS INNER CITY: AFTER THE GAME" OR "SPORTS INNER CITY: OFF THE COURT" COVERING NBA NEWS AND ISSUES. NEEDED BECAUSE SPORTS RADIO IN SEATTLE REFUSES TO DISCUSS THE NBA ON A REGULAR BASIS SINCE OUR DEARLY DEPARTED SEATTLE SONICS LEFT OUR CITY IN 2008.
ALSO LISTEN TO "MUSIC INNER CITY RADIO" PODCASTS 24-7 ON DEMAND! Just click the 'PODCAST" LINK ABOVE. PLUS LISTEN TO OUR LIVE STREAM BY CLICKING THE "MIC BROADCAST" LINK OR CLICK THE ADOBE FLASH PLAYER LINK RIGHT UNDER THE "SPORTS INNER CITY TV" SCREEN.
TO ADVERTISE WITH US FOR $20 TO $60 A MONTH. Call 206-445-3989 or email gcurvey@yahoo.com WE TRY TO BE LEADERS AND NOT FOLLOWERS LADIES AND GENTLEMEN!
"One Man's Opinion" by Gordon Curvey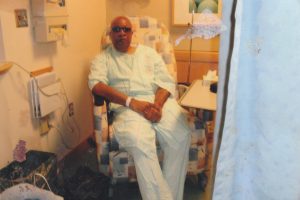 Hope everyone is well. This post means a lot to me readers. It comes from the heart. I am very very scared and very very afraid of getting the coronavirus that is killing folks here in Washington State and worldwide.
I have NEVER seen anything like this have you? I know the answer is NO!! The coronavirus IS NOT A JOKE!! It is real ladies and gentlemen. It has changed how we do our daily activities here in Seattle and all over the world. People have been laid off by the millions and millions. Unemployment may hit 30%. That's right 30%!!
Trump was warned of a possible outbreak months ago. BUT he did not take it serious AT ALL!! He even said that if this severe virus happens in the United States, do not worry everybody can get tested.
We have seen that with the coronavirus hitting America big time, what Trump said is flat out untrue. If you have money, you can obtain a virus test QUICKLY! If you are low income or a African American, their is a chance you will have a problem getting tested right away.
Right now the coronavirus is getting worse instead of better. Sorry to say it just is. This virus is one of a kind. It is unreal. It is scary. I am afraid to go to bed at night thinking I may wake up sick.
The main reason for me is this. I have a underlying condition. Doctors are saying people with a underlying condition are a perfect candidate for the coronavirus. In 2012, I obtained a cold. The cold got worse and it turned into a rare form of pneumonia called "pseudomonas pneumonia."
I was in Swedish Hospital here in Seattle for nine days. I had a 8 hour operation to remove almost my entire right lung. I was a very very sick fella. It scared me and my family.
Pic or yours truly at Swedish Hospital in my room right after I checked in for my operation above.
But god was not finished with me yet. One thing for sure, I found out about family and friends and who TRULY cared about me. Very few friends came to visit me during my stay at Swedish and then when I came to my dear mother's home to recover for two weeks.
I had two nieces and a former sister in law and nephew who I used to baby sit when he was young, NOT VISIT OR NOT CALL ME WHAT SO EVER. I will NEVER forgive them.
My dear mom and ex wife and my brother and sister-in-law and my cousin called and visited me just about every day. I have two other cousins who stay here near Seattle who DID NOT call to see how I am doing too. My ex wife Elizabeth REALLY took care of me. I will always be grateful to her and for sure my mom.
So readers I am tremendously scared of the coronavirus. I don't even like to look at the pics of the virus online or on TV. It makes me very real funny.
I work part time for the Seattle Public Schools. Of course the SPS has shut down until at least April 27th. I truly think that the rest of the school year will be shut down. I feel sorry for the students. And I sorry for teachers and bus drivers who are out of work. Millions of students schools have been shut down all over the nation. Free breakfast and lunch is offered at many schools.
And some students have their school work they can do via a pc. But sorry to say, many students do not have access to broadband or a pc.
Comcast, the company that airs my TV programs "Music Inner City TV" and "Sports Inner City TV" has been nice enough to over free hot spots for pc and smartphones and tablets. Some ipods have internet access too available. That is great on the behalf or Comcast.
Of course community centers are closed or have reduced hours. Restaurants are offering only order and take out services, most businesses are closed or employees are working from home.
Many workers have been laid off. This is why the unemployment rate my jump to a WHOPPING 30%. This is wild ladies and gentlemen. The senate and the house at the time I am typing this is finalizing coronavirus relief bill to help businesses and their employees and also to help most people of families obtain a check to help them.
A $1,200 check is great, don't get it twisted. But people and families need more to help them pay their rent and put food on the table for their kids. Need help to pay their heat and light bill. Need help to put gas in their car, pay for cable and their cell phone. Need help with paying for medicine. And more readers.
The coronavirus is KILLING FOLKS BIG TIME!!! It is sad and depressing. It really really is. Of course some folks are getting unemployment but many are not. PEOPLE ARE SUFFERING RIGHT NOW. By the way the daily so called press briefing called by Trump is NOTHING but a daily campaign event for Trump. This is a fact.
The stimulus bill is HUGE AND HELPFUL. But people and families need more. But thanks for the senate and house for trying to help us. Believe it or not, I will even thank Trump. Of course Trump will take credit for everything. We know this! Heck, Trump wants to have the country up and running again by Easter. This is just wrong readers.
I have tried to stay away from bashing Trump on this site. And I will continue this. But when it comes to the coronavirus, Trump has been a joke. He has shown that he is a businessman and not a leader.
Hospitals need equipment to help patients with the virus. They need it now. One person who I am impressed with in the way he is fighting the coronavirus is New York Governor Andrew Cuomo. When I can, I watch his daily press briefings and he handles the briefings like a real politician. Unlike the guy in the White House.
Our Gov. Inslee is doing a good job too. Of course many states have ordered a statewide shut down. It is not a "complete" shutdown. People can go for walks or walk their dog, go to the store or go pick up medicine and more.
But Gov. Inslee wants people to try to stay home as much as possible. There is a shortage of masks too. Shortage of hand sanitizes lotion. For some reason folks have been really really loading up on toilet paper and paper towels, this I just cannot understand can you?
One thing is for sure, the hospitals have ran out of space. Portable hospitals are being built. Two big hospital ships are being sent to New York and Los Angeles and here to Seattle for patients.
Finally, the NBA, the NFL, the NHL, MLB, NASCAR, Formula One, the NCAA Basketball Tournament, the PGA, the Olympics, boxing matches have been cancelled. When you turn on ESPN and Fox Sports it is NOTHING but classic games or repeat of games. Sportscenter is still airing.
Lately much of the sports talk is about the NFL Draft and players being traded etc. I am TIRED of watching repeats and classic games. I could do that before via You Tube!!
I can go on and on with stories and information on the TERRIBLE coronavirus and what it is doing us the citizens of here in Seattle and the entire nation. PLEASE wash your hands, PLEASE do not touch your face, PLEASE sit at least six feet from the next person. That is if their is a place open to sit next next to a person!!
God bless everyone!! Comments: gcurvey@yahoo.com or facebook.com/gordon.curvey and Twitter.com/gcurvey.