IMPORTANT NEWS: WATCH OUR EXCLUSIVE ONE ON ONE INTERVIEW WITH SEATTLE SEAHAWKS QB RUSSELL WILSON RIGHT HERE!
JUST CLICK THE "TELEVISION SHOW" LINK ABOVE. THE WEBCAST IS 24-7 DEMAND/WATCH VIA YOUR SMARTPHONE, TABLET, MAC OR DESKTOP!! HOME PAGE MAIN WEBCAST FEATURES A ONE ON ONE INTERVIEW WITH SEATTLE MARINERS PLAYER JP CRAWFORD FROM T-MOBILE PARK IN SEATTLE, WASHINGTON.
FOR NOW FOR THOSE OF YOU WHO ARE USING GOOGLE AS YOUR BROWSER "NOT SECURE" WILL SHOW NEAR THE ADDRESS BAR. DO NOT WORRY WE ARE SAFE! IF YOUR BROWER IS MOZILLA FIREFOX AND MICROSOFT EDGE OR INTERNET EXPLORER OR OTHER BROWERS YOU WILL NOT SEE "NOT SECURE"!
JUST CLICK "MIC BROADCAST LINK." A BOX WILL APPEAR AT THE BOTTOM OF THE PAGE. WHEN YOU CLICK ON THE LINK FOR THE FIRST TIME IT WILL SAY "THIS FILE MAY HURT YOUR PC" THIS LINK WILL NOT REPEAT WILL NOT HURT YOUR COMPUTER!!!!
SO GRAB YOUR HEADPHONES AND ENJOY THE LIVE STREAM COMING AT YA FROM OUR STUDIO HERE IN SEATTLE, WASHINGTON!!
JUST CLICK ON "ALWAYS OPEN FILES OF THIS TYPE" AND FOR NOW ON THE LIVE "NCH PLAYER" WILL POP UP ALL THE TIME!! PLAYING CLASSIC SOUL-CLASSIC HIP HOP AND SMOOTH JAZZ PLUS SHORT INTERVIEWS. AND SOON WE WILL HAVE LIVE PODCASTS FROM HERE IN OUR STUDIO IN SEATTLE, WASHINGTON (USA)!!!!
AND LISTEN TO OUR ON DEMAND PODCASTS ALSO. NEW PODCAST COMING SOON! JUST CLICK ON THE "PODCAST" LINK.
ADVERTISE WITH US ON OUR COMCAST XFINITY ON DEMAND/XFINITY X1 PROGRAMS OR RIGHT HERE ONLINE VIA A BANNER OR LINK OR WEB COMMERCIALS ON OUR WEBCASTS AND PODCASTS FOR $10, $20 or $40. CALL US AT 206-445-3989 OR EMAIL US AT gcurvey@yahoo.com!! CALL NOW
"One Man's Opinion" by Gordon Curvey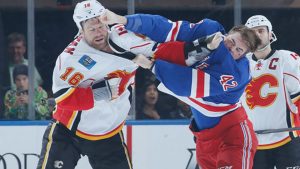 Hope everyone is well. One thing that bothers me more than anything in sports is what I am trying to discuss in this article. It is something I am bothered by as a sports fan.
What bothers me is how the media treats the almost nightly violence in the National Hockey League. Here is a question. WHY is the violence on the ice in the NHL treated so lightly? When the fights happens, fists are flying, blood is on the ice, teeth are on the ice. This is why most players in the NHL do not have any freakin front teeth ladies and gentlemen.
I just do not understand how and why sports radio and ESPN etc just glance over the vicious violence that happens on the ice in the NHL. It is like "Oh well, another fight Bob. Wow that was a good punch Ed. These players are a little chippy tonight."
This word "chippy" is thrown around A LOT when it comes to fights in the NHL. I do not understand this word "chippy." Give me a break readers!! When fights/violence happens in the NBA or NFL or even MLB, the word "chippy" is NEVER used!!
And let's keep it real and let's tell the truth readers. The violence on the ice in the NHL is done by mainly white players. These are facts. The question WHY is this going on?
The NHL is mainly white. The NBA and NFL is majority African American. And again, let's keep it real. When a African American NBA player throws a punch or two at a player a word is used by sports radio hosts and callers and sports writers. The word is "THUG."
Most of the time when a fight breaks out in the NBA or NFL it does not last long at all. Like I said maybe a few punches are thrown. Unlike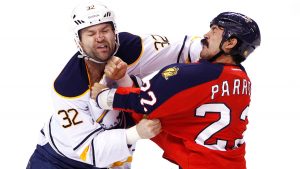 the violence in the NHL. Many punches are thrown before the refs FINALLY stops the fights.
I am using the word violence because that is what it is. Way more than a few blows are thrown. I think many many NHL fans come to the arena wishing a fight happens so they can cheer their ass off!!!
Ladies and gentlemen why is it the media does not want to tackle the problem of violence on the ice in the NHL? Just turn on ESPN's "Sportscenter" and the fights are shown. And the hosts basically say nothing.
BUT let a NBA or NFL player gets into a short altercation on the field or court and the hosts go nuts on the air!! And go online and like I said I see the word "THUG" being used when discussing a African American NBA or NFL player. I have NEVER, let me repeat NEVER heard a NHL player called a "THUG." I JUST HAVE NOT FOLKS!!
Once every blue moon I will read about a couple of NHL players being fined or suspended for violence on the ice but very seldom it seems and I do not understand why?
With all the fights in the NHL maybe if they fine or suspend players, then they will have to call up players constantly from minor league hockey teams. NHL is a dentist best friend. Are NHL players role models for young hockey players? Of course not all of them but many of the fights in the NHL are shown on a nightly basis with kids watching. That is not a good look sports fans. It just is not.
In my opinion many of these NHL players should be in jail or charged with assault. Because the violence I see on the ice is a assault. Look at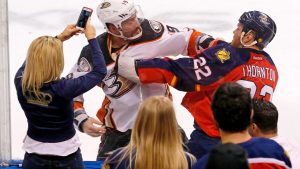 the pictures I have included here as part of my story. Does it look like violence to you? It looks like violence or a assault to me. Look at the fan TAKING A DAMN PICTURE!! SAY WHAT???
Many will say I am playing "the race card," a term I hate!!! A term that the African American community hardly uses. But readers PLEASE understand. I am not using the "race card." I am telling you my thoughts about all the fight and violence I see in the NHL.
I am telling you my opinion about the word "chippy" being used when it comes to violence on the ice in the NHL.
Again readers, I want to just give you my honest opinion. The word "THUG" is a word that basically is ONLY used against African Americans and people of color. I just have not heard white folks in sports or out of sports called the word "thug."
I have watched violent act after violent act on the ice in the NHL. With refs just taking their sweet time breaking up the violent acts that take place in arenas of the NHL. Ladies and gentlemen their children in the arenas watching the games when these fights and violence breaks out on the ice. But having said, if the kids are in the audience, WHY do I hear cheers going on?
Look at the pic I have here with the fan taking a pic. And look at the other fans just standing their watching the violence. I think this is a complete outrage!!
Like I said earlier, most so called violence at a NBA game or NFL game, do not last very long. With only a few "blows" being thrown. Most NBA and NFL players have their teeth. Many NHL players do not.
The word "chippy" is NEVER used when a small fight breaks out in the NBA or NFL. It is a bunch of "thug" acting players. If you disagree with me, I am sorry. Please leave a opinion at gcurvey@yahoo.com or via Facebook at facebook.com/gordon.curvey or via Twitter at twitter.com/gcurvey. I hope to hear from some of you.