IMPORTANT NEWS: FOR NOW FOR THOSE OF YOU WHO ARE USING GOOGLE AS YOUR BROWSER "NOT SECURE" WILL SHOW NEAR THE ADDRESS BAR. DO NOT WORRY WE ARE SAFE! IF YOUR BROWER IS MOZILLA FIREFOX AND MICROSOFT EDGE OR INTERNET EXPLORER OR OTHER BROWERS YOU WILL NOT SEE "NOT SECURE"!
 JUST CLICK "MIC BROADCAST LINK." A BOX WILL APPEAR AT THE BOTTOM OF THE PAGE. WHEN YOU CLICK ON THE LINK FOR THE FIRST TIME IT WILL SAY "THIS FILE MAY HURT YOUR PC" THIS LINK WILL NOT REPEAT WILL NOT HURT YOUR COMPUTER!!!! SO GRAB YOUR HEADPHONES AND ENJOY THE LIVE STREAM COMING AT YA FROM OUR STUDIO HERE IN SEATTLE, WASHINGTON!!
NOW JUST CLICK ON "ALWAYS OPEN FILES OF THIS TYPE" AND FOR NOW ON THE LIVE "NCH PLAYER" WILL POP UP ALL THE TIME!! PLAYING CLASSIC SOUL-CLASSIC HIP HOP AND SMOOTH JAZZ PLUS SHORT INTERVIEWS. AND SOON WE WILL HAVE LIVE PODCASTS FROM HERE IN OUR STUDIO IN SEATTLE, WASHINGTON (USA)!!!!
AND LISTEN TO OUR ON DEMAND PODCASTS ALSO. NEW PODCAST COMING SOON! JUST CLICK ON THE "PODCAST" LINK.
ALSO WE WILL BE AT T-MOBILE FIELD DURING THE SEATTLE MARINERS MLB SEASON FOR THE 9TH YEAR IN A ROW CONDUCTING SHORT INTERVIEWS WITH HOME/VISITING PLAYERS!! SPECIAL THANKS TO THE SEATTLE MARINERS! COMING UP SOON INTERVIEWS WITH MARINER PLAYERS TIM BECKHAM AND DEE GORDON
ADVERTISE WITH US ON OUR COMCAST XFINITY ON DEMAND/XFINITY X1 PROGRAMS OR RIGHT HERE ONLINE VIA A BANNER OR LINK OR WEB COMMERCIALS ON OUR WEBCASTS AND PODCASTS FOR $10, $20 or $40. CALL US AT 206-445-3989 OR EMAIL US AT gcurvey@yahoo.com!! CALL NOW!!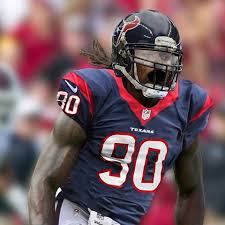 "One Man's Opinion" Gordon Curvey
Our Seattle Seahawks ( I am in Seattle, Washington) in a huge move have picked up three time Pro Bowler Jadeveon Clowney from the Houston Texans as sports fans already should know.
In exchange the Texans are obtaining a 2020 third round draft pick plus DE/OLB Barkevious Mingo and LB Jacob Martin. Clowney is one the best pass rushers in the NFL. The Seahawks lost Frank Clark signed with the Chiefs who was a very good rusher.
Clowney who is only 26 years old finished the 2018 NFL season 47 tackles, nine sacks, a forced fumble and a fumble recovery. And he has 53 tackles for a loss over the past three seasons.
It is important to know that Clowney who was the first pick in the 2014 NFL Draft has had a lot of knee injuries early in his career and missed 15 games in his first two seasons. He has also had wrist and elbow injuries. But the good news is Clowney has missed just one game over the last few seasons.
Also Clowney chose not to sign his franchise tender this offseason which is worth almost $16 million as a linebacker. The Texans could have offered Clowney $17 million as a defensive end but decided not to.
Clowney played most of the past season as DE. This pickup by the Seahawks is the second big pickup for the Seahawks from Houston. Seahawks obtained tackle Duane Brown in 2017. He is a very important member of the Seahawks O line.
Mingo for sure was on the bubble for the Seahawks. Truth be told he did not do a overwhelming job last season and also during the pre season that just ended.
And Martin who is the other player Houston will obtain had three sacks as a rookie in 2018. Martin only played 225 defensive snaps and was second in special teams snaps behind Mingo with 279. So let's see if they will hang on with Houston or get released. In the NFL you never know.
So with the addition of Clowney to the Seahawks defense which already has one of if not the best linebacker in football in Bobby Wagner, KJ Wright, Poona Ford, Mychal Kendricks and when he returns from suspension, Jarran Reed and Ezekiel Ansah, will this help the Seahawks return to the Super Bowl?
A lot of people think so. Clowney of course has to stay healthy. As do the rest of D of course but for sure Clowney has too. In his first few years as mentioned he missed a lot of games.
Yes Clowney is a for real game changer. He is a freak athlete. Again, how the Seahawks obtained Clowney is just crazy!! Texan fans are very very upset. I went online and listened to Houston sports radio stations and fans are outraged!! Real talk. But not Seahawk fans!!
Of course on offense the O line has to protect Russell Wilson. The O line is improved for sure. Like I have said earlier, when I had my exclusive interview with Russell I told him every time he takes a hard hit myself and Seahawk fans pray he will get up and is healthy.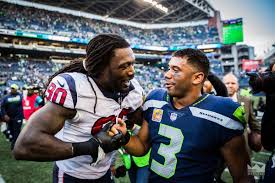 And the Hawks running backs led by Chris Carson has to have big years too. I am ready for the NFL season ladies and gentlemen. Like the up and coming NBA season, it is going to be a VERY exciting year and ratings for the NFL should be HUGE!!
Finally good luck to Austin Calitro who was cut by the Seahawks. He had a real good pre season for the Seahawks but I guess with the addition of Clowney  he was the man out. I interviewed him in the Seahawks locker room after the Hawks vs Raiders pre season game. He just got picked by Jacksonville so I hope he does well with the Jags!
There is a reason why the NFL and NBA are HUGE!! Something is ALWAYS going on with player movement and more. Headlines and breaking news all the time. And the NFL and the NBA has the attention of the "hip-hop generation." Unlike MLB.
What I understand Clowney is a real nice fella. Down to earth. Maybe I can interview him one day for "Sports Inner City TV." That would be great!
We are excited here in Seattle for the coming NFL season. Media and Seahawks fans. I just hope everyone and stay healthy. This is the main issue. Staying healthy. That is for sure for all NFL teams right? I have the NFL Red Zone. Thank god for the Red Zone for NFL fans!!!