IMPORTANT NEWS: FOR NOW FOR THOSE OF YOU WHO ARE USING GOOGLE AS YOUR BROWSER "NOT SECURE" WILL SHOW NEAR THE ADDRESS BAR. DO NOT WORRY WE ARE SAFE! IF YOUR BROWER IS MOZILLA FIREFOX AND MICROSOFT EDGE OR INTERNET EXPLORER OR OTHER BROWERS YOU WILL NOT SEE "NOT SECURE"!
FOR OUR LIVE "MUSIC INNER CITY RADIO" STREAM, JUST HIT THE LINK RIGHT UNDER OUR "SPORTS INNER CITY TV" SCREEN. IT USES THE ADOBE FLASH PLAYER. YOU CAN DOWNLOAD THE PLAYER HERE
OR JUST CLICK "MIC BROADCAST LINK." A BOX WILL APPEAR AT THE BOTTOM OF THE PAGE. WHEN YOU CLICK ON THE LINK FOR THE FIRST TIME IT WILL SAY "THIS FILE MAY HURT YOUR PC" THIS LINK WILL NOT REPEAT WILL NOT HURT YOUR COMPUTER!!!! SO GRAB YOUR HEADPHONES AND ENJOY THE LIVE STREAM COMING AT YA FROM OUR STUDIO HERE IN SEATTLE, WASHINGTON!!
NOW JUST CLICK ON "ALWAYS OPEN FILES OF THIS TYPE" AND FOR NOW ON THE LIVE "NCH PLAYER" WILL POP UP ALL THE TIME!! PLAYING CLASSIC SOUL-CLASSIC HIP HOP AND SMOOTH JAZZ PLUS SHORT INTERVIEWS. AND SOON WE WILL HAVE LIVE PODCASTS FROM HERE IN OUR STUDIO IN SEATTLE, WASHINGTON (USA)!!!!
AND LISTEN TO OUR ON DEMAND PODCASTS ALSO. NEW PODCAST COMING SOON! JUST CLICK ON THE "PODCAST" LINK.
ALSO WE WILL BE AT T-MOBILE FIELD DURING THE SEATTLE MARINERS MLB SEASON FOR THE 9TH YEAR IN A ROW CONDUCTING SHORT INTERVIEWS WITH HOME/VISITING PLAYERS!! SPECIAL THANKS TO THE SEATTLE MARINERS! COMING UP SOON INTERVIEWS WITH MARINER PLAYERS TIM BECKHAM AND DEE GORDON
ADVERTISE WITH US ON OUR COMCAST XFINITY ON DEMAND/XFINITY X1 PROGRAMS OR RIGHT HERE ONLINE VIA A BANNER OR LINK OR WEB COMMERCIALS ON OUR WEBCASTS AND PODCASTS FOR $10, $20 or $40. CALL US AT 206-445-3989 OR EMAIL US AT gcurvey@yahoo.com!! CALL NOW!!
"One Man's Opinion" by Gordon Curvey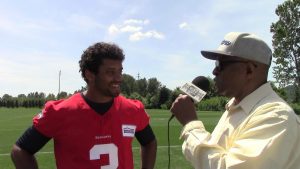 First I want to thank all of you who has made our site one of your favorite websites. I try to bring to the table interesting stories in entertainment and in the "urban" sports world.
Yes because I am doing so much on my own, it has been kind of hard keeping fresh stories here on our site but I promise I will do better everyone. So let's get to work on this story. My EXCLUSIVE one on one interview with the  highest paid player in the NFL, Seattle Seahawks QB Russell Wilson.
The interview took place during the the OTA's at the Vmac in Renton, Washington which is outside of my hometown of Seattle. Truth be told I have tried for years to obtain a short interview with Wilson.
Why? Because I feel Russell is a TREMENDOUS role model for young African American youth to look up to. And my goal for over 27 years of producing "Music Inner City TV" is reaching inner city youth about staying in school, staying out of trouble and staying off of drugs. I feel I have done a great job of doing this.
I was about to give up on trying to obtain a interview with Russell. Might of fact, at least two of my friends told me I would NEVER get a interview with Russell.
Both of these people who told me this I have known for a long long time. I was starting to think they were right ladies and gentlemen. Then out of the blue, I went to my pc like I do every morning to check my email and go to CNN and HuffPost and ESPN and Yahoo Sports and the Seattle Times and PI and other sites I go to every morning and during the day and night.
I checked my email and BAM I saw a email from the Seahawks and asked me do I want to conduct a interview with Wilson at the Vmac. I will have about 10 minutes. I WAS SHOCKED!!
Of course I let the Seahawks know I will be at the Vmac the next day for the interview. I called my good friend Theo "Mr. Network" Hall and asked him if he could meet me in Renton the next day for the Russell Wilson interview and started to make my plans for the interview.
Myself of course was on time the next day in Renton for the interview. I had a bunch of questions. I got in most of the questions. Since the start of "M.I.C-TV" the last question of the guests who ever was doing the interview is giving advice to the youth.
If it was Crystal Brown or Mac Slug or Robert Redwine Jr or "Twin" Tammy Jackson-Cloy we always ask to speak to youth on the last question.
Ladies and gentlemen Wilson gave one of best answers to the last question in the more that 27 years of "Music Inner City TV." It was just great! He even ended the interview with his trademark "Go Hawks." I was just grateful to Russell and the Seahawks for allowing me and "Mr. Network" to meet and interview Russell.
The program with our Wilson interview is airing RIGHT NOW/Comcast Xfinity On Demand/Xfinity X1/Washington State-Oregon and California! Just look for the commercial on the home page here for all the directions for our program everyone. The Wilson interview will be online for worldwide viewing very soon.
One thing is for sure readers. We are LEGITIMATE media.  Well known and nationally respected. In the media game for over 27 years.  We can bring to the table stats to prove it. This is why Comcast allows my media to air 24-7 in all west coast markets of Washington State and Oregon and California.
For instance their is one local media who is always at training camp gets in the press room for years. Here is the problem. The dude has little to zero readers of his online site.
And I am going to end this story here on "Music Inner City News Magazine" with some breaking news if you have not already heard. And here is the news readers.
Wilson along with his lady singer Ciara and others invested with Seattle's MLS soccer team the Seattle Sounders. The team is one of best franchises in the league. Along with Russell and Ciara others who also invested include rap/hip-hop artist and Seattle resident Macklemore.
When the announcement was made recently, Wilson said "Seattle means so much to me and Ciara. We are fired up about being part of the Sounders for a long long time, having ownership in the Sounders and continuing to build that winning culture. When I got here in 2012, Seattle was a place that I felt I could call home forever. And obviously because of the Seahawks, and now because of the Sounders, it makes that really come to life."
Also as far as Ciara, she's the new Creative Director for Nike and Jordan Kids fall apparel at Finishline. She currently has new music out too.
Others who joined Wilson and Ciara with their investment  with the Sounders include former Microsoft executive Terry Myerson and his wife, Katie Myserson and as I said earlier Macklemore and his wife Tricia Davis. So as you see all the new investors have Seattle area roots. Which is a good thing. By the way, Russell is also trying to help the city of Portland bring a Major League Baseball team to the city. More news on that soon.
God willing we will be at Century Link Field for the coming NFL season to cover the games for our readers here at "Music Inner City News Magazine" and we will discuss games also on our "Music Inner City: After The Game" webcasts and podcasts here on our site.