IMPORTANT NEWS: FOR NOW FOR THOSE OF YOU WHO ARE USING GOOGLE AS YOUR BROWSER "NOT SECURE" WILL SHOW NEAR THE ADDRESS BAR. DO NOT WORRY WE ARE SAFE! IF YOUR BROWER IS MOZILLA FIREFOX AND MICROSOFT EDGE OR INTERNET EXPLORER OR OTHER BROWERS YOU WILL NOT SEE "NOT SECURE"!
FOR OUR LIVE "MUSIC INNER CITY RADIO" STREAM, JUST HIT THE LINK RIGHT UNDER OUR "SPORTS INNER CITY TV" SCREEN. IT USES THE ADOBE FLASH PLAYER. YOU CAN DOWNLOAD THE PLAYER HERE
OR JUST CLICK "MIC BROADCAST LINK." A BOX WILL APPEAR AT THE BOTTOM OF THE PAGE. WHEN YOU CLICK ON THE LINK FOR THE FIRST TIME IT WILL SAY "THIS FILE MAY HURT YOUR PC" THIS LINK WILL NOT REPEAT WILL NOT HURT YOUR COMPUTER!!!! SO GRAB YOUR HEADPHONES AND ENJOY THE LIVE STREAM COMING AT YA FROM OUR STUDIO HERE IN SEATTLE, WASHINGTON!!
NOW JUST CLICK ON "ALWAYS OPEN FILES OF THIS TYPE" AND FOR NOW ON THE LIVE "NCH PLAYER" WILL POP UP ALL THE TIME!! PLAYING CLASSIC SOUL-CLASSIC HIP HOP AND SMOOTH JAZZ PLUS SHORT INTERVIEWS. AND SOON WE WILL HAVE LIVE PODCASTS FROM HERE IN OUR STUDIO IN SEATTLE, WASHINGTON (USA)!!!!
AND LISTEN TO OUR ON DEMAND PODCASTS ALSO. NEW PODCAST COMING SOON! JUST CLICK ON THE "PODCAST" LINK.
ALSO WE WILL BE AT T-MOBILE FIELD DURING THE SEATTLE MARINERS MLB SEASON FOR THE 9TH YEAR IN A ROW CONDUCTING SHORT INTERVIEWS WITH HOME/VISITING PLAYERS!! SPECIAL THANKS TO THE SEATTLE MARINERS! COMING UP SOON INTERVIEWS WITH MARINER PLAYERS TIM BECKHAM AND DEE GORDON
ADVERTISE WITH US ON OUR COMCAST XFINITY ON DEMAND/XFINITY X1 PROGRAMS OR RIGHT HERE ONLINE VIA A BANNER OR LINK OR WEB COMMERCIALS ON OUR WEBCASTS AND PODCASTS FOR $10, $20 or $40. CALL US AT 206-445-3989 OR EMAIL US AT gcurvey@yahoo.com!! CALL NOW!!
"One Man's Opinion" by Gordon Curvey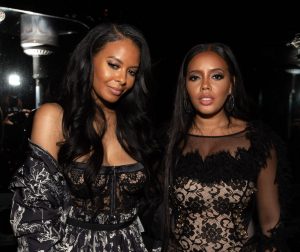 I was looking for things to discuss here on "Music Inner City News Magazine" and I said I will talk about this story of Vanessa and Angela Simmons the daughters of the icon and member of the legendary group Run DMC, Rev Run. It is a very interesting what is going on.
We have watched the Simmons Family on TV on reality programs for years. And have watched Vanessa and Angela go from little girls to very beautiful black ladies.
Well I guess they do not have a problem sharing their daily life with all of us in the public. Having their love affairs and business affairs all out in the public on TV and on social media. Some people think reality shows are not real. That they are planned out in advance. Is this how you feel? But it is true. They are planned out in advance.
Currently Vanessa and lil sis Angela can be seen on "Growing Up Hip-Hop." And will the program show how Angela is dealing with the tragic death of Sutton Tennyson?
Tennyson is the father of Angela's little boy. Vanessa recently said that Angela is "good" eight months after her ex fiance was gunned down in his Atlanta driveway. What a very terrible story ladies and gentlemen. The little boy of Angela and Tennyson will grow up without his daddy.
Angela and Sutton split from each other in 2017. There son was born a year earlier.  The son name by the way is Sutton Tennyson Jr. Angela was devastated by the death of Sutton.
Angela posted a tribute to Sutton on social media on November 2018 that included pics of them together as a family. She said "Thank you for the out pouring of love everyone. I can't believe I'm even saying Rest In Peace Sutton. I promise to hold SJ down in every way I promise."
No one knows if Sutton's passing will be featured in the upcoming season of "Growing Up Hip-Hop,"
which is currently filming. But Vanessa also recently said "We'll see. It's kind of our real life so we'll see what comes up. She's just learning to cope and learning to deal with it and raise a strong young man."
Of course Vanessa and Angela are the daughters of Joesph "Rev Run" Simmons of the legendary group and former guest on "Music Inner City TV" Run DMC.
Vanessa and her boyfriend Mike Wayans are parents to a 5 year old Ava. She is going to launch a new skincare line that will be called Sugar Me.
Vanessa said the product will be all natural and organic and will try to empower women to take a little time to give themselves some TLC.
Don't get it twisted folks. Vanessa and Angela have clashed many times if you watch their reality show and most of the time the fallout has been about business.
There brother JoJo has been able to pull his sisters together and have them talk about their feelings on issues. Rumors are things got a little hot when Vanessa decided to revive their company "Pastry" all by herself. That did not make Angela happy.
But in reality the two Simmons sisters are just fine. Might of fact Angela threw Vanessa a surprise birthday party. So things between Angela and Vanessa are in a much better place.
Having said that, their is another problem. And that their sister named Daryann. She is the half sister of Angela and Vanessa. Recently Daryann called out Angela. She accuses Angela of going right back to ignoring her. They had a big storyline on "Growing Up Hip-Hop" about repairing their messed up relationship.
Well I guess that did not repair things. Daryann went to social media and spoke out on her relationship with Angela. She said WEtv forced her to do a scene with Angela, offering her more money but she was in L.A. and needed to get back to New York to do a modeling job with FENTY Beauty.
So as I type this story the word is Daryann and Angela relationship is still not a good one. So readers yes their is major situations in the Simmons Family. Which I guess is good for the producers of "Growing Up Hip-Hop"  right? I think yes.