"One Man's Opinion" by Gordon Curvey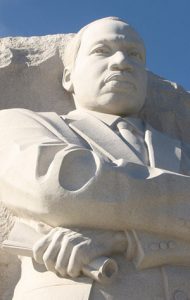 The other day I watched a person I respect as a great speaker on the par with former President Barack Obama as far as holding a audience in their hands. I look forward to hear Dr. Micheal Eric Dyson where ever he is speaking.
Dr. Dyson spoke at the church I grew up in under the direction of the late great Rev Dr. Samuel McKinney here in Seattle, Washington. Right now sorry to say, their has been nothing but drama at Mt. Zion since Rev. McKinney retired. One minister after another. Truly truly sad.
The church is less than half filled every Sunday. Currently Mt. Zion, a legendary baptist church is looking for a new minister. I hope they REALLY take their time to find the right preacher this time. I hope and pray.
Anyway I watched Dr. Dyson's great speech online. Man what a speech. Yes, he was at Mt. Zion for their annual MLK Jr Day event. As always Dr. Dyson threw it down with big words some of which I have never of but that is OK! What a speech. Here is the problem in my opinion readers. As I watched the speech I said to myself WHY are all the African Americans in the audience sitting on their ass during Dr. Dyson's great speech? Are they have awake?
It was like the African Americans in the crowd at Mt. Zion were asleep or they acted like they were afraid to stand up and give Dr. Dyson a standing ovation during his speech. Which in my strong opinion should have happened three or four times during Dr. Dyson's great speech. I was flat out shocked!
I bet Dr. Dyson was saying to himself "Damn let me finish my speech, get my check and fly out of this city and preach to some REAL black folks."
Yes Dr. Dyson criticized former President Obama, criticized a "early" MLK Jr, and of course criticized white folks, white supremacy and of course Trump. That is Dr. Micheal Eric Dyson. He is a REAL dude!
It was just amazing seeing the faces of the many white folks in the audience at Mt. Zion when Dr. Dyson discussed white supremacy and Mr. Trump, and police killings of African Americans. And it was amazing to see Negros sitting on their ass instead of giving Dr. Dyson a standing ovation numerous times during his speech.
Ladies and gentlemen, that event is one of the reasons I stopped going to MLK Jr celebrations here in Seattle. In my opinion it is a waste of my time. MLK Jr. events here in Seattle is a day for African Americans to "try" to act like a community that has unity like for instance the Asians and East Africans.
When in reality we do not have unity. We do not stick together and network like other races. We are not opening up new businesses like other races. And the few businesses we have we seem not to support them like other races do like the Asians and East Africans.
Other races pool their money, they network, they have unity YEAR ROUND, except for on MLK Jr. Day like Negros in Seattle do. When it is not MLK Jr. Day, we as so called African Americans in the Seattle area do not speak to each other too.
Folks gather by the thousands at Garfield High School here in Seattle every year for the annual MLK Jr. Day Rally and march. A rally for what? A march for what?
At the MLK Jr. event at here in Seattle at Garfield High School that is held every year, Negros (What I call African Americans in Seattle) and whites will hug folks they have not seen since last year at Garfield and the MLK Jr. event! I am telling you the truth folks.
The next day after MLK Jr. day, it will be back to the same ole same ole in Seattle. Negros basically not speaking to one another, Negros not opening up new businesses like the Asians and East Africans, not only that Negros not networking and pooling our money just like the Asians and East Africans do.
In my opinion, as far as real African Americans in the Seattle/Tacoma have been in trouble as far as REAL leadership since my good friend Carl Mack left town to move back east. It stands out like two left shoes ladies and gentlemen. He spoke out on race and racism and was not afraid. There has been a huge void in the African American leadership since my friend Carl left.
I say to Carl all the time I wish his family will move back to Seattle. Oh yeah Carl Mack is the ex chairman of the Seattle NAACP. There is a new and what I understand dynamic President of the Seattle NAACP and her name is sista Sadiqa Sakin. I cannot wait to meet her to discuss problems I am having with the Seattle Seahawks. Hopefully we will meet soon.
Folks at the Garfield rally will march like they do every doggone year. FOR WHAT? Ladies and gentlemen what a waste of time! Because as I have said, things will be back the same the next day here in Seattle. No unity among Negros in this city!
We have young African American youth killing each other in the streets. One young 16 year old black kid was killed at the Renton Walmart the other day. Where is the outrage when it comes to black on black crime in the Seattle area.
The shooter at the time I am typing this article is still on the run. I wonder WHERE IS THE DAMN OUTRAGE WHEN BLACKS KILL OTHER BLACKS IN THE STREETS OF OUR AREA!! IS TRUMP THE BLAME FOR THIS??? HELL NO READERS!!!! HELL NO!!! TOO MANY YOUNG PEOPLE ARE DYING IN THE STREETS LADIES AND GENTLEMEN.
We CANNOT blame the white man and Trump for everything. We as African Americans or Negros in my area on the most part are our own worst enemy in my opinion.
As a businessman who has the ONLY broadcast locally produced television program on a billion dollar business like Comcast has to beg folks for sponsorship/commercials. My two programs "Music Inner City TV" and "Sports Inner City TV" air 24-7/Comcast Xfinity On Demand and Xfinity X1/Washington State-Oregon-California. No other African American has the platform I have on television in the area.
So why is it I have to beg for advertisers to advertise with us? My rates are very very low. $20 for a ad on my new website "Music Inner City News Magazine" www.musicinnercity.com or $40 a month for a commercial on my Comcast Xfinity On Demand and Xfinity X1 programs. Call 206-445-3989 or email me at gcurvey@yahoo.com to advertise with us or reach out here via FB.
As the late great Teddy Pendergrass sang we have to WAKE UP EVERYBODY!!  And stop blaming Trump and the white man for everything. As I mentioned earlier, I am have a big problem with the Seahawks. I have tried to reach out to certain African Americans for support.
The only two who have supported me so far is AGAIN is my good friend way on the east coast Carl Mack and a person I have known for over 25 years, Bishop Rev. Zachary Bruce.
Others who have not supported me are to worried about their seat in the press room at Century Link during the Seahawks season or their damn reputation. What a damn shame. This is a perfect example of the "Negro mentality" here in the Seattle/Tacoma area. Another term is "I gotta get mine..you get yours" mentality.
Finally I want to let everyone know ANOTHER example of the lack of unity among Negros in the Seattle area. The following, Eddie Rye, James Gore, the Ztwins morning talk show, and Tony Benton's new online radio station which in my opinion is trying to do TOO MUCH TO SOON, have talk shows and hosts have never invited me to be a guest to discuss my more than 27 years of broadcasting.
Tony B as we call him is responsible for myself obtaining a Mayor's Award a few years ago for which I will always be grateful. Real talk. But having said that, when he was on KUBE93 with his talk show "Streetbeat" he never invited me on as a guest. And the MANY hosts on his online station have not invited me on as a guest.
Here is a question I ask you readers. Why haven't these folks invited me on as a guest? Anyway, for over 27 years I have stayed in my lane. Unlike others who to satisfy a tremendous ego is in hundred lanes!
As the late great Dr. Martin Luther King Jr. said "I have a dream." As a teenager I had a dream to be in the entertainment and sports business as a broadcaster. I set my goals, I have worked my ass off to get to where I am. As far as the flat out legends I have met and interviewed, my dream has come true.
Sorry to say, without the REAL support of my African American community. I knew I have done something right when my friend E-Dawg gave me a 25 year "Music Inner City TV" party. And the place was packed! And MANY white fans of my media was there and told me how they grew up watching my programs. But I noticed the haters who were not there. Oh yeah I did.
I hope folks had a good time at the MLK Jr. Day events here in Seattle area. Again, to me until we have REAL unity and support and open new African American owned businesses like the East Africans and Asians, it is a waste of time attending MLK Jr rally's on his day. I am sure many of you will disagree with me but that is OK. I am a big boy!! God bless.