"One Man's Opinion" by Gordon Curvey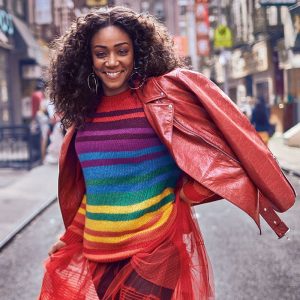 I have been thinking about this for awhile and now I have to talk it here with the return of "Music Inner City News Magazine". Some may agree with my views and some may not. But here we go.
Yes at times entertainer Tiffany Haddish makes me laugh. In my opinion she sure has talent. But is part of her talent embarrassing to many in the African American community?
I feel Haddish most of the time comes off as a "stereotype" of loud, finger popin, neck shaking, cussing black females.
Right now she is getting paid big time acting in this stereotypical way. Sorry to say, many white folks think black females like Haddish are really this way. Loud, cussing, neck shaking females.
To me Tiffany is acting "ghetto" to try to get laughs. To me it is very upsetting. Her actions are just like the motor-mouth and loud black females on reality TV shows like "Real Housewives Of Atlanta" and "Love And Hip-Hop." Where viewers see black females cussing each other out and even fighting and tossing glasses full of wine at each other!! In my opinion this is just plain wrong!
Again, Tiffany Haddish comes off as a "stereotypical" African American female in her comedy routines and now in her movies and even in her commercials. She is selling a lot of products in TV right now. She comes off as ignorant, annoying and more to make money paid to her by white folks. I wonder if the white folks who are paying her big bucks REALLY think she is funny? I don't think so ladies and gentlemen!!
Haddish has made a commerical where she is hanging out poolside and calls for a waiter.  The waiter did not hear her the first time so then Haddish SCREAMS "WAITER!!!!!" Then she says in a much "quieter" way "Hi". Come on folks, if that commercial is not featuring a stereotypical and loud black female then nothing does. But the white folks paying her just see $$ signs. She is helping companies make money.
It seems Haddish will do anything to get paid. Even if it embarrassing to many in the African American community. I do not like the image she is throwing down in commercials, her stage act and in the movies. I just do not feel Tiffany Haddish.
We have sistas like the iconic MC Lyte who started a organization to help bring sistas up, not down like Haddish, Shout to MC Lyte!! Lyte's organiztion is called "Hip Hop Sisters Network." I just do not know WHY programs like Real Housewives Of Atlanta have lasted on TV so damn long!! EVERY program is full of scenes with loud black sistas arguing and shouting at each other. This is very very sad.
Here is a question, I wonder what color the producers and directors of the Real Housewives are? I wonder how many African Americans are behind the camera?
For sure in my opinion Tiffany is destroying the image of black females. Young African American females see this BS on TV and in a lot of cases, grow up acting like Haddish. Loud and cussing  and fighting like the females in Hip-Hop Atlanta and other reality programs. This is not a good look for young black females to see.
Glad to see Tyler Perry is going to retire the Madea character. Man…am I happy!! You talking about stereotypical…Madea is it!!! Perry has made millions and millions of dollars playing the loud mouth Madea. THANK GOD Perry is tossing the Madea act. He should have never started it.
I can go on and on Tiffany Haddish.  I hope she will soon wake up and smell the coffee and stop acting like a buffoon, stop being loud, stop the stereotypical personality. Will she stop? As long as she is getting PAID the big dollars you can bet your bottom $$ she will not. Please leave a comment. Thanks.