"One Man's Opinion" by Gordon Curvey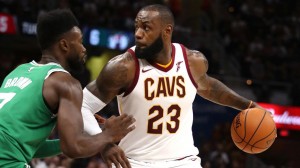 Back in 2002 I heard about this fella in high school who is crazy good out of Ohio. So good he can go into the NBA at the age of 15 or 16. He was that good in high school ladies and gentlemen. This young fella was named Lebron James.
He was one of the most hyped up high school players since Lew Alcindor aka Kareem Abdul Jabbar. And James has lived up to the hype. He has turned into one of the greatest players of all time. Some say he might be better than MJ.  James is 6-8  and 280 is strength and speed. He can play all positions on the court. He can play point, small forward and power forward and even center. Not many players can do this effectively.
James is very intelligent and is a student of the game. He can tell you about great players of past like Elgin Baylor and Wilt and Jerry West and The Big O and many more. He did not go to college but he is no dummy. This is a fact.
Look at what he has done. He might be in the NBA Finals AGAIN with the Cavs. Year after year after year Lebron is playing in the NBA Finals. With Cavs or the Heat, James is in the freakin Finals every year. If it was anyone else sports fans would say they are tired of seeing James in the Finals. I have not heard anyone say they are tired of James in the Finals I just have not. Sports fans love to watch greatness. In James we are watching greatness.
This fella is 33 years old and is showing zero signs of slowing down. Game after game after game, Lebron is getting 40 points, 15 rebounds and six dimes. He is making others on the Cavs better. He is pushing the Cavs to again be in the NBA Finals to maybe again match up against KD, Curry and Klay and the Golden State Warriors.
Everyone wants to see the Cavs-GS in the Finals again. I know ABC does. As I type this, the Celtics are pushing the Cavs. Making it hard for the Cavs to maybe be in the Finals again.  But folks while we watch great games in the playoffs by Curry, KD and others,  NO ONE can match Lebron and his great play in the 2018 NBA Playoffs. We are watching pure greatness by James. It is unreal folks.
Lebron is playing so great I wonder do sports take Lebron's greatness for granted. After a 40-15-6 game do we say "Oh it is just another game by Lebron". I know for sure I do not say that. As a NBA junky,  I KNOW I AM WATCHING GREATNESS!!
One thing for sure and that is Lebron James is a freak of nature! I hope all NBA junkies will realizing what we are watching. We are watching greatness by Lebron James and I know their will not be many if any one else like him.
Comments: gcurvey@yahoo.com