ARTICLE FROM politico.com (Full story click here)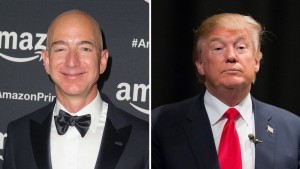 I am here in Seattle, Washington where huge corporations like Microsoft, Starbucks and yes Amazon main headquarters are in the area. And it seems your President (not mine) Trump is going after one of these huge corporations. The questions is why?
It seems Trump is going after Amazon for one reason and one reason only. It is because he knows that Amazon leader Jeff Bezos also owns the Washington Post. A news organization that has been a big time critic of Donald Trump since he has been a so called President. So Trump is going after Bezos.
So the pathetic Trump is now making threats to raise postal rates on the tech giant Amazon which many consider this a war between Trump and Bezos. This threat cost Amazon over $35 billion in stock on April 2nd.
It seems higher postal rates could hurt Amazons online profits which depends on the Post Office. Come on ladies and gentlemen unless you are the great and former guest on "Music Inner City TV" Stevie Wonder you can see what is going on. It is like what the another former guest on "M.I.C-TV" the late great James Brown sang "It Is The Big Payback" by Trump. It is a outrage!!
Trump is trying to lower the boom on Bezos and Amazon because of the Washington Post. People are saying Trump's charges that Amazon is exploiting the U.S. Postal Service is "made up" and Trump's charges are hurting Amazon and it's shares.
What Donald Trump is doing to Amazon is just plain stupid and just plain wrong. It is a perfect example of retaliation by the arrogant Trump. It again shows me what a REAL PRESIDENT and a man with style and class in President Barack Obama and the great former First Lady Michelle Obama and Sen. Hilary Clinton said and that is Donald J. Trump is unfit to be President.
Comments: gcurvey@yahoo.com or facebook.com/gordon.curvey or twitter.com/gcurvey