"One Man's Opinion" by Gordon Curvey
My opinions on Seattle Times sports writer Matt Calkins AGAIN putting a African American on blast in his articles in the Times. He has done this over and over and over again. In my opinion Matt Calkins should be fired asap!!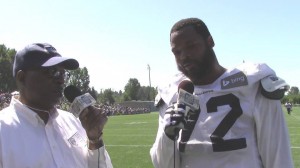 To my many FB friends the following is kind of long but it is my true feelings on the BOGUS charge against former Seahawk Michael Bennett. It is how I feel. It is a reply to motor mouth Matt Calkins of the Times who has made a habit of putting Bennett/Sherman on blast in the Times sports section. He should be fired!! PLEASE READ BELOW.
———————————————————————————————————
AGAIN Matt Calkins is giving his one-sided white man's views on a black man in the white owned media..The Times. A opinion on a intelligent, educated African American man in Bennett who is bold enough to challenge racism in America which has got worse with the fella in the White House.
Bennett also speaks out against police who has shot unarmed black men OVER AND OVER AND OVER AGAIN WITHOUT WHITE OFFICERS NOT SPENDING ONE DAY IN JAIL for their actions!! Hell Bennett has also spoke about the shooting and killing of the African American sista Charleena Lyles by the police in the area.
——————————————————————————————————-
BREAKING NEWS: TWO WHITE POLICE OFFICERS IN BATON ROUGE, LA WILL NOT BE CHARGED IN THE TERRIBLE AND WRONG KILLING OF 37 YEAR OLD ALTON STERLING. Again white police kill a African American and will NOT spend ONE DAY in jail and will NOT be charged!
Another black man has been shot and killed in Sacremento. Will the white officers who killed this African American brotha be charged? HELL NO!!!
——————————————————————————————————-
So we in the black community know black folks will NEVER see a white police officer get charged and convicted of killing a black man or lady. NEVER!! Including in Texas!!! These are some of the issues Michael Bennett AND Richard Sherman were bold enough to speak out about off the field.
So all of sudden in Trump loving Texas (who has a governor who is a friend and a tremendous supporter of Trump) Bennett a 6-4 265 pound HUGE black man is charged with pushing a 66 year old paraplegic lady after New England won the Super Bowl last year. A game in which Bennett's brother won as a member of NE. GIVE ME A FREAKIN BREAK!! This is a bunch of BS!! PLUS THEIR IS NO VIDEO OF THE ALLEGED INCIDENT!!!!!!!
When I saw all those white policemen in Texas hold that bogus press conference about the bogus charges on Michael Bennett I thought about racism against black folks in the 60's in Selma, Alabama or in Mississippi.
Don't get it twisted, IF Bennett did what he is charged with then BENNETT IS WRONG!! But in my strong opinion this is all about a outspoken, intelligent and educated African American man who has spoken out AGAINST white officers killing unarmed black folks, being retaliated against by white folks in a state that supports one of worse so called President's already in American history!! a ALLEGED INCIDENT THAT HAPPENED MORE THAN A YEAR AGO!!!!!!
Finally I continue to see Matt Calkins give his opinions on African Americans here in the Times. Calkins KNOWS ABSOLUTELY NOTHING ABOUT OUR AFRICAN AMERICAN CULTURE AND LIFESTYLE AND KNOWS NOTHING ABOUT THE DAILY RACISM WE BLACK FOLKS DEAL WITH EACH AND EVERY DAY IN WHITE AMERICA!!
It can be blatant or subtle but we African Americans deal with racism everyday when we walk out our doors. Has Calkins experienced this as white man putting African Americans on blast in the white owned Times? HELL NO!!
To have this blog with this title ("REACTIONS TO MICHAEL BENNETT ARREST WARRANT SHOWS THAT FACTS DON'T MATTER") AGAIN Matt Calkins as well as many other folks who have left their comments here are brainless with it comes to what black men like me or even a black man with money in Bennett go though EVERYDAY in white America. THESE CHARGES AGAINST BENNETT ARE BOGUS!!! REAL TALK!!! And again MATT CALKINS SHOULD BE FIRED BY THE TIMES!!
COMMENTS: gcurvey@yahoo.com or facebook.com/gordon.curvey or twitter.com/gcurvey