ARTICLE FROM yahoo.com (Full story click here)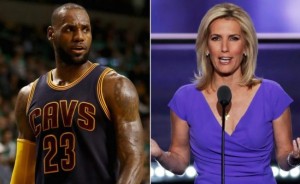 NEW edition of "Sports Inner City/Off The Court" webcast is online right now! Just click on the screen to the right. Watch via smartphones, tablets or pc WORLDWIDE!! NBA news and views and what ex and current players and coaches are doing off the court.
WHAT THE f..k"!! In many strong opinion and millions of others Fox News host Laura Ingraham a tremendous Trump supporter was way out of control and way out of line when she said Lebron James as well as Kevin Durant "Need to shut up and dribble" the other day on her Fox News program after KD and James made negative comments about Trump on a webcast hosted by ESPN host Cari Champion.
Lebron said during All Star Weekend in Los Angeles that he will not shut up and dribble in response to Ingraham. What Ingraham said WAS THE EPITOME OF FLAT OUT RACISM!!
Fox News management for years and years have allowed the white hosts on Fox News to put African Americans and people of color on blast over the air. Blasting African Americans like Rev. Jesse Jackson or Rev. Al Sharpton or President Barack Obama and NFL QB Colin Kaepernick and more!! Hannity and Bill O'Reilly and other Fox News hosts treat black folks like dirt over the air!!
Ladies and gentlemen Lebron James is the best role model in pro sports for inner city kids. Period. He speaks his mind on sports issues, politics and much more!! He is not afraid to speak up unlike Tiger Woods and Micheal Jordan and others.
Woods and MJ are to worried about their brand and their image. James as well as KD have a image and also a brand but they are not afraid to speak up on killing of unarmed African Americans by the police. And I am proud of James for being a leader on the court and off the court.  James has a production company and has had programs on cable tv.
He has also started a online site called "Uninterrupted" for sports guys and gals can speak out on issues and more. A good site to go to folks. I go their all the time for the podcasts and webcasts!
I had a problem with KD joining GS but put that aside I am proud of Durant. Like James he speaks out on issues along with Melo, CP3, D-Wade and more. Check out the link above for more info on Fox News host Ingraham and her stupid, wrong and yes racist comments about Lebron James and Kevin Durant. Truth be told, Ingraham is WORSE with her views on people of color on her radio show as is Hannity.
NBA All Star Weekend news: Please watch "Sports Inner City/Off The Court" with NBA news and views and off the court news on players and coaches. Plus All Star game interviews held during All Star Saturday. SPECIAL THANKS TO THE NBA!
The Nets Spencer Dinwiddie won the skills event.  Devin Booker of the Suns broke the record of points to win the 3 point contest and the Utah Jazz Donovan Mitchell won the dunk contest. I feel Larry Nance Jr. did the best dunk. Finally the NBA All Star game was won by Team Lebron  and led by Lebron James 148-145 in a great for one All Star game!
James won  the MVP of the game. Defense was played folks!! I loved it! One thing the NBA All Star Weekend shows is how diverse the crowd was at Staple Center unlike the MLB All Star Games. And how the NBA has embraced diversity and the "hip hop generation' UNLIKE MAJOR LEAGUE BASEBALL.