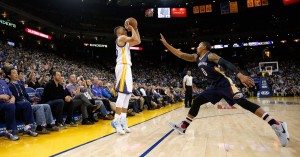 I love the game of basketball. It is my favorite sport followed by football. When the NBA and college season comes to a end I go into a sports depression. Thank god for NBA TV!! It has NBA news and games all year long!
But as a basketball junky I am really bothered by something and if you are a true hoops fan you should be bothered by this too. And that is too many three point shots by players in college and the pros. Of course in college the three point line is much shorter from the hoop than in the NBA. But it seems it is not making a difference. Too many three point shot attempts.
Readers too many times I see a player drive to the basket and has a easy 15 or 16 ft shot in college/pros. Instead of taking the easy shot the player will pass back out to a teammate who is beyond the three point line for a shot attempt.
Sports fans WHY are college and pro coaches allowing this to happen? It should not happen in my strong opinion. Sorry to say this three point shot barrage got worse in basketball because of one player…Golden State guard Steph Curry. Of course Curry takes hella three point shots during a game. And a lot go in. The other day Curry made 10 three point shots for goodness sake!
But as a lover of the game of basketball, I have a problem with all the three point shots by Curry and many other players. Hell Curry will pull up from just beyond the freakin half court line!! I guess Head Coach Steve Kerr does not have a problem with this because many of Curry's shot attempts of course goes in.
Former NBA head coach and current NBA analyst Mark Jackson used to have a problem with all the three point shots saying young youth want to pattern their game after Curry and go to the gym and practice nothing but three point shots. Not a good look.
Let's hope head coaches in college and the pros get hip to all the three point shots and tell their players to drive to the basket or take a pull up 15 foot jumper instead of passing out to a player for a long three point shot. In my opinion this is not good basketball. Young kids are being shown the wrong way to play the game. All the three point shots by players are messing up the game of basketball. Do you feel the same? Leave a comment.
Comments: gcurvey@yahoo.com or www.facebook.com/gordon.curvey or www.twitter.com/gcurvey