"One Man's Opinion" by Gordon Curvey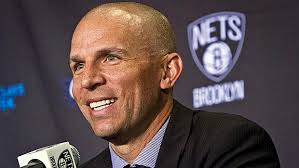 If you are a huge basketball fan like me then you would know about the "history" of Jason Kidd. Kidd is a Oakland, California legend just like Hall Of Famer and Seattle Sonics legend "The Glove" Gary Payton.
He had a 19 year NBA career in the NBA. And he will be a first ballot Hall Of Fame member in four years. Now let's get to the point. How in the HELL did Jason Kidd mover from a player to a head coach in the NBA in one year? Someone please explain this to me. Because I just do not understand why he becomes a head coach before guys like Patrick Ewing and others.
Kidd has not been a angel readers. Back in the day their was a big rumor concerning Kidd and ex NBA player Jim Jackson and singer Toni Braxton and it was all in the tabloids. The story was both of them was…….well you know with Toni.  Then their was a rumor he hit his ex wife and recently he was caught drinking and driving. And other things on the negative side with it comes to Jason Kidd.
Now Kidd it seems tried to pull a power move with the Brooklyn Nets. He was the head coach of the Nets and it is reported Kidd wanted  more money from the Nets after seeing Derek Fisher and Steve Kerr getting way more money for a first year coach. And he also wanted more power in player moves for the Nets and word is he did not see eye to eye with Net general manager Billy King.
So now for some reason he is the head coach of the Bucks and head coach Larry Drew was fired after one year. Kidd is good friends with the new owner of the Bucks.  Why does Kidd go from one head coaching position to another? HOW CAN THIS HAPPEN? Why Jason Kidd? I just do not understand. Hearing all this negative crap on Kidd makes me want to see him fail as a head coach. I just do not like this power move by Kidd.
Listen to "The Hot 12″with D Duane RIGHT HERE!! Just click "podcast" above and grab your headphones and enjoy the program. Two new programs a month. 24-7 on-demand.