ARTICLE FROM s2smagazine.com (Full story click here)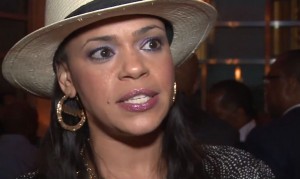 Watch the latest edition of "Sports Inner City TV" from Century Link Stadium and a interview with Seattle Seahawk Walter Thurmond and more. "Sports Inner City Online" www.sportsinnercity.com
I was online looking for stories for "Music Inner City News Magazine" and saw this story regarding singer Faith Evans. As we know or maybe you are young and do not know but Evans is the wife of the late Notorious B.I.G Who was shot and killed in 1997 in L.A. after a Soul Train Awards after party. I had just left Los Angeles heading back to Seattle from the Soul Train Awards when this killing happened.
Evans has dealt with one problem for years and years and that is who in the hell killed Biggie. One thing for sure everyone knows who killed Trayvon Martin. It is ashame that Faith has to go to bed every night knowing that the killer of Biggie has not been found. Plus she has to constantly tell the kid now a teenager that the killer of their dad has not been found. This is terrible.
Maybe one day Faith Evans as well as the mom and family of 2Pac and Jam Master J will FINALLY find out who killed their family member and then they can finally relax knowing the truth has finally came to past.
It is amazing to me that the killers of Biggie, Jam Master J and Pac have not been named. We all now that cats in L.A. and N.Y. know who killed these icons been they remain silent. This is a outrage knowing families are still suffering. How can this happen readers just how can this happen? These murders have to be solved!
Shout out to Faith for staying strong. I have always had respect for her as a beautiful lady and artist. Let's hope she can go to bed one night and sleep well knowing the killer of Biggie was finally found or named.   Gordon Curvey