ARTICLE FROM huffingtonpost.com (Click here for full article)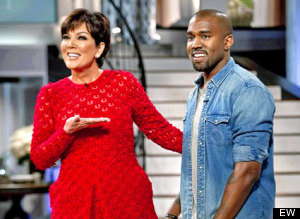 Some of you may already know I have been a hugh critic of the Kardashian Family. I have always wondered why they are so popular on TV for the last few years with their reality programs.
None of the family can sing or dance or act so what makes them so big on TV readers and I am just amazed why they are making millions of dollars being on TV. Their reality gets renewed year after year.
People just love their programs. It is just amazing folks. I have watched their shows from time time and try to understand the Kardashian Family and why they are so popular. I just can never figure them out.
When you go to Wal-Mart or any big store with a magazine rack you will see magazines with stories about members of the Kardashian Family on many of magazines on the front page of any store.
Now the leader of the Kardashian klan, Kris Jenner is doing her thing as a talk show host on Fox. How on earth did Kris Jenner obtain a freakin talk show? Is it who you know? What is it. She has no experience, can't sing, cannot dance and cannot act. What talents does she have readers? Again I just do not understand what is going on.
Next month Arsenio Hall and Queen Latifah have new talk shows starting on TV. Of course Hall is returning to the airwaves after being away for almost two decades. But one thing for sure we know he can pull huge entertainers and sports stars and politicians and Latifah is a huge star. By the way Latifah is a former guest on my program "Music Inner City TV" I think her program will do well.
I have noticed Kanye West was a recent guest on Jenners program. Of course West is the father of baby born to one of Jenners daughters Kim. Word is mom Kris was not happy with Kim dating a rapper. But Kris said those rumors were wrong. I have not watched Jenners program but I will one day.
But again I just do not understand why the Kardashian's family is so big on TV. It is beyond me. Lets see how long kris Jenners program stays on Fox. This will be very interesting to see how many well known guests she can get. I will keep you informed.   Gordon Curvey
"Music Inner City TV Webcast"/Short interview with Seattle Seahawk Doug Baldwin, Issues: A-Rod & more!