ARTICLE FROM eurweb.com (Full story click here)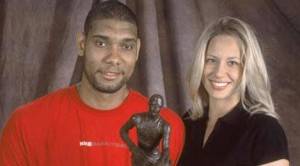 Oh my goodness! I was online looking for stories and BAM! I saw this story regarding all time NBA great Tim Duncan. It is unreal but then again folks I guess the saying is we never know about the people that are in the public eye.
The story is about their is a rumor that Duncan's marriage to his lady Amy may have went downhill when she learned Duncan was in a long time relationship with another MAN!! What?? This is crazy! But check out the story readers. Could it be true? After all did we know about NBA player Jason Collins being gay until he let everyone know? No we did not. I know i did not.
The thing is this is so hard to believe about Duncan. But then again like I said we never knew about Collins. As we know Duncan is a very quiet very laid back dude. Who has kept his private life…private. Hell I don't think we knew he was married did we? All we knew about Tim Duncan was that he is a all time great NBA player. Some say the greatest forward to ever play the game. Yes he plays center for the Spurs but he is really a 6-10 forward.
When Duncan is in a post game press conference when a reporter asks Tim a question Tim answers the question like he just lost his mom or his dog just ran away or something. Boring! We don't know anything about Duncan when he walks off the court. Now with this rumor about Duncan and another man out their things might change for Tim Duncan. That is for damn sure!!
IF this rumor is true about Duncan this is a BIG TIME story! A blockbuster!! Will we the public learn more about this? Or do we care about Duncan's love life? All I know this rumor is huge. MUCH bigger than the Jason Collin's story. Stay tuned readers!!
"Music Inner City Radio"/Recorded 7-23-2013. Hosted by Gordon Curvey. Topics included George Zimmerman/Trayvon Martin, President Obama's comments on race and more! Plus classic soul and hip-hop. Based in Seattle, Washington. New program in a few days. Put on your headphones AND ENJOY THE PROGRAM!
Music Inner City – Popup Player

Podcast: Play in new window | Download