ARTICLE FROM nytimes.com (Full story click here)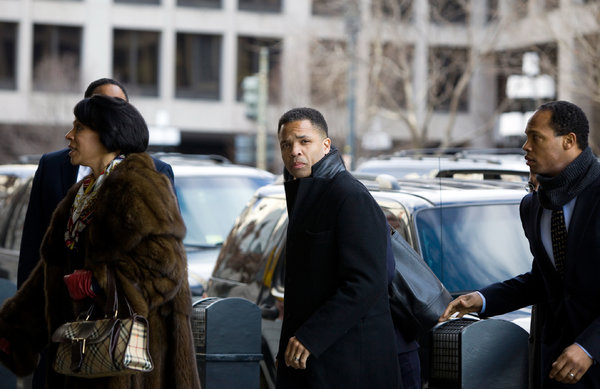 I try not to discuss in a negative way African Americans and people of color on this site because the "majority media" does a very good job in bashing our community on a daily basis. But in the case I have to write my opinion. Rep. Jesse Jackson Jr. of course the son of the legendary Rev. Jesse Jackson Jr. and his wive was flat out wrong in spending some of the $750,000 people in his community of Chicago donated to his re-election campaign.
I was wondering as many others why Jesse Jr. was having so many problems with depression etc.  Well now we know why readers.
This cat was buying Rolex watches, buying stuff from the late Micheal Jackson, taking trips and who knows what else. What made him want to do this is the question? Jesse Jr. was asking for trouble and now he has trouble for sure. The trouble is called jail time. What he did was a outrage!!
So now we will see how many years in prison Jesse Jr. will get. You know this is hard on Jesse Sr. and the Jackson family and Rev. Al Sharpton refused to really discuss this story on his TV show on MSNBC and discussed it very little on his radio show because he is very tight with the Jackson family and know Jesse Jr. all his life.
We we let you know what is going to happen with Jesse Jr. right here on "Music Inner City News Magazine".    Gordon Curvey
Listen to the latest edition of  "Music Inner City Radio" podcast below!!  Hosted by Gordon Curvey. Entertainment and sports news plus politics. And classic soul and classic hip-hop music and interviews. So pop on your headphones and enjoy the program. It is 24-7 on-demand.
Music Inner City – Popup Player

Podcast: Play in new window | Download