ARTICLE FROM huffingtonpost.com (Click here for full story)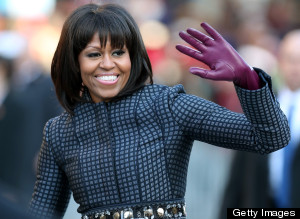 I was looking for stories for "Music Inner City News Magazine" and came upon ANOTHER freakin story about some clown talking negative about First Lady Michelle Obama. I am getting TIRED of reading this crap!!
A high school coach down south was suspended because he was recorded talking negative about the First Lady's backside and truth be told dude should be fired in my opinion. His comments went over the line. This is not the first time some stupid fool has talked negative about Michelle's behind or how she looks.
Of course you also have people who talk negative about her husband, President Obama. This stuff has went on for four years. And I get upset seeing this BS but I get real upset when I see people talking negative about the First Lady. Hell you even have folks that have said negative things about the Obama's kids!!!! This stuff has to stop!! And stop NOW!!
Michelle Obama is a tall, very intelligent and beautiful African American lady. As a African American I am so proud of her. For a lady who is almost 50 years old she is in GREAT shape. And so what is the problem with certain folks saying negative things about a black lady who is in great shape?
Truth be told a LOT of ladies wish they had a big behind like Michelle Obama or black females in general!! They do serious workouts in the gym or at home to "try" to get a big behinds. This is a fact! A lot of ladies do not like having a flat backside.
The bottom line is this readers. Certain folks just do not like it that we have a African American President and a African American First Lady. They watch to much Fox News!! So these folks want to pull out the race card and talk about Michelle's backside and how the President looks. All this is happening with the Obama's in the White House for four years. WHEN WILL IT STOP?  Comments? gcurvey@yahoo.com or www.facebook.com/gordon.curvey  or www.twitter.com/gcurvey
Gordon Curvey
Music Inner City Radio. Entertainment and sports news Plus politics and classic soul and hip-hop and interviews. Hosted by Gordon Curvey.
Music Inner City – Popup Player

Podcast: Play in new window | Download