ARTICLE FROM people.com (Click here for full story)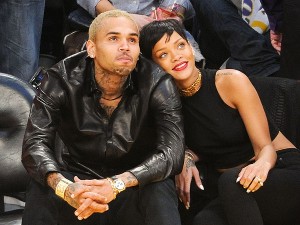 The relationship between Rihanna and Chris Brown is just crazy! Crazy as hell. Of course you that Chris beat the hell out of Rihanna in Los Angeles a few years ago. I was in town with Twin Tammy J for the Grammys when it happened. Brown was on his way to be the superstar in the music industry.
Brown is a VERY talented young man. He is really. This is a fact. When you go to a Chris Brown show or Usher show, it is just like going to a concert by the late "King Of Pop" Micheal Jackson. It is entertaining as hell. You will not see a dude walking back and forth on the stage holding his nutts and cussing every other word.
And of course Rihanna is VERY talented too. They are both in their early 20's. One thing for sure I am happy I am not reading about Rihanna or Brezzy using drugs. But you hear other things. Like Rihanna dressing kind of crazy and when she decides not to go back to Chris, she is in the news with other fellas.
The problem is readers, she continues to go back to Brown. WHY WHY WHY?.  I think Rihanna is asking for trouble down the line. I truly think so. The problem is she does not care what we think. If she loves Chris, she is going to go back to him and they will be a couple again.
I just hope we do not wake up one day and hear about Chris Brown attacking Rihanna again. Because as many people have said. If he hits you once….he will do it again. I wish Rihanna would just do her singing and touring and stay away from Brown. It would do so much for her rep in the music community and out. Wake up Rihanna!!   Gordon Curvey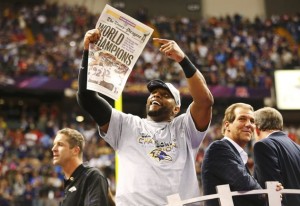 Ray Lewis can ride off into retirement as the Baltimore Ravens beat the 49ers 34-31 in the Super Bowl in New Orleans. The game was stopped when the power went out in the Mercedes Benz Super Dome Stadium. It was crazy! How could that happen in the Super Bowl? Anyway Joe Flacco won the MVP trophy BUT in reality the winner should have been Jacoby Jones who ran back a kickoff 108 yards. By the way Flacco dropped the F word on CBS after the game during a interview. Happy to see Ed Reed winning for the Ravens also!