ARTICLE/BIO from wikipedia.com click here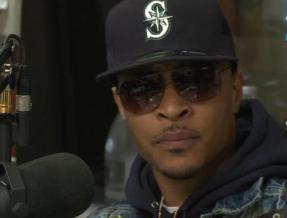 Lately I noticed a lot of positive press on Clifford Harris aka T.I. and this is a good thing. Because for awhile it was nothing but negative when it came to the rapper, actor and business owner.
He has got a pretty long rap sheet when it comes to breaking the law but it seems he has learned his lesson after his last visit to the pen. He is trying to be a great father to his kids and a role model for other kids and is trying to make his company Grand Hustle  something to deal with in music, tv and in Hollywood.
T.I. (pic with our own Seattle Mariner hat on) has shown on his reality show on TV with his wive Tiny that he does not want to be a father his kids do not know. He  is a caring dad to his kids and it seems he has a great relationship with Tiny who he has been with a long time.
With a lot of hip-hop these days sounding the same, when you hear a joint by T.I. you know it is T.I. He is one of my favorite hip-hop artists for sure. He has a new cd coming out soon and like the rest of his past cd's it will sell big time because T.I. knows how to put out hits. That's for sure. And he is a good actor too unlike many other rappers who try to act in Hollywood. He can really act. If you have seen his acting you will agree.
And it seems he is doing a lot in the community with toy giveaways at Xmas and turkey giveaways at Thanksgiving and he recently said he would not let a daughter of his date Chris Brown if they were old enough to date Brezzy. We all know what Brown did to Rihanna. That was a great statement.
So a big shout out to T.I. for getting his stuff together on the behalf of his family and fans. The future looks good for him in music and in Hollywood.    Gordon Curvey
Grab your headphones and listen to "Music Inner City Radio" Entertainment/political news plus classic soul and classic hip-hop music! And log on to "Sports Inner City Online" at www.sportsinnercity.com  for "Sports Inner City TV"!!