"One Man's Opinion" By Gordon Curvey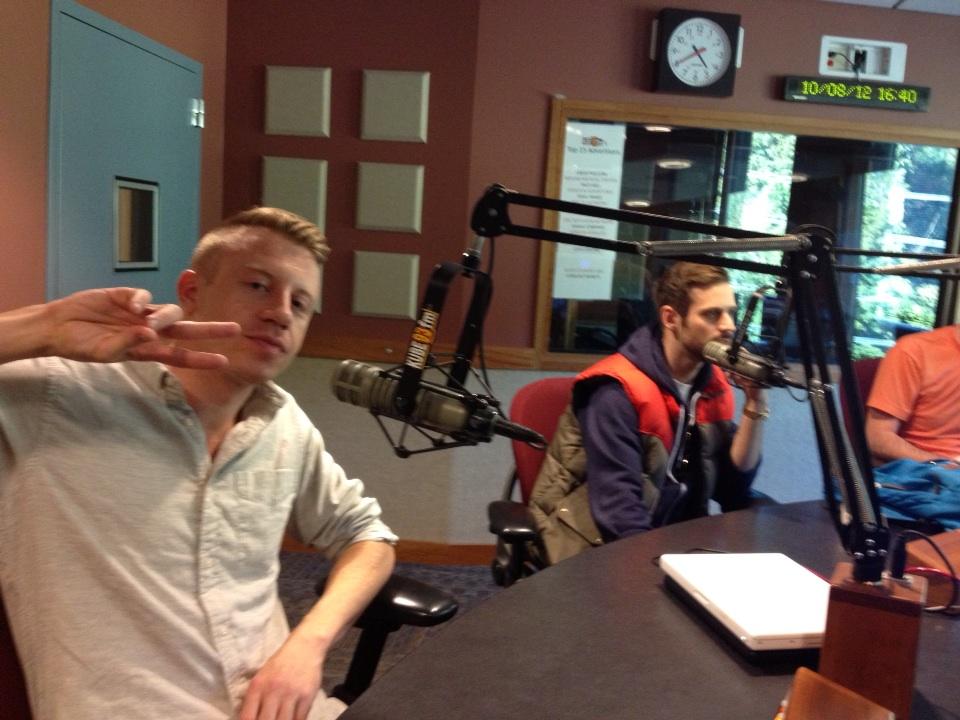 New stories on T.I. and Jamie Foxx and more coming at ya right here on "M.I.C News Magazine" along with "M.I.C Radio"! And check out our urban sports site "Sports Inner City Online" at www.sportsinnercity.com Stay tuned!
I have waited awhile to write about this situation readers. Because in reality at first I was proud of this artist for putting Seattle back on the hip-hop map.
As a lot of you know Seattle's own Sir Mix-A-Lot led by Nasty Nes and Nastymix Records put Seattle on the hip-hip map in the late 80's and early 90's with hit's like "Posse On Broadway" "My Hooptie" and the monster hit "Baby Got Back".
That song was a HUGE hit for Mix. And then later Seattle got known for the home of Soundgarden, Pearl Jam, Nirvana and other huge bands. But then all of a sudden here comes this cat named Macklemore. And he is for sure making a BIG name for himself in hip-hop/rap music.
But readers their is a problem. As you can see Macklemore is white. I say this because it seems he is disregarding African American media in his home town of Seattle, Washington and it is a problem folks.
A few months ago he came home to play a sold out show. I obtained his latest music video from a promoter back east. Before this show, Macklemore and his hip-hop partner Ryan Lewis went on local radio station KUBE93 with Eric Powers and Dirty Harry (pic). So I knew he made that visit to KUBE93.
So right before Macklemore hit town I requested a short interview with him for my 22 year old legendary northwest program "Music Inner City TV" and was turned down with a terrible excuse.
I was told that Macklemore was ONLY DOING NATIONAL PROGRAMS and interviews because of a "problem with his voice" SAY WHAT????? Not only that, I was told I cannot get tickets to the show!! I am not telling you a lie readers.
Recently Macklemore has appeared on "Ellen" and "Jimmy Fallen" and other programs BUT the African American owned nationally known and award winning program that has interviewed Stevie Wonder, James Brown, Chaka Khan, Al Green, Micheal Jordan, Rick James, Smokey Robinson, Toni Braxton, and on and on….no interview just excuses not to do it. And yes…we have even had a exclusive interview with media icon OPRAH.
But this white hip-hop artist has said no to a interview with his hometown urban music/interview program. What is the problem? Does he think he is too big for my program? We are a 24 hour program on Comcast-Xfinity On-Demand. Not on public access folks. So I am putting Macklemore on blast here on "M.I.C News Magazine"
Macklemore needs to realize he is making dollars off of the backs of music that was started by African Americans in the streets of New York. In reality IT IS OUR CULTURE that he is paying his bills on!!
So he needs to wake up and realize that KUBE93 does not run Seattle's hip-hip scene. It is shows like "E's Way Radio" and of course "Music Inner City TV" Someone needs to make Macklemore aware of this, as quick as you rise to the top…the quicker you can fall. REAL TALK.
Watch HOURS AND HOURS of "Music Inner City TV" webcasts!! Just click "Television Show" link above and you can view via smartphones, laptaps, macs, and pc's!!
Watch "Music Inner City TV" podcast below via Ustream TV. Topics include the terrible killings in Connecticut and much more including underground music videos! From Seattle.